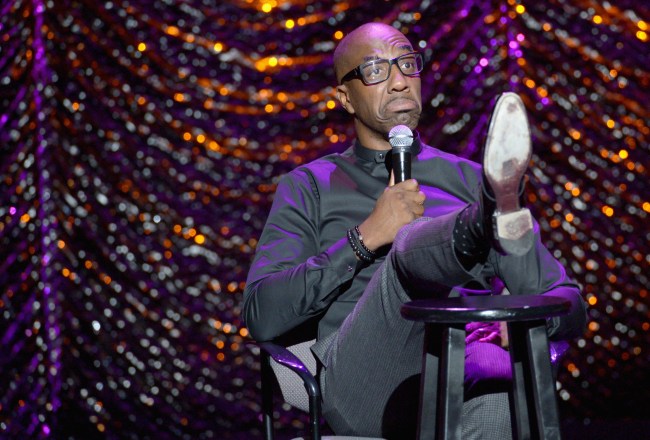 J.B. Smoove is an actor, writer, and comedian probably best known for portraying Leon Black on HBO's Curb Your Enthusiasm. You may also know him from CBS' The Millers, Fox's 'Til Death, UPN's Everbody Hates Chris, and BET's Real Husbands of Hollywood. The former door-to-door fire extinguisher salesman was also once a writer (and occasional performer) on SNL from 2003-2005. Currently, Smoove stars in Almost Christmas, a comedy about a retiree (Danny Glover) who invites his four grown children home for the holidays after losing the love of his life. The film also stars Omar Epps and Gabrielle Union. You can follow J.B. Smoove on Twitter here and Instagram here.
We submitted 20 questions to Smoove recently and, predictably, ended up with some delightful answers.
1. You walk into a bar. What do you order from the bartender?
How about a hot toddy with a splash of Crown Royal Vanilla on the rocks. And when I say rocks I'm not talking about ice, I'm talking real damn rocks! I like drinks that put hair on your chest. Not new hair though, hair from other parts of your body. A drink that transfers your pubic hair, your nostril hair, underarm hair, all that hair to your chest! It might get uncomfortable though, some of that hair has a stench! Nostril hair smells like boogers, underarm hair smells like musk, and pubic hair smells like… pubic hair!
2. Who's your favorite person to follow on Twitter and/or Instagram?
I don't mean to sound egotistical, but me. I get so busy sometimes that I forget where I've been and what I've posted. By following myself I can keep track of me. Don't get me wrong I don't just like everything I post. I have written myself some very nasty comments. Hell, I've had to block me a bunch of times.
3. What's currently waiting for you on your DVR?
Walking Dead of course. Ray Donavan and the final season of Lost, don't spoil it for me.
4. It's your last meal — what are you going out with?
If I know it's my last meal then I must know something's up so I'm gonna eat stuff thats gonna make it difficult for people to dispose of my body. I would have a concrete smoothie so that it can harden in me and I would take a whole bunch of Viagra pills, that way my body will be heavy and hard. Too much? I think not!
5. What websites do you visit on a regular basis?
The Daily News online because I'm a New Yorker and I need to know what's up, what's going on in New York. When I was a New Yorker I used to buy the paper every day.
6. What's the most frequently played song on your mobile device?
A little old school, Morris Day And The Time, "Cool." Look it up, thank me later.
7. If you could go back and give your 18-year-old self one piece of advice what would it be?
Don't fuck this up for us! I like where I am now. I like the the choices I've made so the last thing I need is some 18-year-old me fucking things up for 50-year-old me!
8. What's the last thing you Googled?
Google.
9. Dogs or cats?
Dogs of course. I do like the way cats look though. As a matter of fact I have a dog that damn near looks like a cat.
10. Best concert of your life was…?
Diana Ross, Central Park, in the rain! I've never seen that much rain fall in my life! I lost a sneaker and a girlfriend that night!
11. What book are you most likely to give as a gift?
Anything recommended by Oprah. People love Oprah.
12. What's the nicest thing anyone has ever done for you?
Someone pulled over late at night, on a dark road and helped me change a tire. I didn't kill him, he didn't kill me. It was a great night. Thank you my friend wherever you are.
13. South Park or Family Guy?
Family Guy, of course.
14. You have an entire day to do whatever you want. What would you do?
I tell you what I wouldn't want to do: Spend a whole damn day answering 20 questions when I got other shit to do!
15. What movie can you not resist watching if it's on?
Bourne Identity or any Bond with Daniel Craig. I like watching people get their ass kicked.
16. The sports team or teams you're most passionate about?
The New York Jets. Unfortunately, I'm a long suffering Jet fan.
17. Where did you eat the best meal of your life?
In my house the time my vegan wife Shah made the most amazing zucchini spaghetti! But since I'm a part-time vegan, full-time carnivore I added some chicken and real cheese.
18. The last movie you saw in a theater?
Actually, Almost Christmas, which I pushed heavily for the title Damn Near Christmas.
19. Who was your first celebrity crush?
My first celebrity crush was Diahann Carroll in the movie Claudine. Man that was a beautiful lady! She's still a beautiful lady! In that movie she played a single mom with a whole lot of bad kids, like six or seven of them. She lived in Harlem, was on welfare and was struggling to raise them kids, but there was something about her, so strong and beautiful! I was just a little kid at the time but when I saw her, even at 13, I was ready to step up and be a daddy to those bad ass kids!
20. What would you cook if Nic Cage was coming to your house for dinner?
Let me answer that question with a question: Nothing against Nic Cage but why the hell is Nic Cage coming to my house for dinner!?
Here's the trailer for Almost Christmas, which is out in theaters nationwide today.
PREVIOUSLY: Matthew Broussard