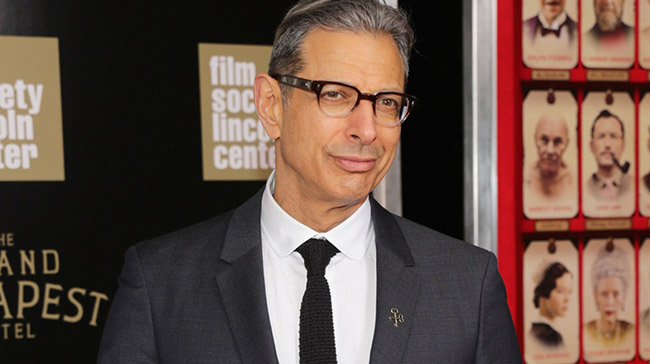 Few actors seem to fit their roles as perfectly as Jeff Goldblum; the guy just has a look and way of acting that makes him a true original in Hollywood. Goldblum's played everything from a street thug in Death Wish to a scientist in The Fly, a chaos theory mathmetician in Jurassic Park, a psychic in Vibes, and a scientist in Independence Day. Thanks to his range and a bit of good luck, Goldblum's worldwide box office tally sits close to $4 billion. Still, there have been a few choice parts that have slipped through the cracks over the years. Today is Jeff Goldblum's 64th birthday, so let's look back at some of those roles that could have been his — scientist and non-scientist alike.
Back to the Future (1985)
Despite having a 14-year age gap, it was almost Jeff Goldblum instead of Christopher Lloyd blasting off into the past at 88 mph with Michael J. Fox. According to writer/producer Bob Gale, John Lithgow was briefly considered and Goldblum actually came into to audition for the iconic part that ultimately went to Christopher Lloyd.
"The only other guy we really seriously considered for Doc Brown was Jeff Goldblum. Jeff came in, and…I'm certain we talked about John Lithgow, but I don't remember if he ever actually came in, or if we met him. But I vividly remember meeting Jeff and liking him."
Don't feel too bad for Goldblum though, he's certainly played his fair share of eccentric scientists over the years in movies like The Fly, Jurassic Park, and Independence Day.
Private Parts (1997)
You can't make a movie about the "king of all media" and not have the king play himself, can you? Producers of Howard Stern's 1997 biopic tried to pull in Jeff Goldblum — y'know, an actual actor — to play the shock jock, but Stern wasn't having any of it.
"Who else could play Howard Stern?" asks Stern. "Robert Redford? Schwarzenegger doing me with an accent? Sly Stallone walking in saying, `Yo! Where are the lesbians?' One of those Hollywood types suggested Jeff Goldblum. Can you imagine Jeff Goldblum, the Fly, as Howard Stern? In the end, there was no one else who could play me."
In this writer's opinion, Jeff Goldblum actually seems like a pretty good fit, and certainly has similar features as Stern. In the end, it was a solid decision on Paramount's part to go with Stern for the lead, and the movie did fairly well at the box office, pulling in $41 million while receiving generally positive reviews from critics.
Batman Triumphant (1999)
In 1997, Warner Brothers began talks with Joel Schumacher for a fifth Batman movie known as Batman Triumphant (a really bad idea that movie-going audiences barely escaped). Batman and Robin had only completed shooting two weeks before Warner Brothers gave the green light to the next Batman film, and Schumacher told Variety the goal was to "get ahead."
"A few months ago, there were 12 movies being shot on the Warner Bros. lot, and Bob Daly and Terry Semel asked to see a sample reel of each film," Schumacher said. "Each director put together dailies from the film. After Bob and Terry saw ours, they ordered another script for Batman. There's a double purpose, to get ahead of the game, but also to budget it early on," he said. "We had a lot of luck this time because we started so early."
The movie was slated for a summer of 1999 release with George Clooney and Chris O'Donnell both reprising their superhero roles and battling a triple threat of Harley Quinn, Scarecrow, and the Joker. There were rumors that Courtney Love was being considered for Harley Quinn, Jeff Goldblum for the part of Scarecrow, and talks of Jack Nicholson reprising his Joker role, but after Batman and Robin died a deservedly horrible death at the box office, Batman Triumphant immediately had its wings clipped.
24 (2001)
Fox's riveting action series 24 was an instant hit when it made its TV debut in 2001, and it provided a tremendous boost to Kiefer Sutherland's career. The show's initial run with Sutherland starring as a government agent battling terrorists in real-time racked up numerous awards over the course of 192 episodes and proved popular enough to return for an additional 12 episodes last year. The role of Jack Bauer wasn't always Sutherland's, though, and at one point it could have been Jeff Goldblum regularly saving the world from international bad guys. 24 producer Howard Gordon revealed that they almost hired Goldblum to join the ranks of CTU back in 2000.
"This is a crazy thought, but at one point Jeff Goldblum was actually being considered for Jack Bauer. "
Hulk (2003)
Holy cow, Jeff Goldblum missed out on yet ANOTHER scientist role! Universal's 2003 movie, Hulk, wasn't exactly a smash — pun intended — at the box office, but that failure could have gone to Jeff Goldblum instead of Eric Bana. Goldblum reportedly tested to play the role of Bruce Banner, but for whatever reason wasn't the right fit for the green monster. The role of course has been filled by a number of actors over the years, and whether or not Goldblum would have been a good fit is a question we'll likely never really know the answer to.