Talented and attractive young people Jennifer Lawrence, Josh Hutcherson and Liam Hemsworth amped up anticipation for the final big screen Hunger Games offering with a handprint ceremony at TCL Chinese Theatre in Hollywood.
Was there a picture of the trio smiling and making the standard "these hands were previously in cement" pose? Darn tootin' there was!
The trio placed both their hands and their shoes (sorry, foot fetish fans) in wet cement at the daytime ceremony which featured Conan O'Brien saying a few words ahead of J Law & Co. making their mark. All three Hunger Games stars engaged in a bit of talking themselves with Jennifer expressing her thanks to the crowd:
"I'm very grateful. I think I can say that on behalf of everyone here for the 'Hunger Games.' I can't remember your names. I'm just kidding, I know your names. Anyway, Liam?"
Liam Hemsworth followed up that sentiment with a sweethearted declaration of buddyhood.
"I'm going to say to you guys that I'm honored to share it with you. Let's just be friends forever."
Fans of the series also got a fair bit of love when Josh Hutcherson (The Hutch!) did some speaking.
"[Hunger Games fans] give us the energy to keep going, and we really appreciate it all. This means a lot to all of us."
A lovely time was had by all and cement was fondled by charming celebrities. That's the main takeaway.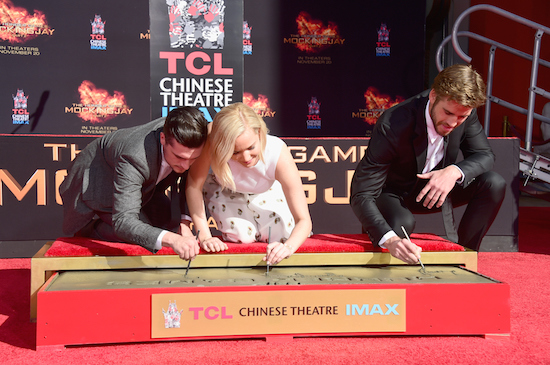 The Hunger Games: Mockingjay – Part 2 is set to arrive in theaters on November 20.
[h/t Variety]