Jim Carrey was once, without question, the biggest movie star in the world. Between 1994 and 1996 alone, the In Living Color standout starred in Ace Ventura: Pet Detective, The Mask, Dumb and Dumber, Batman Forever, Ace Ventura: When Nature Calls, and The Cable Guy (for which he earned a then-record $20 million payday) before transitioning to more dramatic roles in The Truman Show, Man on the Moon, and Eternal Sunshine of the Spotless Mind (he should have won an Oscar for that one, but alas). Around 2010, though, Carrey stopped acting as much, and when he did accept a part, it was in projects, like Mr. Popper's Penguins, The Incredible Burt Wonderstone, and the unfortunate Dumb and Dumber To, that were beneath his generational talent.
When asked why he's grown increasingly selective about his projects, Carrey told The Hollywood Reporter, "I just didn't want to be in the business anymore. I didn't like what was happening, the corporations taking over and all that. And maybe it's because I felt pulled toward a different type of creative outlet and 
I really liked the control of painting — of not having a committee in the way telling me what the idea must be to appeal to a four-quadrant whatever."
It's not a comeback, exactly, but Carrey is set to star Kidding, a Showtime series about a Mr. Rogers-type TV host who must keep smiling while his personal life is exploding. "You're always waiting for that thing that you recognize as some part of yourself," he said about the show. "And the life experience here matched up. I've gone through great loss, and somehow I ended up on the other side in a place where I can look anybody in the eye and feel like I'm 
on the same page. I understand how the river of grief can grab you at some point in your life and just throttle you." Directed by Eternal Sunshine's Michel Gondry, Kidding premieres on September 9.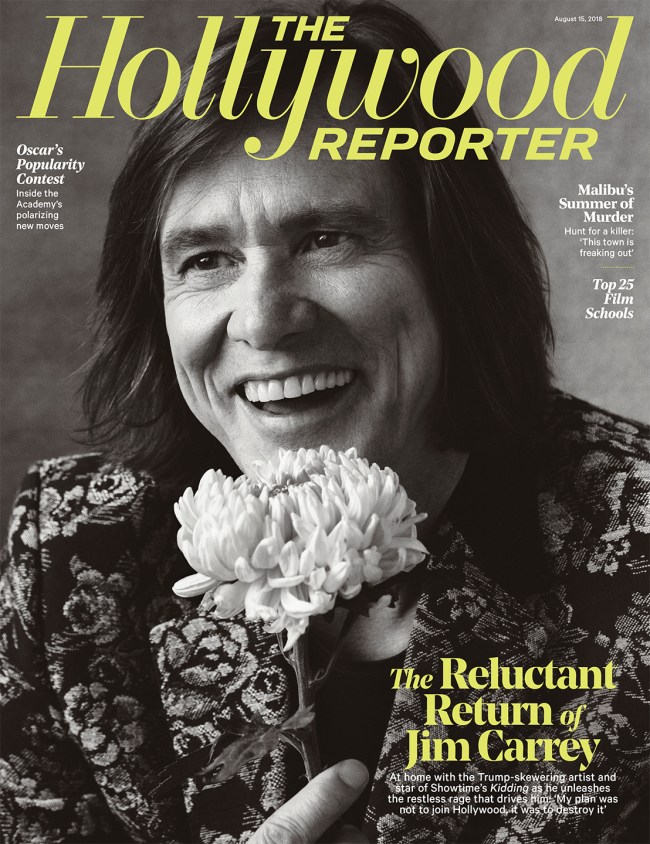 (Via The Hollywood Reporter)