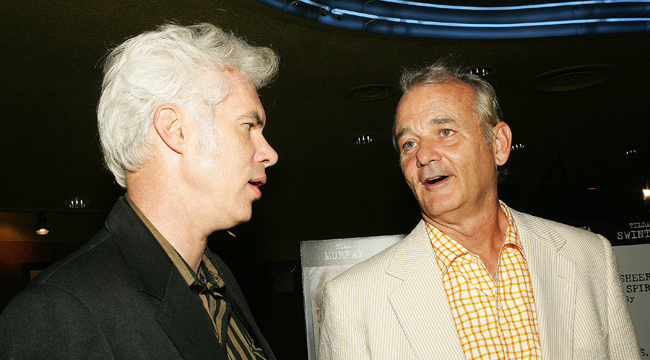 When Jim Jarmusch and Bill Murray team up, it's safe to say that weird sh*t happens. That would include Murray's delightful, java-gulping appearance within the Coffee and Cigarettes vignettes and his criminally underrated turn as a chronic bachelor in Broken Flowers. Now, the pair is reuniting for what sounds like one irresistable zombie movie — given Murray's celebrated cameo in 2009's Zombieland — the one downer being that Murray will not play a zombie.
Jarmusch, who directed Tilda Swinton and Tom Hiddleston as vampires in 2013's darkly gorgeous The Only Lovers Left Alive, has yet to reveal much about his next foray with the undead. However, he was spotted (in photos obtained by the Daily Mail) while filming some zombie-fueled mayhem outside of New York City with Murray, who plays a police officer alongside colleagues played by Adam Driver and Chloe Sevigny. And it seems that Murray let some details slip while speaking in March with Philly.com:
"I've got a good job coming up. Brace yourself: It's a zombie movie.

"Jim Jarmusch has written a zombie script that's so hilarious and it has a cast of great actors: Rosie Perez, Daniel Craig. It's titled The Dead Don't Die, and it shoots over the summer. But, no, I will not play a zombie."
The set images also show a blood-soaked Selena Gomez and Austin Butler, and it's sure to be an atypical take on the zombie genre, given Jarmusch's idiosyncratic style. Still, Jarmusch has long since has pushed back at such assumptions about his work, and he once told The Guardian, "It's like every time I make a goddamn movie, the word 'quirky' is hauled out in the American reviews." So, this is definitely not a quirky zombie film, and while we won't get the Bill Murray zombie role that everyone wants to see, it's still a zombie movie that resurrects an always-promising director-actor collaboration from the dead.
Sorry, Murray fans! You'll always have this scene for the memories…
(Via Daily Mail & Philly.com)