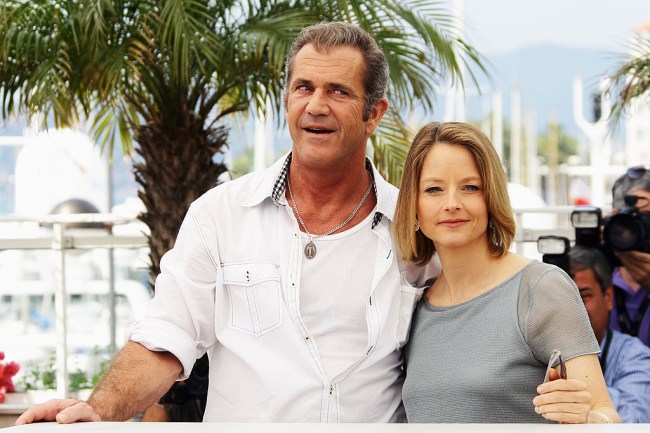 Did Mel Gibson go on another anti-semitic and misogynistic tirade? Nope, but Jodie Foster seemed to have to defend Gibson again in a recent interview with the New York Times! Foster, who directed the upcoming George Clooney and Julia Roberts crime drama, Money Monster has been friends with Gibson since they starred in the 1994 film, Maverick. Although their friendship may seem unorthodox to most, Foster's bond with Gibson is extremely tight. Regarding Gibson's past struggles, Foster told the New York Times this week:
"It's not my job to adjudicate his behavior," she said. "He's certainly not sexist and certainly not racist. I know the guy I know, somebody who's really emotional, who I can have long, long conversations with, who's trustworthy, who shows up for me."
Gibson sounds like the perfect BFF! Except, you know all of that stuff he said about Jewish people. This isn't the first time that Foster has defended Gibson. She has publicly done it several times, especially in 2011 during promotional interviews for The Beaver; a box-office flop directed by Foster starring her pal. Foster denies that The Beaver was an attempt to get her buddy's career back on track.
Gibson has a few projects on his plate this year including playing a tough-as-nails tattoo artist in Jean-Francois Richet's Bloodfather and directing, starring, and co-writing a television series. Foster's film, Money Moster hits theaters May 13.
(Via: E!)