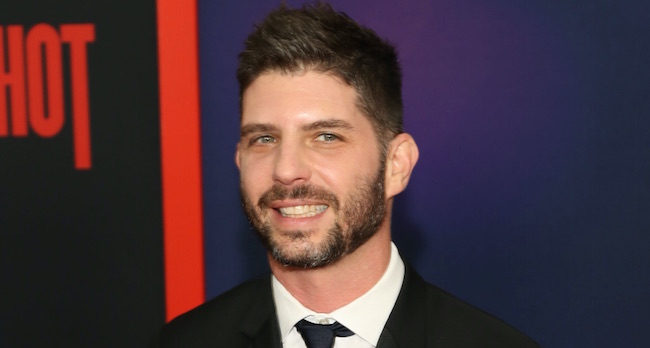 Jonathan Levine knows what he's up against this weekend – namely being the first real challenger to some of Avengers: Endgame's behemoth box office. Yes, Long Shot – a comedy starring Charlize Theron and Seth Rogen – is technically counter-programing, but we are in uncharted waters here. Or, as Levine puts it, "It's fucking terrifying, man."
I met with Levine at a hotel restaurant in New York's East Village — one that Google Maps literally tags as "hip" — that seems to be some sort of mecca for famous people. (As I was entering the restaurant Tilda Swinton came rushing out to hail a cab.) Over lunch that lasted for about an hour, our interview rocked back and forth between snippets of Levine's career to just general discussion of '90s pop culture (Kris Kross is brought up) – which also, in a way, kind of sums up Long Shot.
In Long Shot Seth Rogen plays a former journalist who's hired by his ex-babysitter, and now Secretary of State (played by Charlize Theron), to write her campaign speeches as she runs for president. The two often reminisce of their time as kids, which leads to scenes that involve Boys II Men and Roxette. Over time, the two begin a romantic relationship, which seems to have inspired a lot of questions Levine has answered on this press tour, questions that typically take the form of, "Her, and a guy like that?!"
This is Levine's third film collaboration with Rogen. After directing All the Boys Love Mandy Lane and The Wackness, their first collaboration came with 2011's 50/50. After his biggest box office hit to date, 2013's Warm Bodies, Levine reteamed with Rogen for the holiday-themed comedy, The Night Before. And now, their third collaboration comes after Levine's first true disappointment, 2017's Amy Schumer/Goldie Hawn vehicle, Snatched. (Levine admitted he expected a ton of Snatched questions for this press tour, so he had a planned response he was going to give every time. But no one ever brought up Snatched, until we talked.)
After Snatched underperformed, Levine wanted to start working on another film immediately, to get back in the saddle, which became Long Shot … and now, of course, he's up against the biggest movie of all time.
I feel like you've been on a long "How on Earth does a guy like that get a woman like that?" publicity tour.
Yes.
I've seen that question a lot.
I deflect that question. As much as it is the simple selling point of the movie, it's so, not for me, what the movie is about.
It's about Roxette.
Yes, it's about Roxette. Look, it's a rom-com trope, but we hope people put it aside quickly and see that it's a movie about two people who challenge each other's ideals.
Tilda Swinton is outside hailing a cab.
This place, I've never seen more famous people.
She jumped in front of my path to hail a cab, and I did that thing where I pretend not to know who she is.
I was in the lobby after a few drinks last night and I just accidentally go, "Hey, it's Tilda Swinton," as she walked towards me. It's almost a tic that I have.
It's impossible to not recognize her.
And last night I met Cameron Crowe and Darren Aronofsky here. I went to the Golden Globes and didn't see this many famous people.
But, seriously, Roxette's "It Must Have Been Love" plays a big role in this movie. Roxette is underrated.
They are wonderful. And it was at Seth's insistence that Roxette was in this movie. He is a Roxette superfan. I'm not sure if it's ironic or not, I can't tell.
Their songs are catchy.
"The Look," "Joyride"…
"Fading Like a Flower." And Boyz II Men are actually in this movie. They won back to back "senior class song" votes at my high school.
"End of the Road."
And "It's So Hard to Say Goodbye to Yesterday."
I think they knew they were doing these anthems. They were reversed engineered to be played at proms forever.
My favorite line in "Motown Philly" is the shoutout to Bell Biv Devoe and Another Bad Creation.
About the East Coast Family?
Because no one today would know about Another Bad Creation.
That's true. Another Bad Creation is a deep cut. It was a precursor to Boyz II Men, but I was obsessed with New Edition and Bobby Brown.
Remember when Kris Kross called out Another Bad Creation in "Jump"?
What?
They call them "another bad little fad."
That's referring to Another Bad Creation? So "Jump" is a diss track? Wow. Not exactly Jay-Z versus Nas.
I don't remember ABC responding.
Perhaps there's a deep track we don't know about?
If that exists I want to hear it.
If I see Boyz II Men again I will ask them. What a strange time in music. While people complain about today's music, there was a time when one of the biggest songs was about wearing your clothes backwards. And I thought it was kind of cool! I don't remember doing this, but I bet I wore my clothes backwards.
I bet you didn't. You'd remember people saying things to you.
I probably didn't.
An era when Vanilla Ice was cool.
I think he lost a lot people when he did that interview where he tried to pretend it wasn't "Under Pressure." Remember that?
He said there was one extra beat in there.
Did you know that Janusz Kamiński was the DP on Cool as Ice? I hope that makes it into whatever this is.
I don't think people realize how funny Charlize Theron is. I interviewed her once and she's hilarious. She uses cuss words well.
Yeah, she's a ball-buster. And she's that much funnier because it's so unexpected coming from her. You see her walking down the street and she's this sophisticated, classy person – and then when the shit that comes out of her mouth, it makes it that much funnier because it's such a surprise. You see it in the movie, but then it's the same off screen. Seth is smoking weed all day and making jokes…
Wait, Seth Rogen smokes weed?
Yeah, don't tell anyone.
He's usually very quiet about that aspect of his life.
So quiet he started selling it in Canada. Actually, I think that's the thing he will be most known for in 20 years. He's way ahead of the curve.
Like Paul Newman, only not salad dressing.
Except he's not tying it to himself in any way. By the way, I think Paul Newman is a saint and the most handsome man who has ever lived.
You're up against the second weekend of Avengers: Endgame.
I haven't seen Avengers. Don't tell me what happens, but is it good?
I liked it, yes. So what's that like, going up against that?
It's fucking terrifying, man. It sucks.
Literally the biggest movie of all time.
And I think we knew it would be the biggest movie of all time, but we didn't know it would be this much the biggest movie of all time? When I tried to get tickets a couple of days ago and it said the next available show time was at 3 a.m., I was like, oh, that's a big deal. It's scary and it's frustrating and, also, we've done our best to make a movie people will like a lot.
You should also have theaters stay open 24 hours.
So, okay, we kind of did that. We have trailers playing in front of Avengers. A couple of the theater chains did not want to promote an R-rated movie in front of Avengers – because I guess it's okay to kill millions of people in a city but not okay to say "fuck."
Literally trillions died.
So Seth filmed a thing that's playing in half the theaters. Anyway, yeah, it's a real David and Goliath. And I'm hoping it's good, that it means more people are going to the theater. And I'm a big fan of Marvel movies and I want to see it. But it is a little daunting how movies like this are dominating the theatrical release experience.
And if anyone complains about a comedy being two hours long, your movie is much shorter than Avengers.
It's not over two hours, dude.
If not it's right on the nose.
It was very important to me to be under. Okay, maybe I'm under by four seconds. But, yes, we are not as long as Avengers.
You get a whole hour of your life back if you see this instead.
And you get to do whatever you want with it.
That's the tag line, "Instead of seeing Avengers a second time, see Long Shot, then get an extra hour to do whatever you want."
Or, see this, then pick your favorite part of Avengers and watch that part of it.
Why wasn't there another Warm Bodies movie? That movie did well.
We are doing a TV show.
Still, it feels like a long gap.
Well, the whole time I was making it I was thinking, "This is going to be a fucking disaster."
But people liked it.
Oh, I love the way it turned out. But picture yourself on set watching two actors groan at each other for an hour, you start to second-guess your choices. But the writer of the book wrote two more books, but you're right, the timing just took too long. Now we are going to try to do it for Hulu. We are writing a pilot now.
The reviews of Long Shot so far have been great. Do you feel a need to bounce back a bit because it seems like your last movie, Snatched, underperformed? What happened there?
You know, I don't know. I never did a forensic post game on it because I just didn't feel that was that valuable movie forward. I hadn't really had that happen before…
Yeah, most of your movies are well received.
It was kind of traumatic. I felt like I let Amy and Goldie down and I love them. It was just painful. But the most valuable way to deal with that is to just keep working. And everyone has ups and downs, but the people who can keep working get to keep working. What I really felt was I want to make another movie as soon as possible.
Which makes sense.
Whether I totally understood why it was received the way it was, I just wanted to prove to myself, and the world, I wasn't on a downward slope in my career. For me, no matter what happens this weekend or how many people see the movie, it is very rewarding to have now made a movie I know people like and is being well received, critically. And it means a lot to me. In that way, I'm very happy with where we are at.
Could you tell it wasn't going well?
No. Well, in your dark nights of the soul you think is this working? But it felt pretty good. If I learned anything it was I was not able to inject my own personality into that movie as much. It felt a little more anonymous than most of my movies. If I could psychoanalyze myself, maybe that's what I was trying to do? And what I learned was I need to put myself into my movies.
'Long Shot' opens in theaters this week. You can contact Mike Ryan directly on Twitter.