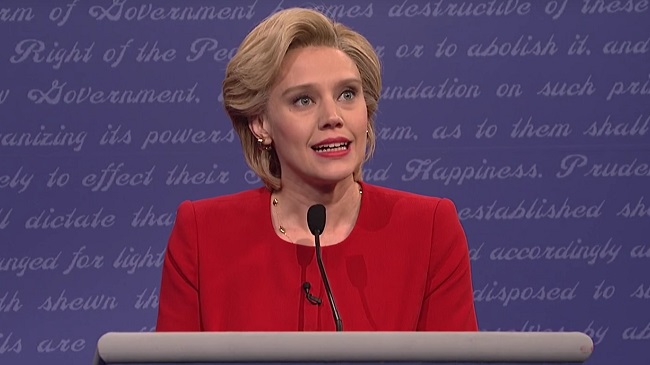 The more that comes out about director Jay Roach's drama about Fox News founder Roger Ailes, tentatively titled Fair and Balanced, the more intriguing it sounds. John Lithgow, who previously brought Winston Churchill to life in the first season of Netflix's The Crown, will play the late television and political magnate. Other major cast members include Charlize Theron as Megyn Kelly, and Nicole Kidman and Margot Robbie as Gretchen Carlson and Kayla Pospisil, respectively. According to Deadline, SNL's own Kate McKinnon now counts herself among this already loaded cast.
Per the report, the comedy actress will play an unnamed producer character in what the outlet describes as "her highest-profile non-comedic outing to date." McKinnon did have a small role in Netflix's recent dramedy flick Irreplaceable You, as well as a significant role in the R-rated comedy Family, but her joining Fair and Balanced suggests a far more dramatic turn than anything she has done previously.
Aside from McKinnon and the aforementioned cast, however, Roach's Ailes film will also feature Mom and I, Tonya star Allison Janney as Susan Estrich. The Deadline report also adds that speculation surrounding the film suggests that Fox News personalities past and present — like "Bill Shine, Judy Roginsky, Jeanine Pirro, Juliette Huddy, Greta Van Sustenen and James and Lachlan Murdoch" — will be making appearances.
(Via Deadline)