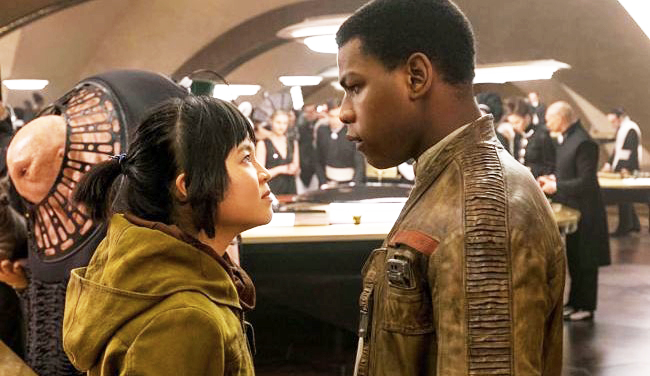 Star Wars: The Last Jedi is certified 91 percent "Fresh" among critics on Rotten Tomatoes, but the audience rating is only 46 percent. The curious disparity can possibly be credited to Rian Johnson subverting numerous tropes, and some fans don't like change (Kevin Smith agrees with this childhood-ruining theory), or trolls and/or bots sabotaging the score, because how dare the heroes not all be straight white males. This, unfortunately, explains the existence of the men's right edit of The Last Jedi, wherein a two-and-a-half hour movie was reduced to 46 minutes, and why actress Kelly Marie Tran deleted her Instagram posts:
Kelly Marie Tran, the Vietnamese-American actress who portrayed Rose Tico in Star Wars: The Last Jedi, spent the weekend deleting her Instagram posts, leaving behind a completely barren account; it should be noted, however, that she has not gone so far as to delete the account entirely. (Via)
At this time, it's believed Tran (the first woman of color to have a leading role in a Star Wars movie) deleted the posts "due to months of harassment she has received for her character Rose," according to Star Wars Facts.
In October, months before The Last Jedi was released, Tran admitted that she "avoided public social media for a long time purely because I was afraid. I was terrified of being picked apart, of being scrutinized, of being seen. It took me a year of self-work — and some really amazing, supportive friends — to make me realize that it's none of my business if people like me or not. It doesn't change my goals, my dreams, what I want to do with the opportunities I've been given."
She continued, "YOU ARE ENOUGH. Love yourself and embrace your messiness. That's where your power lies! (I honestly just wrote this in my journal as a reminder to myself, because hey, I'm mostly a strong person, but life happens, and I'm still figuring it out as I go.)." The only thing that remains on her Instagram account? The page description: "Afraid, but doing it anyway."
UPDATE: writer and director Rian Johnson has responded.
In the aftermath, Tran is receiving an outpouring of support.
(Via ScreenRant)