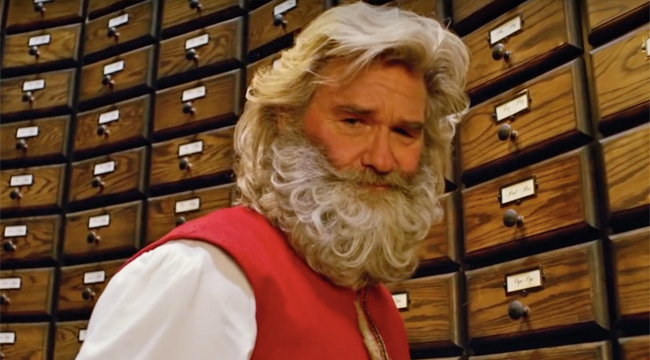 When it comes to onscreen facial hair, arguably only the cast of 1993's Gettysburg can beat Kurt Russell. Over his five decade career, the throwback macho thespian has had his share of beards. They tend to be real. So it's impressive to learn that his beard in the forthcoming Netflix movie The Christmas Chronicles — in which the two-time Snake Plissken plays Kris Kringle — was "80 percent real."
That estimate comes courtesy of one of Russell's super-young co-stars, namely Darby Camp (of Big Little Lies), who plays one of two kids who get involved in some Christmas Eve misadventures with Santa himself. While talking about the film for EW's PEOPLE Now, Camp and her fellow kid co-star Judah Lewis freaked out over Russell's immaculate super-beard, much as some of us freaked out over the lengthy handlebar mustache the actor really grew out for Quentin Tarantino's The Hateful Eight, which Camp and Lewis presumably aren't allowed to watch.
Alas, the two didn't specify what comprised the other 20 percent.

Russell last wore a giant beard when he played Chris Pratt's dad who was actually a planet or something in Guardians of the Galaxy Vol. 2. Going back father, he's had some sporty 'staches in the Westerns Bone Tomahawk and, especially, 1993's Tombstone, which is a real tight piece of work. The one he wore opposite Mark Wahlberg in Deepwater Horizon wasn't anything to sneeze at either.
Anyway, you can watch Kurt Russell play Santa Claus when The Christmas Chronicles drops on Netflix on November 22. If it seems weird that the star of the gory remake of The Thing (fine beard there, too) is in a movie where he clowns around with some kids, then remember: This ain't his first rodeo. Russell was once a kid actor himself, the star of many cute live-action Disney movies, including one about a chimp that predicts hit TV shows. A possibly apocryphal story even has it that the last thing Walt Disney himself talked about on his death bed before he passed was young Kurt Russell. But again, that story may be fake news.
(Via EW)