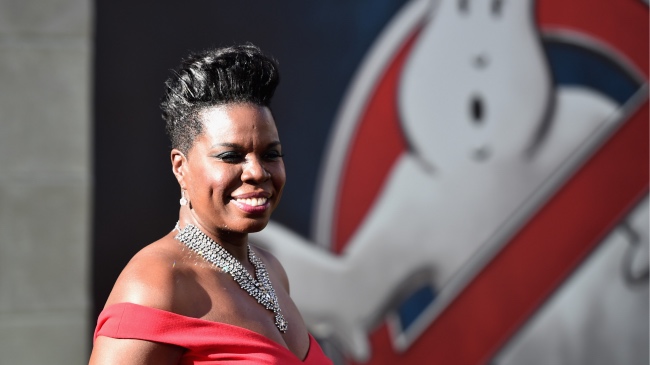 Leslie Jones won't let harassment keep her from her fans. The Ghostbusters star is back on Twitter three days after leaving the site due to a barrage of racial attacks.
Jones publicly spoke out against Monday's night of abuse, largely orchestrated by Breitbart tech editor Milo Yiannopoulos. After Yiannopoulos published a negative review of Ghostbusters on Breitbart, as well as engaged directly with Jones on Twitter, his followers overwhelmed the actress with pornography, memes, and racist language. The female stars of Ghostbusters aren't strangers to attacks for their roles in the reboot of the classic 1984 film, but Jones received it on an entirely different level.
Jones' outcry prompted mass support online, including from Ghostbusters director Paul Feig, who started the #LoveForLeslieJ hashtag. He and others called on Twitter to take action against Yiannopoulos and his denizens of abusive followers. In response, Twitter announced it was permanently suspending Yiannopoulos from the social network, and it was going to open verification requests to the public.
"People should be able to express diverse opinions and beliefs on Twitter. But no one deserves to be subjects to targeted abuse online," a Twitter spokesman said in a statement.
Yiannopoulos joins a small group of public figures who've been permanently banned from the social network, including GotNews founder and fellow controversial conservative Charles C. Johnson. In an interview with Breitbart, Yiannopoulos said he was blamed for the actions of his followers, and Twitter is holding conservatives to a harsher standard than liberal groups.
"Twitter is holding me responsible for the actions of fans and trolls using the special pretzel logic of the left," Yiannopoulos said. "This is the end for Twitter."
Meanwhile, Jones' fans have been celebrating her return to Twitter, as well as her refusal to back down from harassment. It resulted in some of Twitter's strongest anti-harassment action in months, and Twitter said it's currently "reviewing our hateful conduct policy to prohibit additional types of abusive behavior and allow more types of reporting." Twitter has promised to announce those changes in the near future.
(Via Vulture)