Ah, the 1990s. It was the decade for youth-oriented sports movies. Be it the "kid becomes major league player/manager" (Rookie of the Year, Little Big League) to "team of kid misfits become really good at their chosen sport" (The Mighty Ducks, The Mighty Ducks 2) to "kid uses dark supernatural forces to improve his favorite team" (Angels in the Outfield) — that decade was stacked. One of the most beloved is Little Giants, starring Rick Moranis and Ed O'Neill. It fell square into that middle category, centering around brothers coaching two different Pee Wee Football teams.
That was in 1994, and everyone is older and (hopefully) wiser now, so let's see what they've been doing since then.

Rick Moranis – Danny O'Shea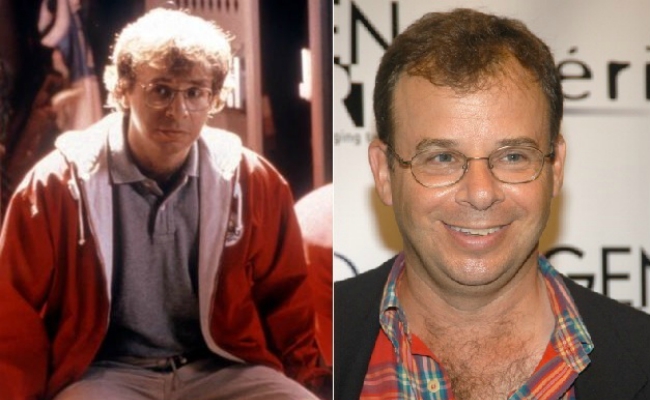 Rick Moranis is a national treasure. Actually, he's technically two national treasures, considering he's from Canada. How Canadian is he? Well, he went to elementary school with Geddy Lee from Rush. How's that for Canadian? Moranis is well known for his work on SCTV ("I'm Bob McKenzie and this is my brother, Doug"), Ghostbusters, Spaceballs, and Honey, I Shrunk the Kids.
Moranis's wife, Ann, passed away from cancer in 1991. Although he would go on to star in a couple more films after Giants — The Flinstones and Honey, We Shrunk Ourselves, for example — in 1997, he decided to retire from acting to focus on raising his kids. He did do some occasional voice acting (Disney's Brother Bear) and has recorded two albums (The Agoraphobic Cowboy and My Mother's Brisket & Other Love Songs) since then, so he's still fairly busy.

Ed O'Neill – Kevin O'Shea
For many, Ed O'Neill will always be known as Al Bundy on Married, With Children. And, rightfully so, the oft-crude Bundy helped shatter the rad-Dad TV trope by by filling the screen with general distaste for his family and job. When it comes to O'Neill's films, however, his starring roles have been few and far between.
Since Little Giants (which followed Dutch), he's had a handful of supporting film roles — particularly in the films of David Mamet, such as The Spanish Prisoner and Redbelt.
On the small screen, however, well — Ed's been all over that, people. We're not just talking about his current long-running role of Jay on Modern Family. He's starred in 2003's reboot of Dragnet, a memorable guest role during the 2004 season of The West Wing, and a major role on HBO's John from Cincinnati. And we haven't even mentioned his numerous one-time appearances on shows like 8 Simple Rules, Twenty Good Years, and The Unit.
Ed's done a lot of TV, is what we're saying.

Shawna Waldron – Becky O'Shea
For the early part of her career, Shawna Waldron's roles could be summed up as "so-and-so's daughter". Ed O'Neil's daughter in Little Giants. Michael Douglas's daughter in The American President. Alfred Molina's daughter in the TV series Ladies Man. If it's possible to get typecast as "someone's kid," then she got pretty close to it.
Her most prominent role since then has been in the Lifetime TV movie Poison Ivy: The Secret Society. Which is the fourth Poison Ivy film.

Susanna Thompson – Patty Floyd

1994 was a great year for Susanna Thompson — not only did she star in Little Giants, she had a prominent role in the TV movie Alien Nation: Dark Horizon which was based on the TV show Alien Nation which was based on the movie Alien Nation and all those three things were awesome and shut up, yes they were. Anyway, Thompson went on to have a pretty active career. She had a prominent part in Rob Reiner's civil rights drama Ghosts of Mississippi and a number of supporting roles following that.
Where you'll remember her most recently, however, is on the teevee box. She played the Borg Queen on four episodes of Star Trek: Voyager and as Army Lt. Col. Mann on NCIS. But, that's probably not where you recognize her from. You've most recently seen her failing her city as Moira Queen, Oliver Queen's mother in Arrow. See, now you remember her.

Devon Sawa – Junior Floyd

How do you follow up playing a major role in a family-friendly comedy like Little Giants. How about playing a ghost? Sure! Devon Sawa got his first real big break as the non-dead version of the titular ghost in Casper. It's not often you can say you played the lead role in a movie that you only have five minutes of screen time in but, dang it, he did it!
Sawa would then go from playing a spirit to being possessed by one in Idle Hands, in which he played a stoner whose possessed arm kills Seth Green (there's probably more to it than that). He's also had major roles in films like SLC Punk! and Final Destination. He's been popping up in a lot of independent films lately (as well as a cameo in Final Destination 5), and he played Owen Elliot for three seasons on the CW's Nikita.

Brian Haley – Mike Hammersmith (aka "Spike's Dad")
After spending years in the Army Special Forces, Brian Haley made the only appropriate career move: stand-up comedy.
When Thomas Haden Church left Wings to start a movie career, Haley was cast to replace him. He played Budd Bronski, a skilled mechanic with severe social anxiety and an aptitude for magic tricks. Which is ironic, as he basically vanished from the show halfway through his only season. Since then, he's stayed busy — touring the country with his stand-up routine and taking roles in movies and TV shows, most notably in Clint Eastwood's Gran Torino.
Also, he was "The Hooded Avenger" from The Weird Al Show. So, he basically wins.

Sam Horrigan – Spike Hammersmith
Sam Horrigan has been consistently busy since playing Spike. For three years, he played Brett Butler's son, Quentin, on Grace Under Fire — replacing original actor and fellow Little Giants co-star John Paul Steuer (who was pulled from the show by his mother after Butler allegedly flashed the pre-teen actor).
Since then… not a whole lot, actually. He's appeared in one-off episodes of numerous shows, such as One Tree Hill, 8 Simple Rules, Veronica Mars, and True Blood.
In 2007, he was the first male "Beauty" on the reality show Beauty and the Geek, causing an uproar among people who get upset at things like an actor being on a reality show.
Todd Bosley – Jake Berman
Bosley followed Little Giants with a supporting role beside Robin Williams in Jack and a spot fighting Michael Richards in Karate class on Seinfeld. Bosley has continued to work steadily over the years, popping up in The OC, Veronica Mars, and Bones. His most notable work, to date, came when he appeared on the last season of Scrubs as one of the new interns.