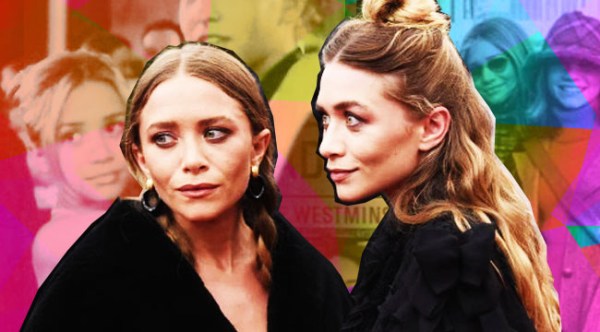 Full House took its final bow — well, final until it returned as Fuller House — in 1995, but that didn't mark the end of Mary-Kate and Ashley Olsen's acting careers. The fall of that same year saw the debut of It Takes Two, a theatrically released feature that saw them starring opposite Steve Guttenberg and Kirstie Alley. From there the twins' film career mostly moved to the world of direct-to-video and a series of films like Passport to Paris and Winning London that would take them around the world, culminating in a return to theatrically released features with New York Minute in 2004.
But 2004, the same year they turned 18, also marks the end of the line for the twins' family-friendly adventures. Ashley has not acted since, and Mary-Kate has had a few roles here and there (The Wackness, Weeds). The twins made the shift from acting to designing with their first couture fashion line, The Row, debuting in 2006. They followed with a second line, Elizabeth and James, and in 2012 were awarded womenswear designers of the year by the CFDA.
Today the twins turn 30, and those who continue to celebrate their birth include close family members, Olivier Sarkozy, and their dedicated long-time fans. (At this point it's essential to mention that in 2000 I followed the twins to Russia as part of a "Sail With the Stars" fan cruise. So yes, that includes me.)
In honor of the twins turning 30, I spoke with the leading men from their straight-to-video travel movies: Ethan Peck (Passport to Paris), Ryan Clark (Our Lips Are Sealed), Brandon Tyler Williams and Eric Jungmann (Winning London), Ben Easter (Holiday in the Sun), Derek Lee Nixon (When in Rome), Jeff D'Agostino (Getting There) and Lukas Behnken (The Challenge). These films, which were churned out in quick succession between the years 1999 to 2003, hold a special place in the hearts of Mary-Kate and Ashley fans around the world. The leading men, many of whom were on-screen love interests, regale us with stories from this beautiful time in the twins' careers and reflect on the lives of these mysterious and hard-working women.
Getting The Role
Ben Easter ("Jordan," Holiday in the Sun): I had just finished Pearl Harbor and my manager sent me to an audition and they said, "Oh yeah, it's for the Olsen twins." Right off the bat I recognized the name but I didn't know who they were. I was telling my sister about it and she was like, "Yeah they were on a show when they were kids." And I was like, there's no way that I could get an audition to play a guy opposite them in a film.
Derek Lee Nixon ("Ryan," When in Rome): If you want me to be honest, I had never seen a Mary-Kate and Ashley movie 'til my own. It wasn't that I didn't know who they were or anything. I was 19 when I shot When in Rome, so it wasn't necessarily my demographic.
Ethan Peck, ("Michel," Passport to Paris): Because they were my age, I had some sort of peripheral awareness. They weren't a big presence in my mind but I was definitely aware of them.
Eric Jungmann ("Dylan," Winning London): Obviously I was aware of the Olsen twins. I was born in '81 so I grew up in the '90s and Full House was a pretty big show for me. It was part of the TGIF, Family Matters block, which is also maybe even a bigger show for me. So I watched Full House quite a bit.
Ryan Clark ("Pete," Our Lips Are Sealed): I was on a TV show here [in Australia] when I was 6 or 7 years old and I had just finished up by the time we started filming Our Lips Our Sealed. It was sort of the perfect role to go into. It was something fun and we got to do a lot of cool things around Sydney with the girls.
Jeff D'Agostino ("Toast," Getting There): The breakdown for the character was for an overweight guy who ate a lot. I wasn't overweight at the time. [Laughs.] I read the sides and thought it sounded fun and he was a snowboarder and I grew up in Colorado, so I grew up snowboarding. I was like, alright, I'll just make him a snowboarder like all my bros back in Colorado. I went into the audition, really hammed it up. They filmed it, sent it to the girls and I guess they loved it because I looked really different from everyone else auditioning for that character.
Lukas Behnken ("Adam," The Challenge): It's an interesting thought knowing they're involved in the casting process. It's a different feeling of, oh, she picked me to be her boyfriend.
Brandon Tyler, ("Brian," Winning London): It was almost like a rite of passage. It seemed like everyone was doing an Olsen twins movie, then they would go on and do awesome stuff.

Meeting the Twins
Nixon: They were the most professional young ladies I had ever met in my entire life. They were 15 at the time, but they were very aware of what was going on. They weren't kids at all. They were in charge of their business, they knew exactly what they were going for; if something wasn't right they would correct it on the spot.
Williams: They were like normal little adorable twin humans. It didn't seem like they were these mega stars or whatever.
Jungmann: I do remember being so surprised by how grounded they were. Just totally real, not affected by that fame in the slightest bit, which I thought was so attractive and special about them. They were so close, the two of them together, and totally unfazed by that — at least in the way they treated me and the people around them, the people close to them.
Peck: Broker Way plays the other young leading man in Passport to Paris. We actually flew sitting next to each other so we became friends. And when we got there we totally hit it off with the girls. Mary-Kate played my love interest in the movie and I remember Broker and I were each attracted to the opposite and it was equally reciprocated. But they were both great and we had a fun time. They were totally normal kids, as I recall.
Easter: We clicked right away. I remember there being a little bit of a concern of the age difference because, I cannot believe it, they were just turning 15. I was 21 or 22 and looked like a baby. I remember Ashley saying, "No, it's fine." And it was fine. They're very mature for their age.
Behnken: I definitely personally connected much more with Mary-Kate, in our vibe and in our way. She was much more kind of hippie, flow-y, chill, and that's what I was. So we all got together and had a gathering and started to hang out just to get to know each other.
D'Agostino: I remember having some good talks with Ashley in particular. She was the one to, personality-wise, sit and have a more in-depth conversation and just hang out. And Mary-Kate, equally awesome, just a little more bubbly and bouncy, kind of jumping around. When you could get one-on-one with [Ashley] you could get in a really cool deep conversation about life and what they wanted at the time, it was really interesting.
Jungmann: They had a huge responsibility as professional people at a very young age. They hired 100 people to work on that movie and all those people are employed and being paid, and being paid well, because of these two children. They did that for the first two decades of their life.
D'Agostino: I asked Ashley, "How do you like doing all these movies?" They had never had a choice in it, obviously. And she said she liked doing them but her passion at that point was being in the restaurant industry. I think it was influenced by her boyfriend at the time. Her boyfriend's family owned a restaurant and he worked in the restaurant. So I think she was really enamored with that kind of life and interested in possibly becoming a chef or running a restaurant at one point. That was her big passion.
Chemistry? Yeah, Chemistry.
Nixon: The twins, they did their own thing. It wasn't traditionally the way I've seen it in all my other movies, the whole cast goes out together. I hung out with Michelangelo [Tommaso]. I hung out with Julian [Stone], he plays my uncle in the movie. We went out and saw Oasis live. We all hung out, all of the actors stayed at the same hotel. The twins did not. They stayed at another hotel.
Easter: They were in our hotel but, because of the fans, it was just so crazy that they had to be moved. It was against the plan, that was the backup plan. So it was really for their safety. If anything, we were always over at their hotel having lunch or having meetings.
Behnken: We would all go out to dinner together, the whole cast, we would go out to the town and walk around during days off and go to dance clubs a couple nights as a cast and crew. They really created an environment, made it not just a job but an adventure.
D'Agostino: They stayed at a different hotel in Vegas but they would have the cast come over to their hotel room and we all hung out at their place. I think because they were under 18 and the rest of us were over 18 there was kind of, okay, we can't let them hang out too much. Some of our cast members were around 21 and could drink and obviously they didn't want that influence around the girls.
Williams: I'm going to say something now that's probably going to get me in trouble. The most memorable day that I had was our second day on set in London. We were outside at this park and there was this little pond and Ashley and I we're playing with this little remote-control boat. It starts raining so they call the shoot. I get a tap on the shoulder from the producers and the executive producers to come join them in this little golf cart where they were seeking refuge from the rain. Basically the first thing they tell me is, "Hey Brandon, it's great to have you on set. Looks like you're having a lot of fun, we're really enjoying the scene that you're doing. But we just want to give you a heads up, have fun with Mary-Kate and Ashley when you guys are on set, but the moment we wrap don't go out of your way to associate with them. Don't talk to them. Do your own thing."
Nixon: They have an empire, their business empire, and their caretakers are not going to let them get into any kind of mischief. They're young, you don't know what a 15-year-old can do.
Williams: I found out later that I was the only one that they told that to because, apparently — the only reason I could surmise— was that I was sexually threatening and their handlers were worried about me corrupting them. Which definitely wouldn't have happened anyway. I was shocked. I was like, What did I do? But I didn't have time to do anything yet. They were just looking out for the girls. So I was banned from them but everyone else was totally fine to hang out. [Laughs.]
Jungmann: When you'd be out in public they'd have someone shadowing them, some sort of security. But they were also young, they were kids really. So it was coming from a place of protecting them as a celebrity but also, I'm guessing, from their parents just wanting to protect them as their child. It's such a surreal childhood. I don't even know how I would deal with that as a parent. But for whatever it's worth, it never felt intrusive. It never felt like, 'Oh f*ck, there's some dude in the booth behind us with a gun.' It was never like that.
D'Agostino: I actually thought it was really great and it didn't seem like there was too much of a separation or that they were trying to keep everybody separate. Again, they had us over when their caretaker was there and we all hung out. So it was pretty inclusive with all the cast members and everything.

Adventures In Filming 
Williams: We all knew what we were getting into, none of us were expecting that we were going to go out and make a triple-A blockbuster, but I think all of us were really surprised with how well the movie came out when we were done. The dialogue certainly wasn't bad. We were in London, and the scenes were so much fun to shoot. For Winning London specifically we were really blown away with how well it turned out.
Jungmann: It was the first legitimate, feature-length movie that I was cast in as a supporting lead. That was exciting. I was going overseas, had never been to London before, so it was like everything, a lot of new experiences. I was a teenager so it was extra cool, extra dope. And the character was great — he was like the comedic relief in a lot of ways or kind of like the friend making goofy jokes, which was a blast.
Behnken: The script was just so fun. It was a script about going and riding four-wheelers, playing in the ocean, and climbing. It's a lot of fun activities and I knew that it was shooting in Mexico. I was an actor getting to audition and seeing all those parts, you already start to envision how it would be to go down Cabo San Lucas for six weeks and make a movie with a bunch of cool people.
Easter: They would organize quite amazing experiences when we were not shooting, which was incredibly generous of them. I remember one day they rented an island and a yacht and I don't know what the heck I had going on. I think I had an audition or something so I had to be a little late so I didn't ride on the yacht out there. But it was a really cool experience and I think we were diving for shrimp and all this fresh seafood.
D'Agostino: My first thought was, 'Oh bummer, we're not going to another country.' Because knowing friends from the other movies I was like, 'Ah man, they got to go to London.' And at the time I hadn't traveled outside the U.S. and so I was a little bummed. But then when I read it was going to be Utah, and there was snowboarding, and that it was centered around the Olympics, I was ecstatic.
Easter: I remember being a little bit nervous for our kissing scene because I was thinking, 'Oh my God, she is my brother's age and I'm kissing a girl that's my brother's age.' And [Ashley] was so generous, even as an actress. I remember she grabbed my hand and was like, "Hey, do you want to practice really quick?" And I was like, "Oh my God, yes please," because I was nervous too. I was 22 kissing a 15-year-old, which sounds awful but it's professional. We went around the fountain and we just sat there and kissed. And I was like, Wow, she was such a good kisser, such a good kisser. And it totally broke the ice. We went back, they called us, and I remember we started kissing and the director Steve was like, "Cut — you guys, it was a little bit too intense." And I remember Mary-Kate was sitting right there in front of us laughing.
Nixon: Our lips were locked for 5 seconds and you don't have time to think about, What's going on right now? Did I brush my teeth this morning? Things like that. It's like giving your mom a kiss on the cheek or something.
Peck: I had no awareness for celebrity and what it would mean to be a young celebrity's first on-screen kiss. I remember being very nervous and I think they were too but we were all in it together. It doesn't stand out to me in my memory.
And The Moral Of The Story
Jungmann: In the direct-to-video empire that they made, there's always a sort of moral lesson or compass that was illustrated through the narrative. I don't remember exactly what it was for [Winning London].
Nixon: The message of [When in Rome] is to — and maybe we didn't have enough time in the 80 minutes the movie ran to really send the message — but it doesn't matter what you have. Appreciate the small things in life and the short time you have on this Earth. There are bigger things that matter than just enjoying the toys that you could possibly acquire.
Clark: In general I don't think there was too huge a message to get across [in Our Lips Are Sealed]. It was just a good fun movie for the kids and teenagers of that time to watch.
Peck: I think the message of curiosity of other cultures through their people is a huge lesson to be learned from [Passport to Paris] — and a very important one. It really resonates today in my opinion. There's so much segregation all across the board that is living under the skin of society and I think the more that we can get to know each other through people and have fun and share our lives, the better.
Behnken: I don't know if I'm trying to see it in it or if it's the point but [The Challenge is] about forgiveness and working through things and building relationships.
D'Agostino: The whole theme of [Getting There] was it's not the destination, it's the journey. It's such a simple thing and it can even seem silly but I think the wisdom of that statement is huge. To show a young audience to enjoy life, enjoy your path.
Nixon: They knew exactly what they were going for, it wasn't like we were creating — how do I say this without sounding terrible? — we weren't trying to reinvent the wheel. It is what it is, it's a Mary-Kate and Ashley movie.
Jungmann: I guess the lessons that the Olsens taught us at a young age are just timeless.

The Friendship Continues 
Peck: I went to Campbell Hall the year after we made Passport to Paris and they were in my grade. I showed up and was like, "What are you guys doing here?" It was pretty fun and pretty crazy.
Nixon: I talked to Mary-Kate a few times on AIM. I haven't talked to the twins in years. It's just one of those things: You move onto other projects and become busy.
Easter: I was pretty close with Ashley for years. It's been a bit since I've spoken with her. It's been cool to see the evolution and change in career path. I'm very proud of where they're at. I don't think people realize how hard they work. They're some of the hardest-working people I've ever met in my life and the most giving. They're the sweetest people and that's why it was really a gift to be able to work with them so much and why it was a no-brainer.
Jungmann: To be honest I lost touch with them some years ago. I remained friends with Mary-Kate for quite a while after we worked together, but over the years… I'm not really up on celebrity happenings and whatnot. I know they pop up in those things from time to time. Like I know Mary-Kate got married recently to some fella, I remember reading about that. You can't avoid some celebrity gossip.
Nixon: They've done so much in their so few years of life. They've touched so many lives, I couldn't tell you what I saw with people and how they reacted to seeing the Olsen twins in public. It was something that was out of this world, I haven't seen that my entire life. Little girls would just start crying.
Easter: I have a friend of mine in Iowa, Anna, who was a dear friend of mine and she had a disease, dermatomyositis, and she was often in and out of the hospital. It was her 18th birthday [and] I was so upset that I couldn't be in Iowa to be with her. I remember thinking she really loved the girls, maybe they can call her and sing "Happy Birthday." They did so much work with Make a Wish Foundation and that was really important to Ashley, and Mary-Kate as well. They were on the tarmac getting ready to get on their jet or whatever and go to Berlin or something. They live a different life than a lot of us. [Laughs.] They stopped everything they did, no questions asked, and they called her right then and there and sang her "Happy Birthday." They could have stopped there but then they sent her a basket full of their trinkets and things, their dolls and all those things. They warmed up her whole world while she was stuck in a hospital bed on her 18th birthday. Ultimately we lost Anna, but that was one of the biggest gifts that Ashley and Mary-Kate have ever given to me, to bring her that little bit of joy.
Behnken: I really think that the phase of their life that they grew up in wasn't necessarily their dream. They did that and they did really well but then when they had the ability and decision to follow their dream and create a vision and a path for themselves, I'm so glad that they did that. I'm so glad they didn't stay involved in something they weren't passionate about.
Nixon: To be honest I have no idea what they're up to. I don't even know if their line is still at Walmart. I'm just happy that they didn't turn into crazy drug addicts…I used to date this girl named Hayley Duff and her sister was Hilary Duff and that girl, I could tell you stories of how many times she could have gotten in trouble legally and probably lost her job because of things that she would do with her friends. And I don't think Mary-Kate and Ashley were ever exposed to that. They were kept separated, isolated, as opposed to being in the mainstream, which is what has kept them successful to this day.
Jungmann: Once you get to a certain age you're like, 'f*ck it, I'm going to go do what I want to do and try things I'd like to try, this is my life.' Whereas when they were kids they probably didn't get to choose, like, oh I want to be on Full House now that I'm two months old. Once they got to an age where they could make these decisions for themselves — not an easy choice I'm sure given everything they had and built — but I think it's pretty f*cking cool that they decided to do what they wanted. They've always been really passionate about fashion.
Easter: We went for lunch and [Ashley] was telling me she was drawing and really wanted to do [fashion]. She was kind of throwing potential names of her line and what it was going to be and why it was going to be called this. I'll never forgot that. I was so proud of her and inspired by her and it was so cool to see that evolution of her hard work and her dreams. Here's a person who may appear to have everything they want, so why not stop there?
Life After Straight-to-Video Glory
Williams: As an adult it's somewhat embarrassing, though. Not by virtue of working on an Olsen twins flick, that was a lot of fun. Just being a teen on an Olsen twins flick and now being a grown adult and having people find out.
Peck: I remember going on a school field trip to Disneyland and being stopped quite a bit, but that only lasted a couple of years. And it wasn't life-changing. It wasn't the celebrity level of fame that the Olsen twins have.
Nixon: Life has been amazing after that experience. It gave me a lot of opportunities, it was obviously one of the best things you could ever put on your resumé. I am eternally grateful to the Olsen twins for choosing me and not somebody else to play that part and actually experience that. Because it was such a beautiful experience. And how many other people in this world would have loved to be in those shoes? To be in a Mary-Kate and Ashley movie is putting yourself into the history books forever and that will never go away.
D'Agostino: The twins were big at the time but I didn't realize at the time how timeless the movies would be. I'll still have people come up to me and be like, "Oh my God, Toast!" And I'll ask them when they last saw the movie and some of them say last year.
Jungmann: There are a handful of jobs that I have done as an actor that keep coming back up. One of them is Winning London, which is remarkable to me because it was so long ago so the audience for it is older. But I also get younger people sometimes who come up to me that were way too young to see it when it came out that are like, "Oh sh*t, you were in Winning London." Yes, it was 15 years ago, so it's pretty cool.
Peck: It's so funny that you're even interviewing me about it. I'm so surprised, it's so funny because it's so old. It's like another lifetime for me. It's cool. I'm amused.
Nixon: After the movie came out I got hundreds and hundreds of pieces of fan mail. All the girls are all 14-year-old, 15-year-old girls. I'm an adult. I'm like 19 years old, I couldn't go out with any of these girls. They're asking me to prom, and I'm the old guy here. There was one I will never forget. This girl said, "Everybody says I'm ugly, I have no friends." It was so sad, she was talking about wanting to kill herself. And I had never read anything like that, I felt so bad. So I took everything I possibly could and sent it in a big package, like a care package. I sent a headshot, a signed DVD. She must have really looked up to the twins.
Easter: I'm pretty busy with photography. I still send scripts my manager sends me. There are a couple of films in the works; they're in pre-production so I don't hold my breath with that. I'm really blessed and lucky to do what I love and I love storytelling and I get to travel the world and shoot photography and I'm pinching myself all the time.
Clark: At the moment I own two gyms in Sydney and I'm lifeguarding as well. And then I've got two young boys. So working on my business then lifeguarding and then trying to be a good dad as well, and husband.
Peck: I'm in the midst of pilot season but the last thing I worked on was the new Lee Daniels pilot, who did Empire and Precious. I've got a role on that so if it gets picked up I'll probably come back on that.
Nixon: I just had a movie in May 2015, called The Walking Deceased. I produced that and gave myself a tiny role. My daughter also had a role in that. I produce and I'm getting my daughter into the industry. My daughter is working really, really hard. She's going to be staring in a dolphin movie in April. I just finished a movie called Dead Awake from the writer/director of the Final Destination franchise. It's about sleep paralysis and is in post-production right now.
Behnken: I just finished producing a really amazing documentary called Mully on a man in Kenya who is an orphan kid then became a very wealthy man, then sold everything he owned to rescue street children. He's rescued 10,500 children and adopted them — it's the biggest family in the world. It's an amazing story of the arch of his life and his family's life.
D'Agostino: I am focusing on my music career full time. I am signed to Interscope Records and in the middle of recording a new album. I am producing and writing the album myself, the project name is Perfect Dilemma. My last album was not released due to Timbaland, who was featured on our first single leaving our label near the time of the first album release. The new album is a dark electronic rock album in the vein of Nine Inch Nails and Muse. [It's] all sociopolitical and has a powerful message. Hoping to have the album released in 2017 with tour dates to be announced.
Jungmann: [I'm working on] Winning London 2: Back to London. No, I'm working on all kinds of stuff. Just continuing to work as an actor. I'm auditioning all the time, have different jobs on TV and movies. I have this thing out right now, it's a sci-fi adventure movie that I made for Fox called Parallels and it's about a group of young people traveling across parallel earths.