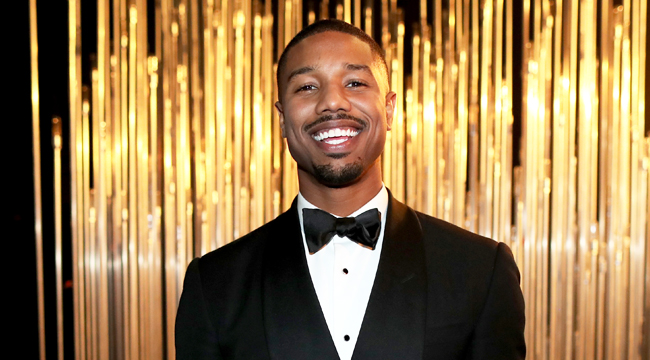 At the 2018 Oscars, Frances McDormand accepted the Best Actress award (for Three Billboards Outside Ebbing, Missouri) and dropped two significant words — "inclusion rider" — upon her audience. This was a call for actors' contract clauses demanding production diversity in order to hire said talent. Her call was quickly embraced by Michael B. Jordan (Black Panther, Creed), who pledged to add such clauses at his production company, Outlier Society, as did Ben Affleck and Matt Damon, who made the same promise for future projects at their Pearl Street Films. However, Warner Bros. has now taken a major step in becoming the first major Hollywood studio to launch an official "inclusion rider" policy, and they're doing so while partnering with Jordan.
Via the LA Times, the policy shall begin with Jordan's upcoming Just Mercy and apply to all future Warner Bros. productions. Jordan has announced this significant move in a statement while tipping the hat to McDormand:
"The WarnerMedia family has introduced an approach that accomplishes our shared objectives, and I applaud them for taking this enormous step forward. I'm proud that our film, Just Mercy, will be the first to formally represent the future we have been working toward, together. This is a legacy-bearing moment.

Inclusivity has always been a no-brainer for me, especially as a black man in this business. [But] it wasn't until Frances McDormand spoke the two words that set the industry on fire — inclusion rider — that I realized we could standardize this practice."
It's also important to note that diversity plan doesn't only apply to Warner Bros., for multiple other WarnerMedia brands, including HBO and Turner, will join in this concentrated effort. In addition, the term "inclusion rider" isn't entirely new and was originally coined in a 2014 Hollywood Reporter op-ed written by USC Annenberg professor Stacy Smith while calling for gender equality in Hollywood.
Inclusion riders can also be used for other specific diversity goals, including casting and crew initiatives to reflect a story's particular setting demography. And in the case of the policy adopted by Warner Bros., HBO, and Turner, the policy will aim to include people of color, members of LGBT communities, women, and disabled people, both behind and in front of the camera.
(Via LA Times, Hollywood Reporter & USC Annenberg)