When the Barbie trailer dropped this week, everyone was rightfully enamored with Margot Robbie's bubbly portrayal of Barbie and Ryan Gosling's accurate portrayal of Ken (who is known to be a bit of a Goof). But while the pink-coated world might seem like a dreamscape for some, there was one character with a controversial past that appeared for a split second in the footage. And that split second was enough to stir up nearly 50 years of unearthed drama. That character is Allan, played by real-life doll Michael Cera. Though he is referred to as "Just Allan" let it be clear: this man has done irreversible damage to Barbie's world with his dark and complex history. He is not "Just" Allan. Just look at his face. This man has seen true darkness.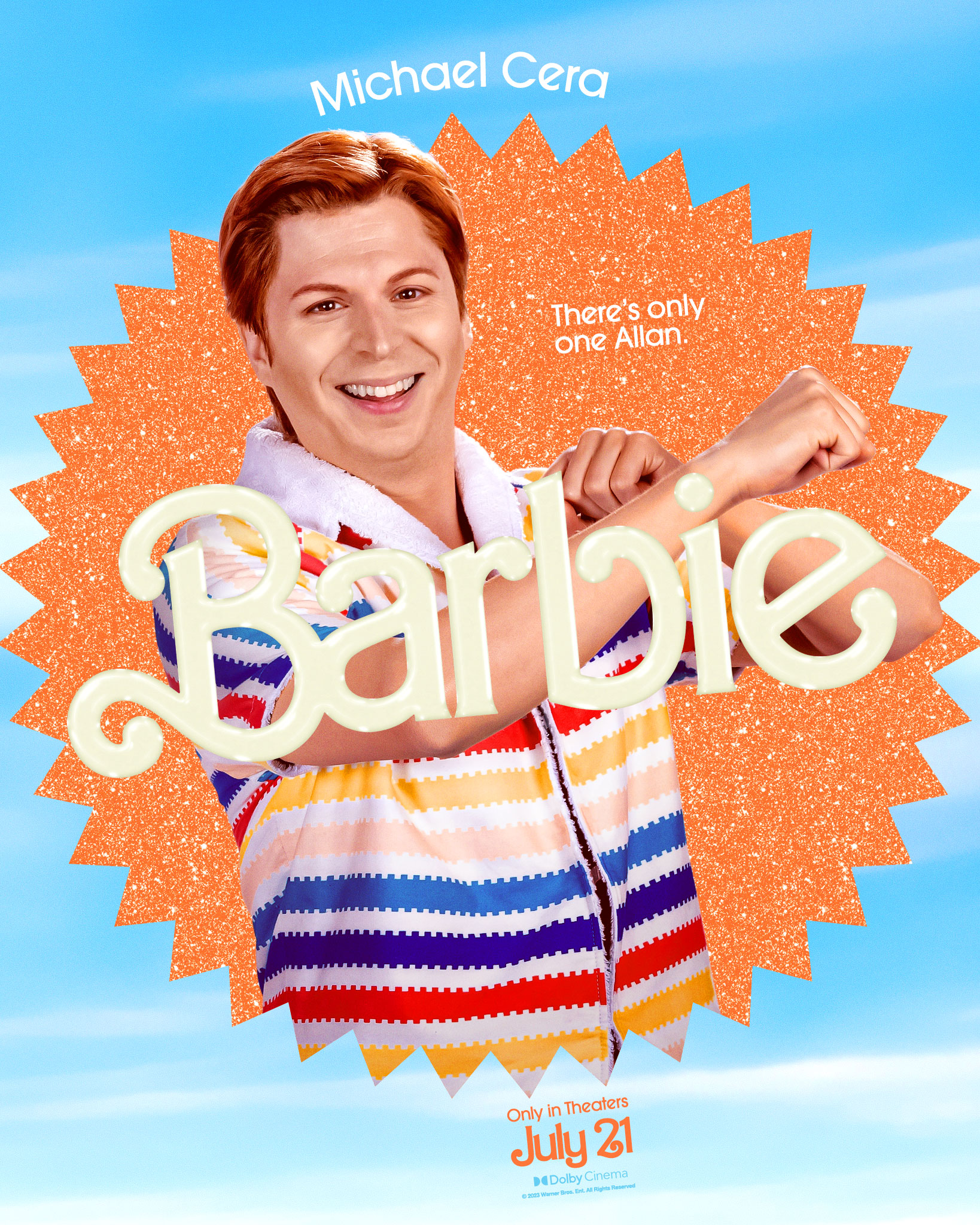 Allan is not just a regular doll. He was first marketed as "Ken's Buddy" and quickly revealed to be a man of complex familial trauma who falls under the pressure of societal expectations. Ken is just…Ken.
First introduced in 1964, Allan existed solely so that Ken would have a friend, and, in a larger sense, so that Mattel could sell more of Ken's clothes since the two were the same size. Allan's story is simple: he and Ken worked together at the soda fountain where they became best buddies and shared clothes (this is normal if you don't think about it too much). Allan was also paired with Midge, Barbie's best friend and confidant at the time. Nobody really liked Allan, and he was quickly discontinued, or fired from the soda shop, who really knows? But Midge liked him enough to marry him in 1991, when he was reintroduced in a very special collectors edition set. Barbie was the maid of honor! This really happened. And then things quickly went downhill after the wedding.
In 2002, in what should have been a joyous and monumental occasion, Midge became pregnant with her and Allan's (allegedly, we don't know what went on during all those unaccounted-for years) second child. Midge was sold with a removable belly that included a fetus named Nicki (?) in order to show real-life children the wonders of childbirth. This didn't land well with parents, who thought the doll was promoting teenage pregnancy.
The doll was quickly and quietly removed from shelves before the holiday season. Soon, Allan and Midge became the face of everything impure in the world. Midge's image was tainted, Allan was devastated, and PR Queen Barbie said nothing about the controversial event. Where did Nicki go? We don't know. What about their other child? He exists but has no personality, much like Allan. Allan never even got to wear his holiday formalwear. Ken never mentioned him again. Their days of laughing at the soda fountain were numbered, all because Allan wanted to procreate. A true tragedy that many people have tried to forget, aside from the handful of Barbie reenactors on YouTube. But Greta Gerwig wants you to remember this.
Despite Mattel trying to cover up AllanGate and erase his memory from the world, Gerwig seemed to make a very specific choice by including both Midge and Allan in the movie. The biggest surprise of all is that Midge is wearing her maternity outfit in her movie poster, meaning that the discontinued doll still appears and exists in Gerwig's Barbie-Verse. So she was, as it seems, knocked up by Allan, even though Barbie and Ken clearly don't understand how conception works.
In reality, Allan was named after Mattel founder Elliot Handler's son-in-law, Allan, who married Barbie's namesake, Barbara Handler. Unfortunately, the real-life couple split up around the same time Allan disappeared, which is the real reason for his noticeable absence. But bringing him back was certainly a choice.
Did Gerwig decide to bring Allan back in order to repair his formerly squeaky-clean image? Is Midge finally going to have her baby that was shunned all those years ago? Does he deserve a second chance after going in and out of Ken's life oh so many times? Do their clothes still fit each other? These are all questions that I, at this moment in time, cannot answer. Because nobody has really asked me yet.
But we will know more once the real, untold story of Barbie hits theaters in July. Or maybe they won't mention it at all. One thing's for certain: this man has seen so many things. Terrible, terrible things. Maybe he'll get to meet his kid someday.
Barbie hits theaters July 21st, 2023.