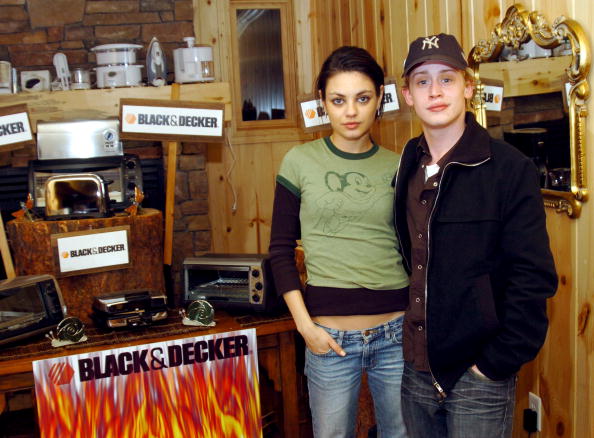 Though he no longer acts very much, and though he largely remains out of the spotlight, the public remains fascinated with Macaulay Culkin, and that fascination can often manifest itself in strange ways. "They didn't know how to react," Mila Kunis — who dated Culkin from 2002 to 2010 — once told Howard Stern. "It wasn't like a normal response to a celebrity. Fans responded in a very abnormal way to him."
The response likely has to do with the way most Culkin fans relate to him: As the kid from the Home Alone films, a guy that people have been growing up with for nearly 30 years. He's not just any celebrity; he's an actor with whom many people spend their holidays, both as kids and later with their kids as parents. Culkin, despite his absence (and perhaps in part, because of it), may always hold our fascination, and we're always going to be interested in his stories about spending time with Michael Jackson or his abusive father or whatever it is he's up to these days (for the record, making a movie with Seth Green and Rachel Bloom).
One topic that is rarely spoken of but remains a subject of deep curiosity is Culkin's nearly decade-long relationship with Mila Kunis that began as Culkin was transitioning out of Hollywood and ended as Kunis was transitioning out of That 70's Show and into more mainstream popularity with movies like Ted and Friends with Benefits.
Even in his hour-long conversation with Mark Maron, it was a topic that Culkin largely avoided. However, during this week's Armchair Expert with Dax Shepard podcast, the subject came up, largely in a conversation about Kunis' single years (the two years between when she broke up with Culkin and began dating her current husband, Ashton Kutcher). She doesn't offer a lot of details about their relationship, except to say that she was the reason they broke up and that she has felt guilty about it for years.
"I had a horrible break-up," she told Shepard. "I had a horrible, horrible break-up. I f–ked up. I was an a–hole in my 20s and I'll be the first to admit it. It took me a long time to come out and be like, 'Yeah. You know what? I was a dick' and it sucked and I own it now."
"It's f–ked up what I did," she continued. "And it's f–ked up how I did it." What she actually did Kunis does not reveal, except that she needed to "figure myself out. I genuinely needed to understand why I did what I did."

She has, however, forgiven herself for whatever "f–ked up" thing that she did to Culkin. "It's been so long, and I feel like enough time has gone by. I think enough mutual friends have forgiven everyone for what went down."
What exactly did she do? "People don't know this," Shepard joked, "but you killed one of the Culkin brothers, didn't you?"
Whatever it was, it obviously hasn't kept either Culkin or Kunis from living their best lives. Culkin regularly appears in Reddit AMAs and dating Brenda Strong, while Kunis is married to Ashton Kutcher, with whom she has two kids. She'll appear in The Spy Who Dumped Me with Kate McKinnon on August 3rd.