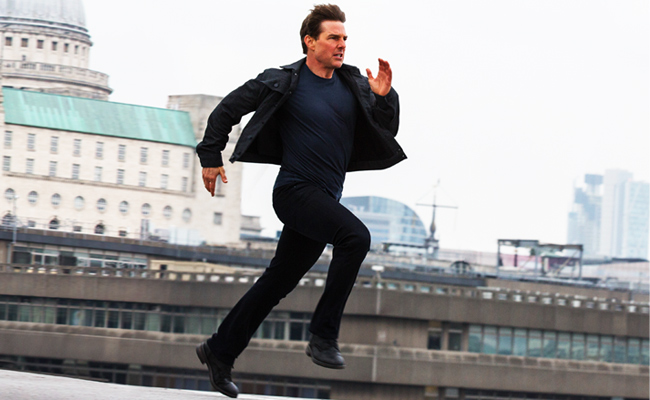 Tom Cruise is 56 years old, and 24 years after the first installment of the Mission: Impossible franchise, he jumped out of a plane from 25,000 feet 106 times in order to perfect a stunt. For another sequence in Mission: Impossible — Fallout he broke his ankle jumping between buildings and he kept going. The result was the best Mission: Impossible film, so far, both in terms of reviews (97 percent on Rotten Tomatoes), Cinemascore (Fallout received the first "A" of the series) and box office, as the film earned $61.5 million during its opening weekend.
Fallout not only bested the previous five films in its opening weekend, but it was also the second biggest opener of Cruise's career, behind only the $64 million of Steven Spielberg's War of the Worlds. Keep in mind, too, that Cruise is a much bigger star overseas than in America, as the Impossible films earn around 70 percent of their grosses overseas and Fallout is headed toward a $80 million opening internationally. Not bad for a guy who is being profiled in AARP magazine.
There is no quit in Tom Cruise. It's also amazing that Cruise insists on doing all of his own stunts, but that he also seems to increase the level of difficulty as he ages. What's the 7th or 8th installment going to look like, while he's in his 60s?

Meanwhile, Mamma Mia! Here We Go Again leap-frogged over The Equalizer 2 to take the second spot this weekend with $15 million to bring its 10-day total to $70 million. Just to give some perspective on Tom Cruise, he's only a year younger than Mamma Mia star Colin Firth. Denzel's Equalizer 2 dipped to number three this weekend, earning $13.6 million to bring its 10-day total to $63.8 million. In its third weekend, Adam Sandler's Hotel Transylvania continued to perform well. It added $13.2 million to bring its 3-week total to $120 million.
The other new entry this weekend was Teen Titans Go to the Movies!, which was essentially a movie-length version of the Cartoon Network television series. It opened with $10.4million, which isn't too bad considering that the film only cost $10 million to produce. The animated film was well liked by critics (90 percent on Rotten Tomatoes) and kids (an A Cinemascore for the under 18 crowd), but parents and other adults weren't as taken by the film, as it fetched a B- by the over 18-set. If anything, it offers a more lightweight, comedic take on the DC streaming series, Titans.
Holdovers snaked the bottom five positions. After its fourth week, Ant-Man And The Wasp surpassed the original Ant-Man at the box office ($180 million) by earning $9 million to bring its total to $183.7 million. With $7.7 million, Incredibles 2 has now earned $573 million to pad its lead as the highest-grossing animated film of all time in America. Jurassic World: Fallen Kingdom fetched $7.1 million in its sixth week, as it has now earned $397 million and should cross the $400 million mark this week, solidifying its position as the fourth highest grossing film of 2018.

Dwayne Johnson's Skyscraper continues to struggle in its third weekend, earning only $5.9 million to bring its total just short of $60 million. The good news, however, is that it earned $75 million internationally last weekend, including $47 million in China. Thanks to worldwide grosses, the film won't be a total wash, as it should approach $300 million worldwide on a $125 million price tag.
Finally, The First Purge finishes out the top 10, earning $2.7 million. It has earned around $66 million, so far.
The summer box office season goes for another month, but there's usually only one or two minor hits in August. I'm putting my money on Crazy Rich Asians as the break-out hit of August, but next weekend's Mila Kunis/Kate McKinnon comedy, The Spy Who Dumped Me could put up decent numbers as well. It will open in a crowded marketplace, along with Disney's Christopher Robin, The Darkest Minds with Mandy Moore, and Dinesh D'Souza's documentary The Death of a Nation, which draws parallels between the presidency of Abraham Lincoln and Donald Trump. If that's your bag, it opens on 1,000 screens. (D'Souza, by the way, was pardoned by Donald Trump earlier this summer).
Sources: Deadline, Box Office Mojo