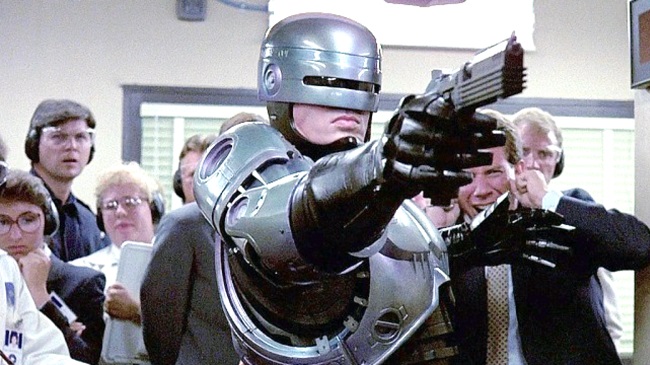 In 2014, director Jose Padilha's RoboCop remake tried and failed to capture the violent and prophetic spirit of Paul Verhoeven's 1987 classic. Despite star Joel Kinnaman's best efforts, the duo just couldn't capture the magic that was Verhoeven and Peter Weller's cyberpunk action film. Even so, four years later it seems the studio wants to give it another go, as The Hollywood Reporter confirmed a previous report that District 9 and Chappie director Neill Blomkamp will helm the upcoming RoboCop Returns.
Per THR's story, Blomkamp will direct from a script that is already in the process of being revised:
Justin Rhodes, who co-wrote the Terminator reboot that Tim Miller is directing, is rewriting a script that was written by Ed Neumeier and Michael Miner, the duo who wrote the original 1987 movie, considered a sci-fi and action classic.
In a statement to Deadline, Blomkamp explained his motivations for taking the job. "The original definitely had a massive effect on me as a kid," he said. "I loved it then and it remains a classic in the end of 20th Century sci-fi catalog, with real meaning under the surface. Hopefully that is something we can get closer to in making of a sequel. That is my goal here. What I connected to as a kid has evolved over time. At first, the consumerism, materialism and Reaganomics, that '80s theme of America on steroids, came through most strongly. But As I've gotten older, the part that really resonated with me is identity, and the search for identity."
Neumeier and Miner's original script, RoboCop 2: The Corporate War, was shelved when the filmmakers decided to go with another pair of writers for the sequel. However, Neumeier revealed at the 2018 Barbados International Film Festival that they were revising the script for a new film. "We're not supposed to say too much," he said at the time. "It's a continuation really of the first movie. In my mind. So it's a little bit more of the old school thing." The two are also serving as producers for RoboCop Returns.
(Via The Hollywood Reporter and Deadline)