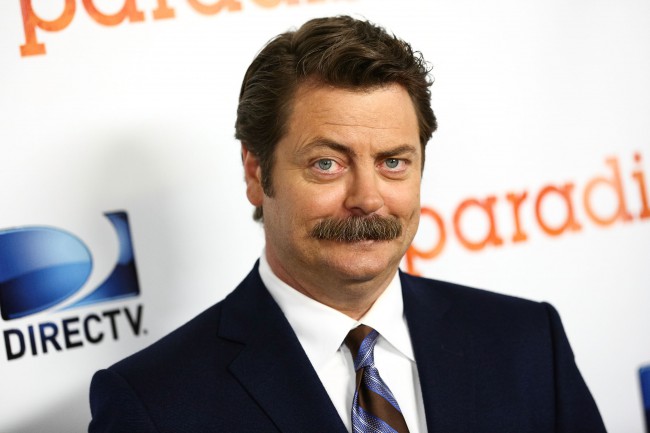 We've known Parks and Recreation was ending for a long time now, but nothing makes it more final than this latest news. Nick Offerman has said goodbye to Pawnee and he's currently palling around with fellow awesome, talented industry folk at Sundance. The man we once knew as Ron Swanson is at the film festival promoting his movie Me and Earl and The Dying Girl but it's his new look that's really making news.
The actor took time to snap a photo with a fan (who then shared it on Instagram) and it looks like the woodworker has done away with his signature mustache in favorite of a cropped beard which, paired with that hat, does indeed make him look like a sexy garden gnome (or an Amish hipster, take your pick):
Offerman's gone baby-faced before but this latest death of the stache is just the final nail in every Parks and Rec fan's coffin. This is really happening. It's really over. Everything hurts and we're dying. Offerman without upper-lip facial hair is like surf and turf with the surf, it just doesn't make sense. Then again, this is Ron Swanson we're talking about and Ron Swanson can do whatever the f*ck he wants so, carry on good sir.
Via MTV News