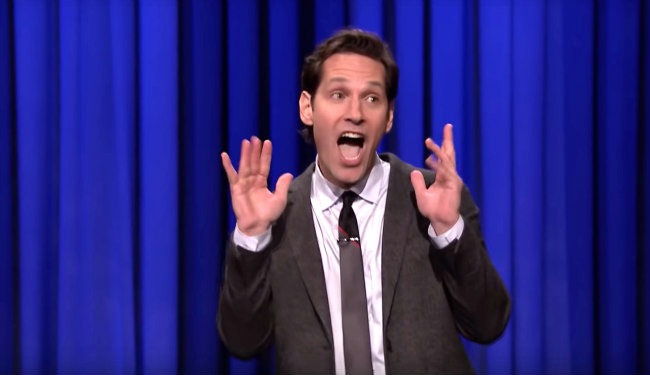 When Jason Reitman's Ghostbusters was announced, the most common reaction was, "Why?" As in, why do we need a fourth Ghostbusters movie when the original two, with Bill Murray, Dan Aykroyd, Harold Ramis, and Ernie Hudson, and the 2016 reboot with Melissa McCarthy, Kristen Wiig, Kate McKinnon, and Leslie Jones, already exist? Good question! Here's the answer:
Yup, Paul Rudd has joined the cast of Ghostbusters 2020, which may or may not be the official title (it worked so well for Blues Brothers 2000). According to Variety, the Ant-Man star will play a teacher, possibly alongside Finn Wolfhard, Mckenna Grace, and Carrie Coon, all of whom are rumored to join the cast.
"I've been wanting to work with Paul Rudd since my short film opened for Wet Hot American Summer at Sundance," Reitman said. "I'm thrilled he'll be joining this new chapter in the original Ghostbusters universe."
Sony wouldn't comment on plot details, but insiders tell Variety the story will be an extension of the original Ghostbusters and focus on a single mom and her family, with Coon playing the mom and Wolfhard playing her son. It's unknown how exactly it connects to the original Ghostbusters series. Sigourney Weaver is also rumored to return as Dana Barrett.
Murray, Aykroyd, and Hudson have all expressed interest in reprising their roles (Ramis sadly passed away in 2014), although nothing is official yet. But there's another, more pressing issue: how hard is it to dance with a proton pack on?
They're not wearing it here.
(Via Variety)