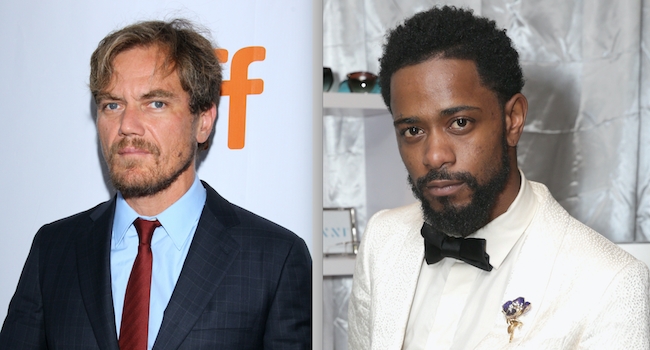 Rian Johnson can do pretty much what he wants post-The Last Jedi, especially now that we know a good chunk of Episode VIII's haters have been Russian trolls. And so he's gifting us with Knives Out, which the filmmaker is describing as an Agatha Christie-style murder mystery.
Movies based on works of the Queen of Crime tend to be star-studded affairs; just witness last winter's Murder on the Orient Express. So far, Johnson already has Daniel Craig and Chris Evans ready to crack some crime. In all likelihood he'll have Michael Shannon and Lakeith Stanfield as well.
As per Variety, Shannon is in talks to join Johnson's cast, although it's not yet clear as who or doing what. Shannon, of course, is a two-time Oscar-winning actor from whom you can expect the unexpected, usually on a minute-by-minute basis. He's also unafraid to dole out anti-presidential bon mots and while movies he appeared in are winning the Best Picture Oscar, he prefers to watch the ceremony from Chicago's best dive bar.
As for Stanfield, he's one of our most exciting young actors — one of the stars of Atlanta as well as the main star of this summer's break-out indie satire Sorry to Bother You. The actor, who first caught attention with his harrowing turn in Short Term 12, was also briefly but memorably in Get Out, as the poor guy who gets kidnapped in the opening scene and rematerializes as a newly zombified suburban local. Deadline reports that Stanfield and Craig will play detectives in a mystery that's both a throwback and set in modern times.
Knives Out will begin shooting later this year. And it has to shoot quickly because Craig is due on the set for the 25th Bond film early 2019. The movie will bring Johnson back to the mystery genre, having started there with his feature debut Brick.