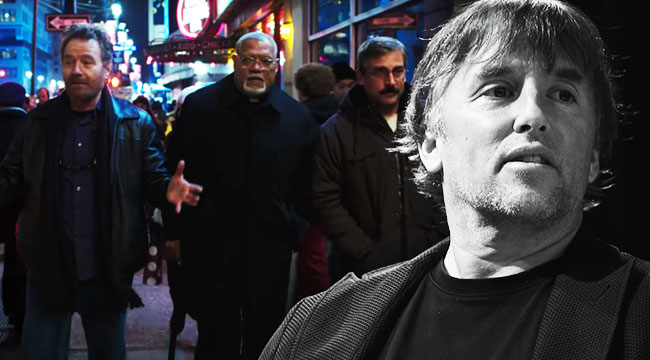 Yes, it may technically be a war movie, but Last Flag Flying is very much a Richard Linklater movie, even though he's certainly not a director really known for war movies. A good portion of the film is set on a train and there's a lot of talking, which is very much up Linklater's alley. (Ahead, Linklater says he's surprised some people think Last Flag Flying is some kind of departure for him, saying bluntly, "I'm like, really? A bunch of people talking?") Only instead of two lovers, as we saw in the Before trilogy, it's three Vietnam war vets (played by Steve Carell, Laurence Fishburne and Bryan Cranston) trying to work out their demons – Carell's "Doc" especially, who is reconnecting with his old friends in 2003 after learning that his own son has died in Iraq.
I met Richard Linklater at his hotel room, just south of Central Park in Midtown Manhattan. When you meet Linklater, he's incredibly friendly, and also as talkative as one of his movies. He'll sometimes go off on so many tangents that it can't help remind you of so many of his characters. It's kind of like getting your own little Dazed and Confused performance. Linklater does get a little flustered when trying to talk about Hal Ashby's 1973 film, The Last Detail. And it is a little confusing: Darryl Ponicsan's book, Last Flag Flying, is a sequel to his prior novel, The Last Detail. But Linklater's movie is not a sequel to Ashby's film. The character's backstories are changed and it's just impossible to match up. But, instead, Linklater's film feels like a sequel to something he already made years ago. It's kind of like if Before Midnight hadn't had a prior film.
With the Before trilogy, Boyhood, and a list that keeps going (we could keep going: Dazed and Confused, Bernie, Everybody Wants Some!!), Linklater has a filmography that's always trying to get down to the basics of human emotion and interaction. Here again, the characters might be older, but it's the same premise. Ahead, we talk to Linklater, one of the most fascinating and influential directors working today.
Last Flag Flying doesn't really match up with The Last Detail. And I'm assuming it's not supposed to…
You shouldn't have to. Oh, I've been thinking of films, can you be a sequel without the same cast? Can you be the sequel if there's so much information that's very different?
Maybe The Silence of the Lambs and Manhunter?
But the book is a sequel. Yeah, since I don't know the source material of those two films…
Thomas Harris' books…
Right, but I haven't read them.
I only mention that because people keep throwing it out there that Last Flag Flying is a sequel to The Last Detail, and it's not.