Question: Have you ever seen a bad picture of The Rock? I'll bet you haven't. Even the ones where he's doing nothing are mesmerizing. Maybe it's just a size thing, how seeing a gigantic Samoan Adonis walking among mortals melts your brain a little. Like, picture The Rock eating spaghetti. Not doing anything else, just sitting there eating spaghetti. Now ask yourself, if you knew for sure he wouldn't catch you staring at him and crush your stupid nosy head like a walnut, how long you watch him eat that spaghetti? Until it was all gone, right? However long it took? Yup, same here.
And so, with that in mind, The Rock is our latest subject for Life in Pictures. I went through his entire Getty image archive and pulled out the highlights, including the picture at the top of the page, which I am now in the process of getting blown-up poster-size to hang up on my living room wall. It is a good picture. As is every picture of The Rock.
I. Celebrity Sightings

Date: December 14, 2014
Description: Dwayne 'The Rock' Johnson and U.S. President Barack Obama speak onstage at TNT Christmas in Washington 2014 at the National Building Museum on December 14, 2014 in Washington, DC.
America is far from a perfect country. I'll give you that. But it's also a magical place where a professional wrestler who was famous for mocking his opponents "roody poo candy asses" can morph into the kind of respectable A-list celebrity who gets to wear a fancy suit to the White House Christmas party and shake hands on stage with the President of the United States. As the Founders intended.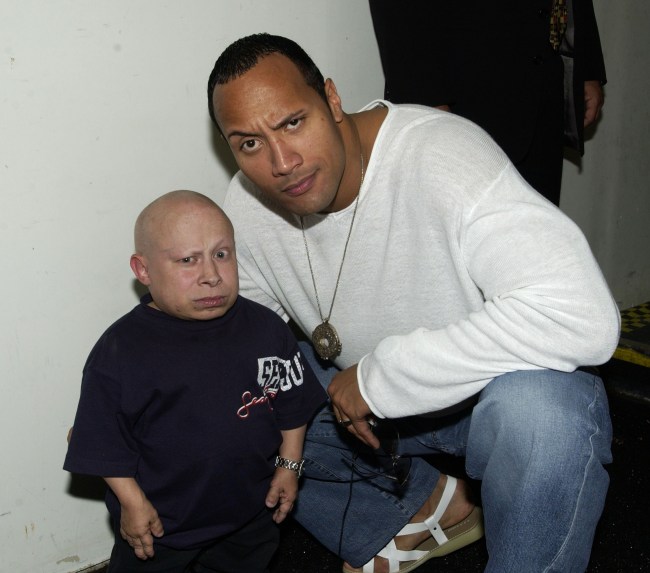 Date: April 20, 2002
Description: Verne Troyer and Dwayne 'The Rock' Johnson during Nickelodeon's 15th Annual Kids Choice Awards – Backstage at Barker Hangar in Santa Monica, California, United States.
This picture was taken in 2002, and in the 13 years between then and now, no one — NOT ONE SINGLE PERSON OR ENTITY — has made an action movie where The Rock and Verne Troyer play a pair of mismatched San Diego cops tasked with bringing down a Mexican drug cartel that has taken over the city. For the love of God, Hollywood. You make yours jobs so much harder than they need to be sometimes.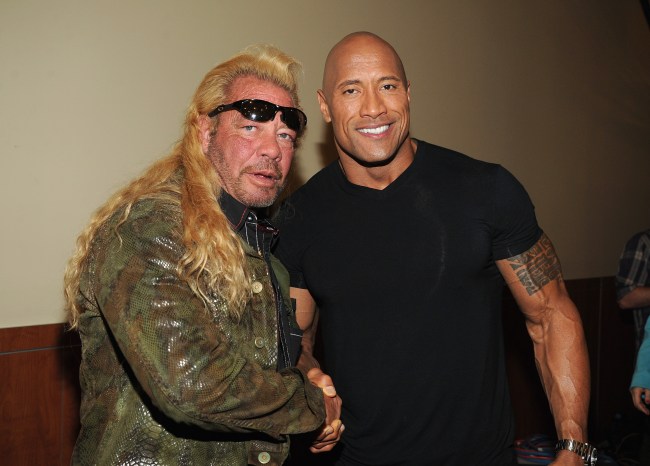 Date: March 23, 2013
Description: TV personality Duane 'Dog' Chapman (L) and actor Dwayne Johnson attend Nickelodeon's 26th Annual Kids' Choice Awards at USC Galen Center on March 23, 2013 in Los Angeles, California.
Two questions here:
1. How much would you pay for the ability to travel back through time to be a fly on the wall during the conversation between The Rock and Dog the Bounty Hunter? I'll go as high as $50. I bet Dog spent like 10 minutes pitching a reality show where the two of them hunt fugitives. I would watch that show, 100 percent.
2. What in the name of former teen heartthrob Jonathan Taylor Thomas is DOG THE BOUNTY HUNTER doing at the 2013 Kids' Choice Awards?

II. The Rock With Children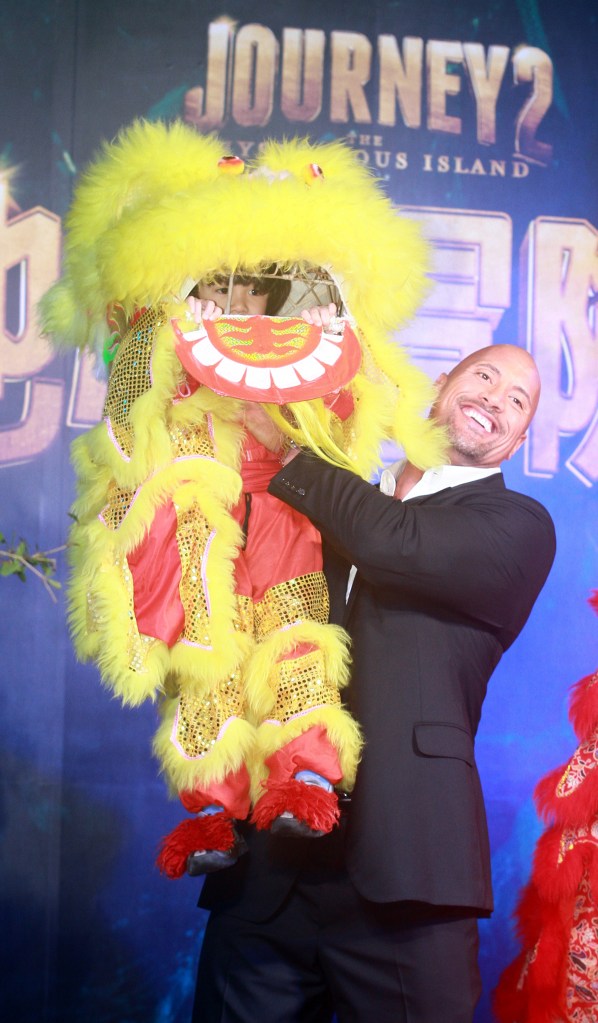 Date: January 18, 2012
Description: Actor Dwayne Johnson arrives at the red carpet of 'Journey 2: The Mysterious Island' Taipei premiere at Vieshow Cinemas on January 18, 2012 in Taipei, Taiwan.
Is… is the little girl in that costume trying to escape? It looks like she is trying to escape. She's got her little hands on the bottom half of the face hole, and a look in her eyes that basically a cry for help. What must be going through her frightened little mind as this is going on? Does she even know who The Rock is, beyond being a giant mountain of a man who is holding her tiny body aloft for the delight of photographers? That's the real story here. Someone find her. We need to hear her side of this.
Date: December 13, 2014
Description: Dwayne 'The Rock' Johnson attends the Christmas in Washington 2014 Children's Hospital visit at Children's National Medical Center on December 13, 2014 in Washington, DC.
This picture is:
The most adorable fist bump ever, moments from happening
OR
The Rock in the process of punching a toddler.
You'd think it's the first one, but we did just see him terrorizing that other poor little girl. Maybe The Rock just hates children? Something to keep an eye on.

III. Out And About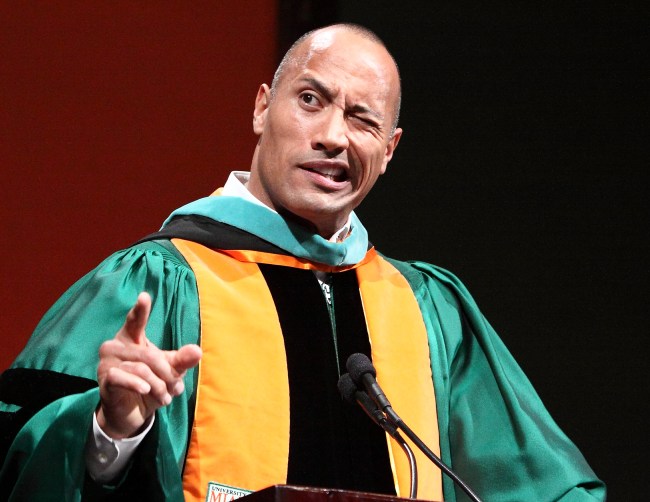 Date: December 17, 2009
Description: Dwayne 'The Rock' Johnson delivers the commencement speech at the University of Miami at Bank United Center on December 17, 2009 in Coral Gables, Florida.
So, the obvious thing here is the face he's making, where he's doing his patented eyebrow raise with a bonus weird mouth thing thrown in for free. And the mouth and eyebrow going opposite ways kind of makes him look like Two Face, which, all due respect to Aaron Eckhart, would have made The Dark Knight 50 times more interesting. Maybe not quote-unquote better, but definitely more interesting.
Once you get past the silly face, though, take a second and think about the commencement speech The Rock gave. Then think about the one from your graduation. Then sigh.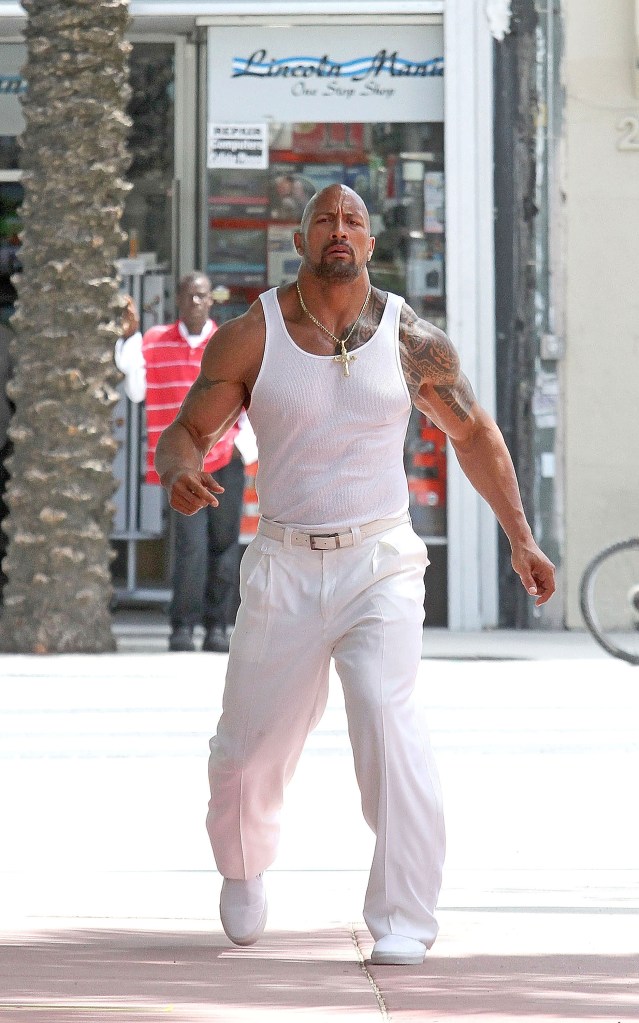 Date: April 14, 2012
Description: Dwayne 'The Rock' Johnson is seen on movie set of 'Pain and Gain' on April 14, 2012 in Miami, Florida.
Jesus Christ. Consider this your periodic reminder that The Rock is supremely jacked. His traps make it look like he's smuggling a pair of mid-sized grapefruits under the skin between his shoulders and neck. I bet when he goes for a massage, they just whale away on his back with a meat tenderizer for an hour. No human hands are loosening those suckers up.

IV. Red Carpet Arrivals

Date: August 21, 2014
Description: Dwayne Johnson attends the Europe premiere of Paramount Pictures 'Hercules' at CineStar on August 21, 2014 in Berlin, Germany.
Why did we ever stop traveling like this? I mean, sure, I get that cars are faster and more efficient and rarely defecate right in front of you while you're driving them to Home Depot. They can continue being our primary means of getting around. But I refuse to believe there's not a place somewhere in our modern system of transportation for horse drawn chariots. We deserve this.
Also, I know it's been a good 60 or 70 years since Germany went and tried to take over the world, but sending The Rock to Berlin and having him zip around the city looking like a conquering hero sends a nice reminder. Don't get any ideas, Germans.
Date: September 25, 2005
Description: Dwayne 'The Rock' Johnson and Jim Trella, stuntman.
This is just a great picture. Look at The Rock, shaking hands with a man who is engulfed in flames, and acting like it happens every day. My only complaint, and it's a small one, is that the caption gives us the context that the other guy is a stuntman. It's so much better without context. Send it to a friend. Hang it in your bedroom. It's a conversation starter, if nothing else.
Date: March 7, 2005
Description: Dwayne Johnson aka The Rock arrives at the UK Premiere of 'Be Cool' at the Empire Leicester Square on March 7, 2005 in London. The film is the follow-up to 'Get Shorty' and is based on the Elmore Leonard books.
You gonna be the one to tell The Rock his white scarf and toothy smile in this picture make him look like the kind of big goofy Flanders-esque cornball who replaces the f-word with "fudge" when he's telling a story? Because I sure as hell ain't. I saw that picture of him punching that toddler. I ain't no dummy.