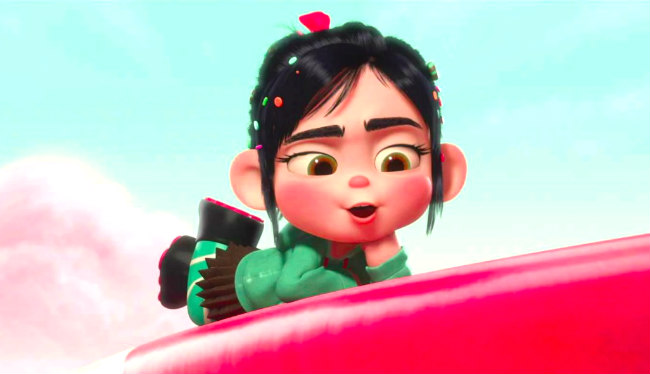 Technically speaking, there are only 11 Disney princesses: Snow White, Cinderella, Aurora, Ariel, Belle, Jasmine, Pocahontas, Mulan, Tiana, Rapunzel, and Merida. (The requirements are intense.) But the term is generally used less literally; otherwise, Disney favorites like Anna, Elsa, and Moana wouldn't be in Ralph Breaks the Internet. They're not official royalty, but they might as well be.
The same goes for Vanellope von Schweetz, who first appeared in Wreck-It Ralph. She might prefer to be called president, but Sarah Silverman, who voices the glitchy Sugar Rush racer, has long made the case that Vanellope is not only a princess, but she's the first Jewish Disney princess.
"I say she is," Silverman told Yahoo Entertainment when asked about Vanellope being among the chosen people. "Nobody has said no. So, yeah." I Love You, America star also compared herself to Vanellope, noting that they "have the same coloring. She's feisty, she says what's on her mind, she's a little pushy." Ralph Breaks the Internet co-directors Rich Moore and Phil Johnston agreed, with Johnston calling her an "Jewish animated princess, absolutely."
She did not sing about getting toys from Santa, though.
Silverman also tweeted on Vanellope's behalf earlier this year.
Do you think there's a gelt (or for you goys out there, chocolate coin) level in Sugar Rush? Ralph Breaks the Internet opens on November 21.