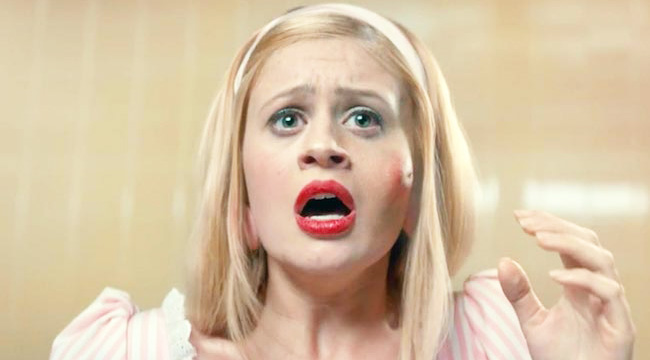 Dwayne Johnson and Jason Statham's Hobbs & Shaw maintained the top spot for a second weekend in a row, but it was probably closer than most had anticipated. There's a couple of reasons for that. First, Hobbs had a steeper fall than Universal had hoped, dropping 58 percent to $25.4 million. A 58 percent fall is not unusual for a tentpole, but Universal had probably hoped with no other tentpole competition that it would be able to skate through most of August. It's earned $108 million after two weeks, but movies opening on comparable weekends in August had smaller second-weekend falls (The Bourne Ultimatum fell 52 percent; Signs fell 51 percent; and Rise of the Planet of the Apes fell only 49 percent). It'll be fine, however, because it's already added over $200 million overseas, and it still hasn't opened in China, where Fast & Furious movies are huge.
The other reason it was closer than many had thought is because Scary Stories to Tell in the Dark from producer Guillermo del Toro performed better than expected. The film, directed by André Øvredal, generated very good reviews (80 percent on Rotten Tomatoes) and earned an impressive $20.8 million, the second best opening ever for a film under the CBS Films banner behind only Daniel Radcliffe's The Woman in Black ($20.87 million). Ironically, CBS Films is shutting down with CBS's merger with Viacom, and the success of Scary Stories is not likely to change that. With only a $28 million budget, Scary Stories is sitting pretty and could continue to perform well throughout the month despite a C Cinemascore (lower Cinemascores are not unusual for horror films).
Lion King took the third spot in its fourth weekend, as it continues to put up impressive numbers. With an additional $20 million, it's now earned $473 million stateside as it closes in on the $504 million earned by Beauty and the Beast to take the top spot among live-action remakes.
Dora and the Lost City of Gold earned $17 million in its opening weekend. It also got help from solid reviews (81 percent on Rotten Tomatoes) and an A Cinemascore. It cost Nickelodeon Movies $49 million to produce, however, so it's going to need to perform well overseas for a chance to continue the franchise, which is a tough sell demographically speaking (it's aimed at tween girls who grew up watching Dora the Explorer but who haven't yet grown out of Dora the Explorer). Great reviews and solid word of mouth, however, could help keep it alive and hopefully families will opt to see it over Angry Birds 2 next weekend.

Once Upon a Time in Hollywood crossed the $100 million mark in its third weekend ($101 million) by adding $11.1 million, becoming the first original film of the summer to cross that mark. It rolls out worldwide starting next weekend. In sixth place was another dog move, The Art of Racing in the Rain, which received middling reviews (48 percent on Rotten Tomatoes) but a good Cinemascore (A-), and landed $8.1 million in proceeds. Moviegoers, however, may be tiring of dog movies after A Dog's Way Home, A Dog's Purpose, and A Dog's Journey over the last two years.
There were two box office duds this crowded weekend. Teaming Mellisa McCarthy with Tiffany Haddish and Elizabeth Moss in a crime drama didn't work out so well for New Line Cinema, as The Kitchen completely struck out with moviegoers, earning an anemic $5.5 million, the lowest opening for both McCarthy and Haddish. Reviews were dismal (21 percent) and there was almost no buzz on the film. Likewise, Brian Banks barely made a noise at the box office, eking out only $2.2 million, good for tenth place despite at least middling reviews (53 percent on Rotten Tomatoes).
With five new releases, there were fewer holdovers this weekend, which meant that long-running films like Yesterday and Aladdin finally fell out of the top ten. However, Spider-Man: Far From Home continued to hang on, adding $5.1 million to bring its total to $370 million (and over $1 billion worldwide). Likewise, Toy Story 4 hung in for another week — it's eighth — adding $4.5 million to its total, bring it up to $419 million as it nudges ever closer to $1 billion worldwide.
Toy Story 4 and Spider-Man: Far From Home, however, may also fall out of top ten next weekend, as five more movies are heading to multiplexes in an effort to squeeze out a few more box office dollars before school starts again in most of the country. The Angry Birds 2 opens on Wednesday to get a head start ahead of the crowded weekend, which will also see the release of 47 Meters Down: Uncaged, Blinded by the Light, the Seth Rogen produced Good Boys, and Cate Blanchett and Kristen Wig's Where'd You Go, Bernadette.
Source: Deadline, Box Office Mojo