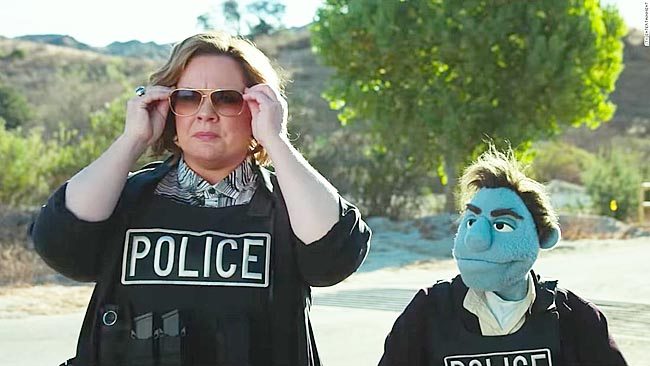 Sesame Street has been steaming mad over the raunchy Happytime Murders, which recently dropped a red-band trailer that featured copulating puppets who ejaculate everywhere. The film (directed by Brian Henson, son of Muppet creator Jim Henson) has been promoted by STX Entertainment with the "No sesame. All street" tagline, which led Sesame Street to claim that their brand was being hijacked at the expense of the Muppets' reputation. After a defense from puppet-lawyer Fred, Esq., a New York judge has ruled that Happytime Murders has not committed copyright infringement:
Judge Vernon Broderick said the slogan actually distinguished the movie from the Sesame Street trademark. He said the "No Sesame" tagline was a "humorous, pithy way" of letting viewers know The Happytime Murders was not Sesame Street.
Broderick further ruled that there's no proof that moviegoers are confused over the slogan or that parents' associations have submitted complaints. The judge also shut down Sesame Street's attempt to use the legal precedent set by the Dallas Cowboys when they sued over Debbie Does Dallas (the infamous 1978 porn movie). Broderick stated that there's a clear distinction between a clearly pornographic film and an "R-rated movie" like Happytime Murders, so the lawsuit has been dismissed.
Naturally, STX Entertainment puppet-lawyer Fred, Esq. has already reacted while pointing out that his employer's film was only meant to "honor the heritage" of any puppets to which it bears a (more than) passing resemblance:
"We fluffing love Sesame Street and we're obviously very pleased that the ruling reinforced what STX's intention was from the very beginning — to honor the heritage of The Jim Henson Company's previous award-winning creations while drawing a clear distinction between any Muppets or Sesame Street characters and the new world Brian Henson and team created."
For what it's worth, the Happytime Murders isn't all about ejaculation. The movie also revolves around the investigation of deaths of puppets who are a part of the fictional Happytime Gang. The film arrives in theaters on August 17.