The top movie at the box office this weekend was Hotel Transylvania 3: Summer Vacation, the third in the Adam Sandler animated franchise. Ironically, it's also the only place to find Sandler these days outside of Netflix, where he's still making movies as part of a massive production deal. The film made $44 million, which is right in line with expectations. It's almost exactly what the first film earned in its opening weekend and about $4 million less than the sequel's opening weekend.
For Sony, the Hotel Transylvania series is a no-brainer. They're relatively inexpensive films to make (around $80 million, or less than half of what it cost to make a Pixar film), and they turn a tidy profit (the second one made nearly $500 million worldwide). Reviews for the third film have been mixed (59 percent on Rotten Tomatoes), and for the third consecutive time, the film earned an A- from Cinemascore.
As a parent subjected to these films, I thought that both critics and audiences were too kind to a film where "The Macarena" played a pivotal role in the plot. As a parent, I also understand why these films earn as much money as they do: They're mildly amusing diversions that seem to be released on the exact weekends when parents need a two-hour break. The films also benefit from the star power and social-media presence of their voice actors — Adam Sandler, Selena Gomez, Joe Jonas, Keegan Michael-Key and Andy Samberg, among others — although they might be wise to spend some of that money in the fourth film to punch up the jokes (garlic, we learn in this film, makes vampires fart).

Second place this weekend went to Ant-Man and The Wasp, which fell 63 percent in its second weekend and earned $28.1 million. After 10 days, the Marvel sequel has now put up $128 million at the box office, which puts it well ahead of its predecessor, which had earned only $106 million after ten days on its way to $180 million domestic (a similar trajectory would put Ant-Man and The Wasp closer to $200 million). Interestingly, Ant-Man also faced off against Adam Sandler (Pixels) and a Mission Impossible film in its first few weeks of release in 2015. (Tom Cruise is due out with another Mission Impossible film at the end of the month.)
The big story this weekend, however, is the showing of Dwayne Johnson's Skyscraper. Early projections put it between $40 and $60 million, but the film failed to meet even the most conservative expectations. Skyscraper earned a weak $25 million in its debut weekend, one of the few major misfires of the summer (outside of Solo). Box-office pundits will likely spend the next few days pondering the failure of Skyscraper, and the leading theory so far is the overexposure of The Rock. This is his third film since December and his fifth film since April 2017, and as popular and well-liked as Dwayne Johnson is, that might be a little too much of The Rock for such a short period of time, particularly coming off of the middling Rampage.
The thing that Skyscraper had going for it was also what may have hurt it during a crowded summer season: It's an original movie, by which I mean that it's not a sequel, reboot, or based on an existing property, although some may be hard pressed to call what is essentially Die Hard on a skyscraper an "original" film. Critics were mixed (50 percent on Rotten Tomatoes) and audiences, likewise, were nonplussed (it received a B+ Cinemascore). I thought it was a decent, meat-and-potatoes action flick, a modestly fun and intense film for those with a fear of heights. I expect it will play well overseas, but with a $125 million budget, it may have a difficult road ahead if it expects to turn a profit.
Perhaps the best thing that Johnson could do with his career at the moment is to take a break, but that's unlikely. He's already lined up three tentpole films for 2019 and will reteam with his Skyscraper director Rawson Marshall Thurber for Red Line in 2020. Then again, it's not The Rock's first misfire in recent years (see also Baywatch and Hercules) and Johnson always seems to bounce back just fine. He shouldn't have any problem putting off those political aspirations for a few more years.

Numbers four, five, and six were all holdovers. Incredibles 2, the highest grossing animated film of all time, added another $14.5 million in its fifth week, and it's now earned $534 million, good for the third highest grossing film of 2018. Jurassic World: Fallen Kingdom also added $14 million in its fourth weekend, bringing its total to $361 million (it's well over $1 billion worldwide, however). Meanwhile, The First Purge made a tidy $9.5 million and after ten days, the Jason Blum film has now earned nearly $50 million on a $13 million budget.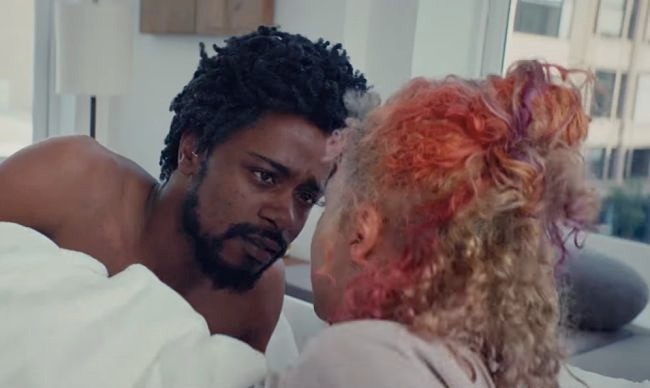 The phenomenal Boots Riley film, Sorry to Bother You, added nearly 800 theaters this weekend and earned $4 million. I don't know how much Annapurna Pictures paid for the film out of Sundance, but the studio is probably happy with the $5.1 million it has earned so far.
Sicario: Day of the Soldado earned $3.4 million in its third weekend, and it has now earned $42 million, just short of the $46 million the original film made three years ago. Uncle Drew is hanging in there, earning another $3.1 million to bring its total to $36.5 million after three weeks, Ocean's 8 lives in the top ten for one more week (its sixth), collecting $2.9 million more in receipts to bring its overall total to $132 million. In limited release, it's also worth noting that A24's Eighth Grade — currently sporting a 99 percent on Rotten Tomatoes — kicked up a spectacular per theater average in four locations in NYC and Los Angeles.
Next week, the multiplex continues to get more crowded with three more releases, which probably won't be helpful to Skyscraper's long-term prospects. Equalizer 2, the first sequel in the long career of Denzel Washington, will take on Meryl Streep and Cher's Mamma Mia 2 as well as another Blumhouse offering, Unfriended: Dark Web.
Source: Deadline, Box Office Mojo