For his follow-up to Call Me by Your Name, a sad-but-optimistic summer romance about the power of young love, director Luca Guadagnino took his Oscar-nominated talents to a nightmarish dance academy in Berlin.
Inspired by Dario Argento's 1977 horror masterpiece of the same name, Suspiria follows Susie Bannion (played by Dakota Johnson), an American dancer who travels to Germany to join a troupe led by demanding artistic director Madame Blanc (Tilda Swinton… who might also be playing an old man under the alias "Lutz Ebersdorf"). Like the original, though, the plot doesn't matter so much as the bleakly beautiful visuals, accompanied by an original score from Thom Yorke (I've always said Radiohead is the new Goblin).
"She takes the place of a dance student who has recently disappeared and immediately becomes one of the top dancers in the academy," the Fifty Shades of Grey star said about her character, "and then you discover that the dance academy is run by witches!" Been there. Anyway, that explains this…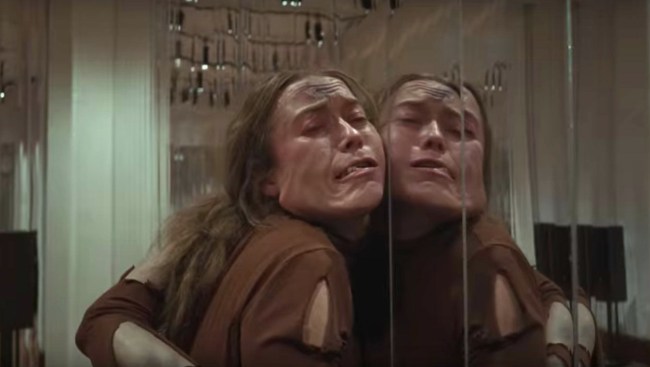 …to say nothing of the trailer's other terrors. Here's the official plot synopsis.
As a darkness builds at the center of a world-renown dance company, its artistic director, a young American new to the troupe, and a grieving psychotherapist become entangled in a bloody, sighing nightmare.
Suspiria — which also stars Chloe Grace Moretz, Mia Goth, and Jessica Harper — opens in New York and Los Angeles on October 26, and everywhere else on November 2.