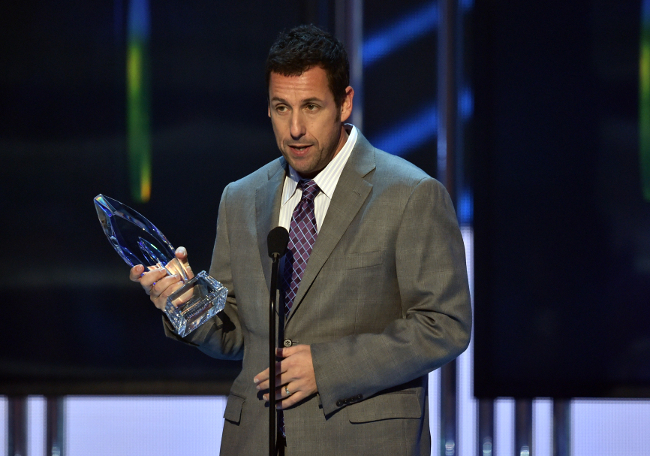 If you were worried (or perhaps hoping) that Adam Sandler's four original Netflix films would be nothing but an exercise in Happy Madison friend-casting, Ridiculous 6 is going to confirm all of that and then some. The first film of the deal that the recent People's Choice Award winner signed with the streaming giant back in October is going to be a Western spoof with a cast that could put A Million Ways to Die in the West to shame, if only Sandler knew the definition of the word. While some of the actors that have already been cast in Ridiculous 6 will surprise no one, others might leave a lot of people scratching their heads.
Regardless, Sandler is going to be buying a lot of Maseratis if this movie is a hit, because according to The Wrap, the cast includes: Nick Nolte, Taylor Lautner, Danny Trejo, Luke Wilson, Terry Crews, Blake Shelton, Steve Zahn, Chris Parnell, Steve Buscemi, Will Forte, Rob Schneider, Vanilla Ice, Jon Lovitz, Nick Swardson, Whitney Cummings, Dan Aykroyd, and Lavell Crawford. While their names aren't listed, I just assume that David Spade and Kevin James are implied.
As for the plot of Ridiculous 6, it's basically a parody of Dances with Wolves and The Magnificent Seven, presumably with a fart scene tribute to Blazing Saddles.
Insiders describe the roles as follows: Sandler will play man who grew up as an orphan among an Indian tribe. Lautner, Schneider, Wilson and Crews are poised to play his half-brothers, while the final half-brother has yet to be cast.

Nolte will play Sandler's long-lost father; Parnell a bank manager; Lovitz a wealthy industrialist and Cummings his flirtatious wife. Forte and Trejo will play the leaders of rival gangs, while Buscemi will play a local jack-of-all-trades.

In a fun bit of casting, Shelton (who just hosted "Saturday Night Live") is in line to play Wyatt Earp, while Vanilla Ice has been tipped to play Mark Twain. (Via The Wrap)
And if I had to guess which ridiculously attractive woman that Sandler will cast to play his love interest, I'm going to say Chrissy Teigen, since Spade already brushed his mullet for Charlotte McKinney for Joe Dirt 2. But I'll leave that up to the expert.