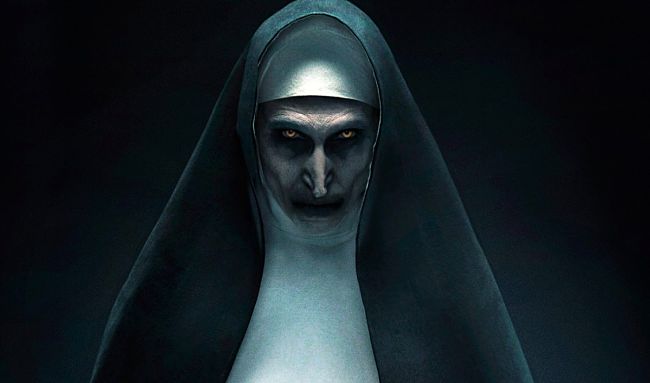 You think the Marvel Cinematic Universe is complex? Try following the convoluted Conjuring-verse. It began in 2013 with The Conjuring, followed by a sequel and a potential third movie (possibly helmed by returning director James Wan), as well as two creepy-ass doll films (Annabelle and Annabelle: Creation, the latter of which takes place before the original… and The Conjuring: Annab3lle is also in the works), The Nurse short, and finally, The Nun. Directed by Corin Hardy, from a story by Wan and Gary Dauberman, The Nun stars Taissa Farmiga, Bonnie Aarons (as Valek!), and a whole bunch of jump scares.
Jump scares are a cheap way to frighten people. But they're also highly effective, and the gothic-supernatural horror film is going overboard with them. "WARNING! If you see an ad on youtube with the volume sign being turned down and nothing else, ITS A JUMPSCARE for the new NUN movie coming out," a recent tweet with over 80,000 retweets reads. "i advise you look away and/or turn down the volume if you have anxiety or just straight up hate jumpscares, pls rt to save a life." The video is very loud and VERY annoying.
It's also possibly against YouTube's advertising policy.
YouTube does have advertising policies in place addressing shocking content. The policies state that "promotions containing violent language, gruesome or disgusting imagery, or graphic images or accounts of physical trauma," and "promotions that are likely to shock or scare" are prohibited. The catch, however, is these policies typically refer to real footage. Clips of crime scene photos or "promotions that suggest you may be in danger, be infected with a disease, or be the victim of a conspiracy" are what YouTube generally considers prohibited advertising content. (Via)
Here's the video (apologies in advance, if you dare).
The people have spoken, and they're saying they want none of this nun.
There is a way to never see the ad again. Head to Google's "Ad settings" (you have to be signed into Google/YouTube) and disable "horror." Then you'll only have to worry about seeing nuns in your nightmares.
(Via Polygon)