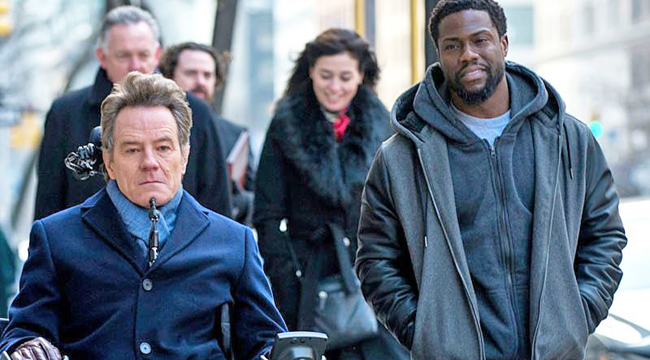 Most box-office pundits, including myself, believed that Aquaman had another week in the top spot before Glass finally unseated it. We were wrong. It's not that Aquaman performed poorly in its fourth week, either. It fell only 44 percent (typical) to score $17.2 million, bringing its total to $287 million domestic, pushing it over $1 billion worldwide. The surprise is not in Aquaman's performance but in the film that unseated it, STX Films' The Upside.
Early predictions on The Upside suggested it would come in well below $15 million, and while Kevin Hart promoted the film heavily on the talk-show circuit, much of the conversation seemed to be focused onon his Oscars controversy instead of The Upside. The critics certainly didn't help matters, giving the movie a 40 percent on Rotten Tomatoes.
However, audiences clearly loved it, giving The Upside an A Cinemascore — in fact, it scored higher with audiences than any Kevin Hart film ever released. The good word of mouth should also help the film survive and thrive in its second weekend against Glass on Martin Luther King Jr. weekend, where Kevin Hart films (Ride Along, Ride Along 2, The Wedding Ringer) have historically played well.
From acquisition to release, it was a long road for The Upside, inspired by the crowd-pleasing 2011 French film The Intouchables, the second-highest grossing homegrown film ever in France. A number of directors were attached the project over the years, including Paul Feig, Tom Shadyac, and Simon Curtis, before Neil Burger (The Illusionist, Limitless) came aboard. Colin Firth was originally attached in the Bryan Cranston role while Chris Rock, Jamie Foxx, Idris Elba, and Chris Tucker were all eyed for the role that Kevin Hart was eventually cast in (Jessica Chastain and Michelle Williams were considered for the Nicole Kidman role). Nearly five years after rights to the American remake were purchased, production finally began in late 2016. The film screened at the Toronto Film Festival in September 2017 with an original release date in March 2018. However, The Weinstein Company pulled the film from the schedule in the wake of the Harvey Weinstein allegations and the film was left in limbo. STX Films smartly picked it up in August and recut the movie from an R to a PG-13 to give it a broader appeal. Now it's the studio's first number one film ever.

Another new entry, A Dog's Way Home took the third spot, behind Aquaman, opening with a modest $11.3 million on an $18 million production budget. Audiences liked it, giving it an A- Cinemascore, while critics didn't hate it, giving it a 60 percent fresh rating on Rotten Tomatoes. I heard it was a harrowing tearjerker for dog-lovers, but audiences — especially in the Mid-West and South — warmed up to it in theaters.
The horror film Escape Room fell a predictable 53 percent in its second weekend, earning $8.5 million to bring its 10-day total to $32 million. That is a solid number for a film that only cost $9 million to make. Meanwhile, Spider-Man: Into the Spider-verse added $7.5 million to bring its five-week total to $146 million (it has roughly doubled that overseas).
Mary Poppins took an unexpected nosedive, falling from number three last weekend to sixth place this weekend, earning $7.2 million to bring its overall total to a hair below $150 million. It's earned about $275 million worldwide, which would be much more impressive if the film had not cost $130 million to produce (I am sure that it will do well on digital release, however, for many years to come). Bumblebee finished in seventh place, earning $6.7 million and bringing its total to $108 million, or what Transformers: Revenge of the Fallen earned in its opening weekend. Bumblebee, however, has done well overseas, thanks to the $105 million it has earned in China through two weekends.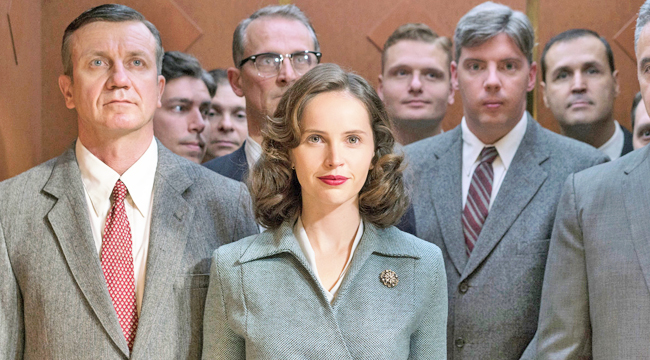 In eighth place, On the Basis of Sex expanded into nearly 2,000 theaters and earned a respectable $6.1 million, driven by good reviews (71 percent on Rotten Tomatoes), a great A Cinemascore, and a love of Ruth Bader Ginsburg.

Closing out the top ten, Clint Eastwood's The Mule added another $5.5 million to bring its overall total to $90 million as it makes a run toward the century mark. Meanwhile, Christian Bale's Golden Globe win didn't give much of a boost to Adam McKay's Vice, which dropped to number ten this weekend, adding only $3.2 million to bring its total to $36 million.
Other notables outside the top ten include If Beale Street Could Talk, which expanded into 1,000 theaters and earned $2.3 million to bring its total to $7 million. Meanwhile, Keanu Reeves' sci-fi flick, Replicas landed at number twelve this weekend, earning $2.5 million. Terrible reviews (11 percent on Rotten Tomatoes) doomed the pic, although audiences that did turn out for Keanu Reeves' movie left unimpressed, giving it a C Cinemascore. (It didn't help, either, that the film was released in a few countries overseas last year and was already available on torrent sites.)
Studios have decided to let M. Night Shyamalan have MLK Jr. weekend all to himself next week, as Glass is the only film opening wide. Reviews, however, have been mixed (which is probably generous), although the sequel to Unbreakable and Split is probably critic-proof, at least for its first weekend.
Source: Deadline, Exhibitor Relations Co, Box Office Mojo