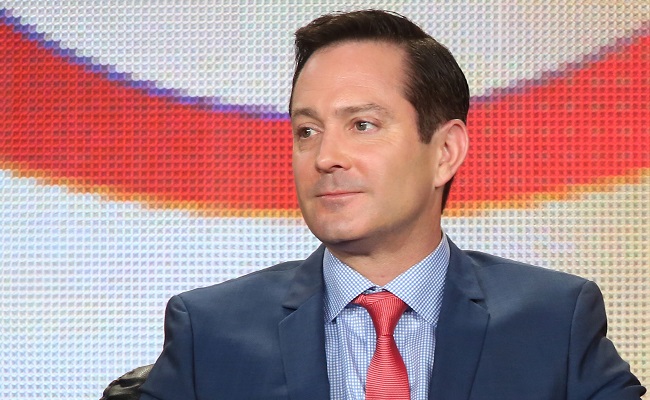 Like most of director Terrence Malick's films, Knight of Cups is drawing mixed reviews. Some critics and audiences will appreciate the filmmaker's eccentric tastes in cinematography and subject material, while others will complain — like actor Sean Penn before them — about not knowing what the hell is going on. Enter Thomas Lennon, an actor and comedian best known for his stint as the short shorts-wearing Lt. Jim Dangle on Reno 911! Lennon had a small part in Knight of Cups, and according to a recent interview, he's not entirely sure why.
Then again, as Lennon told Business Insider, he never really knew what the hell was happening throughout the entire process. When his agent offered him the part, when no one from Malick's camp offered the actor any information about the role, when he showed up on set for an 11-hour shoot that resulted in one minute of screen time — Lennon didn't know a thing. And it's hilarious.
On figuring out how to prepare for a movie he knew nothing about:
"I started making phone calls to people — 'Could you please find out what role I'm playing? Is there a wardrobe fitting?' And the answer I would get back from everyone is, 'No one knows anything about the movie,'" Lennon said.
On finally meeting Malick and Christian Bale on the set, and discovering that there's no script:
"We're all standing there and Malick hands out these pieces of paper to all of us," Lennon said. "And the one he gave me said, 'There's no such thing as a fireproof wall.' And I ask, 'Is this something I'm supposed to say in the scene?' and he said, 'I don't know.'"

Lennon learned, after talking to the director, that there was no script, just a phrase that might inspire him when cameras started rolling.

"And then Malick goes, 'Would you like some more? Because I have a whole stack of these.' And I was like, 'I think I'm good,'" Lennon said.
That time the director decided to film Lennon's very-real fight with his wife over the phone:
"We were basically yelling at each other," Lennon said. "And at that point Malick himself came up to me with a camera with a stubby lens and got, I'm not kidding, eight inches away from my face, filming me having this totally real fight with my wife. At first I felt it was kind of an invasion of privacy and then I was like, 'F— it, this is the realest thing that has happened all day.'"
Compared to Penn's infamous remarks regarding his role (or lack thereof) in Tree of Life, it sounds like Lennon got off easy. After all, the Odd Couple actor got to work with and observe Malick for the entirety of an 11-hour shoot. That, and his scenes survived the notoriously picky director's post-production process, which often cuts significant performances before producing the final product.
(Via Business Insider)
Now Watch: Who Will Be The Next Doctor Who?