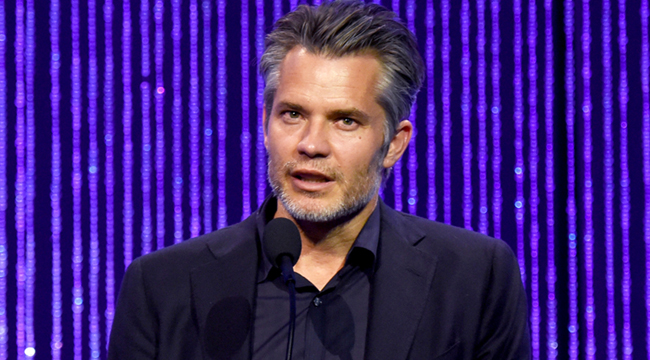 Only a few days after Margot Robbie was confirmed to play Sharon Tate for Quentin Tarantino's ninth movie, Once Upon A Time In Hollywood, news of a possible casting addition of note has broken. Deadline is reporting that Timothy Olyphant — best known for his hat-wearing turns in Justified and Deadwood and currently starring in Netflix's Santa Clarita Diet — is negotiating to co-star in the film, possibly in a lead role.
Olyphant has long seemed like the natural fit for a Tarantino project, especially given that each have strong ties to Elmore Leonard's work. And since both men have ricocheted throughout Hollywood for decades, it's hard to put a finger on why they don't work together all the time. Has the time now arrived? Deadline's Mike Fleming says it's close to happening, and Olyphant's busy TV schedule sounds like a reason why this collaboration has been difficult to arrange:
I am not sure whether Olyphant will play a fictional or real character … Olyphant's schedule had to be reworked around his TV show The Santa Clarita Diet, but the problems have been overcome and a deal is being worked out.
The project, of course, shall be QT's reimagining of a group of characters — played by Brad Pitt, Leonardo DiCaprio, Burt Reynolds, Tim Roth, Kurt Russell, Michael Madsen, and Robbie — appearing in a Pulp Fiction-esque tapestry leading up to the Manson family's murderous 1969 spree. Fleming stresses that there haven't been any clues dropped on what role Olyphant would play, but it must be a juicy, charismatic one.
With Olyphant looking close to a done deal, who's next? C'mon, Walton Goggins must be itching to join another Tarantino project, and then surely, he and Olyphant can have a Justified reunion and work out some … unfinished business.
(Via Deadline)