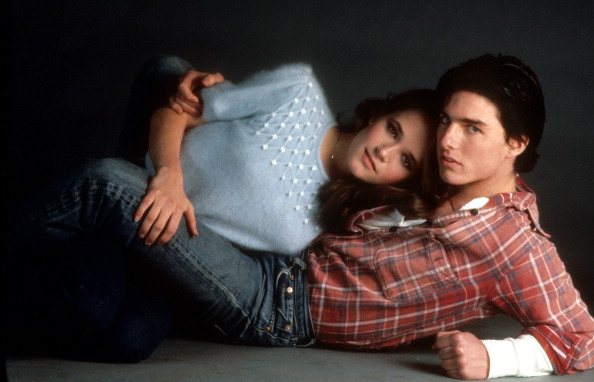 Over 35 years into his career and at the age of 56, Tom Cruise is still burning up the box office, entering the weekend charts at number one with Mission Impossible — Fallout, the sixth film in the Mission Impossible series. Cruise, however, didn't start out as a huge, international action-movie star. In his early days as a fellow Brat-Packer, he was better known for 80s films like Risky Business, The Outsiders, and the 1983 football film, All the Right Moves, about a star football player who often clashed with his head coach (Craig T. Nelson).
The coach is not the only person with whom Cruise clashed on the set of All The Right Moves. Cruise also stood up to his producers on behalf of his co-star Lea Thompson, who was also a burgeoning star at the time. All the Right Moves, in fact, preceded Red Dawn and the two films for which she is best known: Back to the Future and Space Camp.
As Thompson tells it, she didn't even audition for All the Right Moves because the script called for two scenes in which she was to appear topless. Nevertheless, she landed the gig anyway, but when it came to actually filming the movie, Thompson didn't want to film the two nude scenes. That's where Tom Cruise came in, as Thompson told W Magazine.

"Tom managed to talk them out of one of the [nude] scenes," she said. Thompson still had to film the second nude scene, but Cruise stood with her in solidarity. "In the second, he said, 'Well, if she has to be naked, I'll be naked, too,'" she said, "That's pretty badass! I've always been grateful to him for standing up to the producers."
Cruise need not "stand up" to producers these days, however, as he produces his own films, and as in Mission Impossible — Fallout, he often puts his own neck on the line. Thompson, meanwhile, has had a very successful career since All the Right Movies herself, including 30 years of steady film roles and a successful NBC series, Caroline in the City. She also married her Some Kind of Wonderful director, Howard Deutch, and they have two daughters together, including Zoey Deutch, who is currently helping Netflix revive the rom-com genre with Set It Up.
(Via W Magazine)