Toy Story, which came out on November 22, 1995, was the first feature-length film to be entirely computer-animated. It was an incredible achievement and most of the graphics still hold up fairly well, except for the humans. Sid was scary enough 24 years ago, but Sid now, with all the advancements in technology has made in the Pixar in the two-plus decades, is a dead-eyed, sharp-lipped nightmare. At least Babyface was supposed to look terrifying…
The differences between Toy Story versus Toy Story 4 (and Pixar's mastery of animation) can really be seen in the new full-length trailer, which shows young Andy playing with Woody and Jesse looking nothing like he did back then.
Here's then Andy.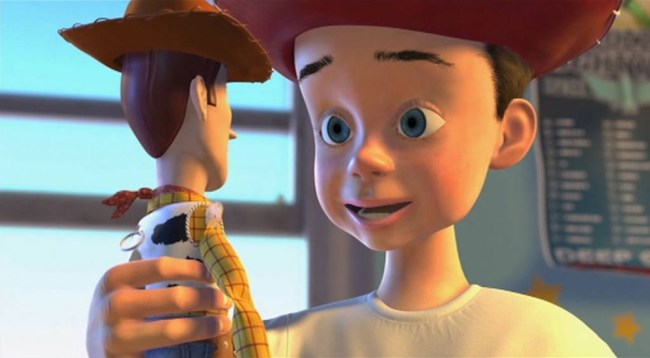 Here's now Andy.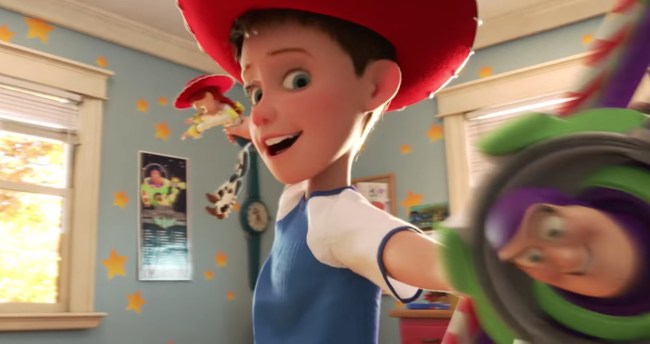 The other possibility here is: maybe that's Andy's son? It looks like Andy's bedroom from Toy Story 2 (he had clouds in the original and stars in the sequel), but it's hard to tell whether it's the same child who once emblazoned Woody's boot with a backward "N" or if it's his kid. The debate has begun.
I think it's a flashback to young Andy… unless Dad Andy has a nervous breakdown in Toy Story 4 after learning toys can talk and he makes his son recreate his childhood, right down to having the same posters. God only knows!
Here's more on Toy Story 4.
Woody has always been confident about his place in the world and that his priority is taking care of his kid, whether that's Andy or Bonnie. But when Bonnie adds a reluctant new toy called "Forky" to her room, a road trip adventure alongside old and new friends will show Woody how big the world can be for a toy.
Toy Story 4 opens on June 21.