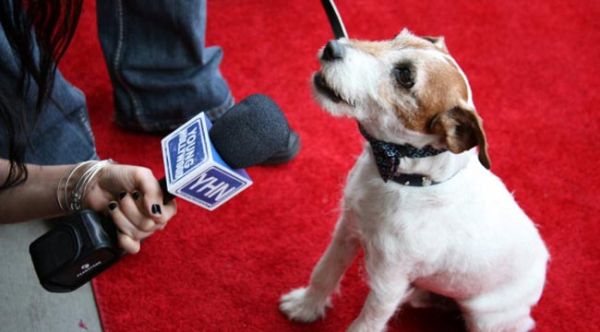 It's a dark day when anyone leaves us, but the last few months have seen an avalanche of devastating losses in the entertainment industry. Perhaps the stunning loss of so many artists is what caused the Screen Actors Guild awards to omit the legendary Uggie from their 'In Memoriam' segment.
This is disappointing because Uggie has had a big presence in Hollywood over the last few years. The Jack Russell terrier was in the Academy Award-nominated silent film The Artist, and it wasn't just because #OscarsSoWhite like his fur. Uggie had an incredible talent for expressing emotion with his face and eyes, which is a gift you're born with, not trained into possessing.
While most dog actors often rely on their bark, Uggie had no option to perform vocally in The Artist, which was why his performance earned him a popular campaign rallying the Academy to "Consider Uggie" for an Oscar nomination. He also showed range, appearing in movies as diverse as the Reese Witherspoon/Robert Pattinson romantic drama Water For Elephants to the low-budget comedy Mr. Fix It. But the big-screen aside, he was perhaps most at home making appearances for PETA, promoting products like Nintendogs, and most of all — skateboarding.

Ride on, you talented little doggie. Ride on in the skateparks of dog heaven. The Screen Actor's Guild may not remember you, but we do.
(Via People)