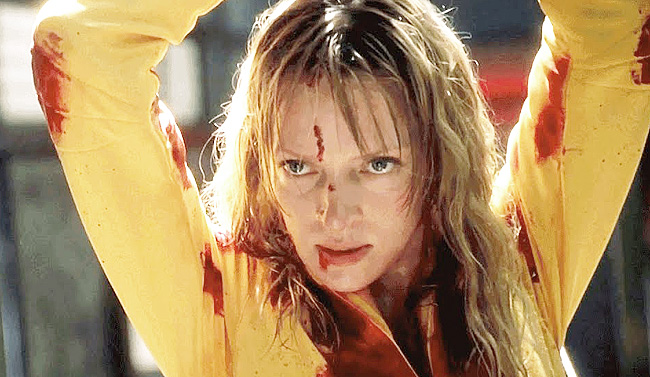 When a visibly angry Uma Thurman hinted at her own past with Harvey Weinstein, many knew something major was coming. And they were right. An interview with the New York Times highlighted Thurman's own encounter with the disgraced mogul but also revealed an incident with director Quentin Tarantino on the set of Kill Bill.
Details about Tarantino's directing decisions, like choking and spitting on Thurman during filming, were shocking in the wake of the report, but quickly overshadowed by a video showing a driving stunt gone wrong that injured Thurman. The stunt drew heavy criticism, with the stunt coordinator from the film questioning how it even happened, but that doesn't mean Thurman has turned her back on the director according to Entertainment Weekly. While Thurman has permanent injuries from the incident back in 2004, she tells EW that she still has a good relationship with Tarantino:
"We've had our fights over the years. When you know someone for as long as I've known him, 25 years of creative collaboration…yes, did we have some tragedies take place? Sure. But you can't reduce that type of history and legacy…

"Yes, do I have a chronically bad neck? Yeah," the actress says. "Was I mad about how it was handled and how I was treated? Yes. But does that mean I don't care about someone that I have 25 years of history with? No! My capacity to forgive exists and things happen. The accident itself was wrong, but…I tried to explain that it was the environment around it that wounded me the most."
She also hinted that she'd be open to working with Tarantino again on a film, though she added that she doubts it would happen given his rumored retirement:
"If he wrote a great part! I understand him and if he wrote a great part and we were both in the right place about it, that would be something else."
Thurman seems to be pretty sold on Tarantino's rumored retirement from filmmaking, saying she wouldn't put it past him to walk away. I'm not sure if you'd call this a happy ending to the story of Q&U, but it does seem to be a slice of closure.
(Via Entertainment Weekly)