One of the best running gags in Deadpool 2 is Deadpool's preoccupation with Logan and Wolverine — in fact, the film's opening sequence both pays tribute to and tries to one-up Logan in a very tongue-in-cheek-manner. Critically speaking, the Ryan Reynolds' movie falls short of Wolverine's swan song (83 percent to 93 percent on Rotten Tomatoes), but Deadpool 2 gives Ryan Reynolds bragging rights over Hugh Jackman at the box office (and if there is a Deadpool 3, Reynolds will certainly remind Jackman of that). Deadpool 2 opened on Friday with the single-day record at the box-office for an R-rated film ($53.9 million) and holds the title for the highest-grossing R-Rated Thursday preview, as well, with $18 million.
However, Deadpool 2 will fall short of Deadpool for the biggest opening weekend for an R-rated movie ever, scoring around $125 million, short of the $132 million earned by the original. The important thing, however, is that it has vanquished Logan, which opened in March 2017 with $88 million. Deadpool 2 may not ultimately make as much as its predecessor ($363 million) given the tougher summer competition (and the arrival of Solo next weekend), but it should earn enough to push Logan out of the top ten movie R-rated movies, which I'm sure will make Deadpool very happy.
Despite falling short of its predecessor, the $125 million opening is undeniably impressive, especially in an era where sequels rarely outperform the originals domestically — in fact, Deadpool 2 breaks the record for comedy sequel at the box office. Great reviews and solid worth of mouth (A- on Cinemascore) will keep Deadpool humming through Memorial Day and until the first weeks of June, Star Wars notwithstanding.
Avengers: Infinity War will hang on to the number two spot with $28 million, easily besting the rest of the weekend's competition and bringing its overall total to just short of $600 million, good for the second highest grossing film of 2018 behind Black Panther, which has stalled at around $698 million, falling out of the top ten this week for the first time since it opened in February. Infinity War has also crossed the $1.7 billion mark worldwide as it makes a play to become only the fourth film ever to cross $2 billion.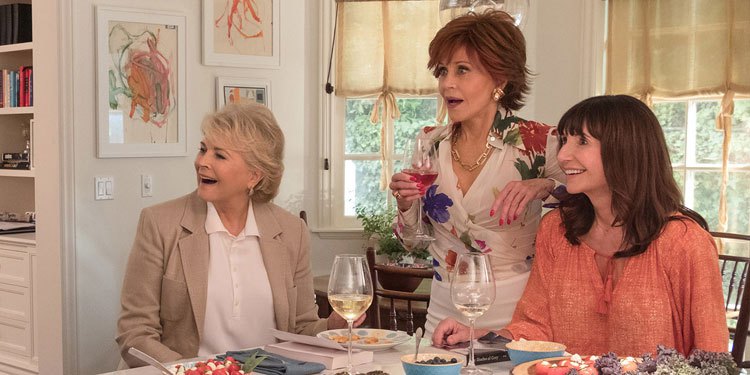 The Jane Fonda, Candace Bergen, Mary Steenbergen, Diane Keaton ensemble, Book Club, earned $13.4 million in its opening weekend by zeroing in on the older, female demographic (80 percent of moviegoers were female, while 60 percent were over the age of 50). That's a solid opening for a film with a reported $10 million budget, and more importantly, it gave exhibitors an option for older moviegoers less interested in the superhero genre.
Melissa McCarthy's Life of the Party dipped 57 percent in its second weekend, adding $7.6 million to bring its total to $30.9 million. Critics continue to suggest that comedies are dead at the box office, but I think that the big screen has just become a part of the mix for comedies, which can still earn millions of dollars in digital sales and rentals after their box office run. Look at Game Night and Blockers for examples of recent successes: Game Night earned $116 million globally on a $37 million budget, while Blockers earned $86 million on a $21 million budget, and both should add tens of millions more in the home digital market. For comedies, it's mostly a matter of keeping budgets reasonable.
Gabriel Union's Breaking In falls to fifth place this weekend, earning $6.4 million to bring its total to $28 million, an excellent number for a film made for a paltry $6 million. Show Dogs tried to fill the family-film hole at multiplexes, but families were mostly disinterested, as the talking dog film managed only $5.3 million in its first weekend. However, it may hold well during Memorial Day if parents with children too young to watch Solo get desperate enough over the four-day weekend.
Slots seven through nine are all holdovers. Overboard continues to hang in there, earning $4.6 million to bring its total to nearly $37 million, although it nearly earned its entire budget back last weekend with its opening in Mexico, where Eugenio Derbez is a huge star. With $3.8 million, A Quiet Place has no earned $176 million, while The Rock's Rampage nears the end of its run with $1.3 million and $92 million overall.
Finally, RBG the Ruth Bader Ginsburg documentary, broke into the top ten despite being screened in only 335 theaters, earning $1.2 million and bringing its total to $3.8 million.
Next week, Memorial Day weekend should be a huge one, with Solo taking on the second weekend of Deadpool 2 and Infinity War still going strong.
(Via Box Office Mojo / Deadline)