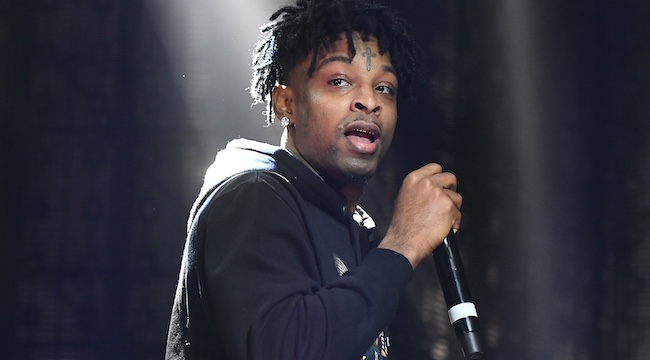 Speculation has run hot for 21 Savage's next project ever since he cryptically tweeted the date December 7 almost one month before. While he still hasn't quite revealed any details about the follow-up to last year's Issa and Without Warning — whether his newest release is an EP, an album, or a single still remains in question — he did share the cover on Instagram, along with a plethora of goat emojis. Combined with the title on the cover, I Am > I Was, it's clear that he feels that not only has he grown in greatness over the past year, he's feeling confident to call himself the greatest of all time.
https://www.instagram.com/p/BrD3HwynNB6/
While there's still no actual data regarding what songs will be on his new project, at least the work he's done in the past month or so has confirmed that he's been refining his craft and sounding energized — at least, as energized as he can sound while switching between his usual deadpan delivery and a threatening whisper. First, he delivered a handful of standout performances on Metro Boomin's Not All Heroes Wear Capes, where he deployed the above-mentioned "ASMR" approach to crowd-pleasing effect. Then, he reappeared on Meek Mill's Championships to grouse about the modern state of hip-hop, but in a much more charming way than the one usually employed by disgruntled backpack rappers.
Since his last few appearances suggested that he's got a few bones of contention to pick with the rap game as well as a sharpened flow, it's probably a safe bet that I Am > I Was will be worth the listen.