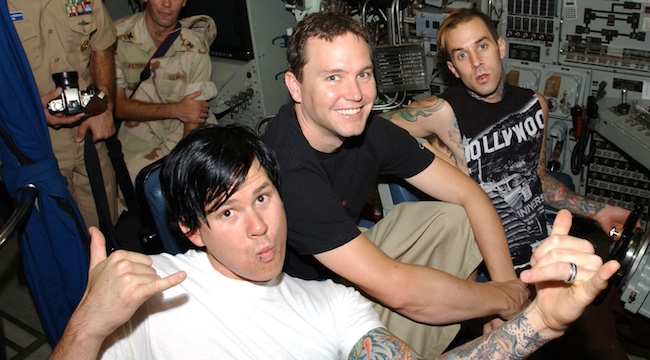 It would seem that typically, American pronounce the name of the band Blink-182 as "blink one-eighty-two," but that apparently isn't the case everywhere in the world. On Sunday, The Late Late Show co-head writer and stand-up comedian Ian Karmel tweeted, "The British call Blink-182 'Blink One Eight Two' and I'm not saying that's WHY they lost the Revolutionary War, but…," and that tweet has started some trans-Atlantic debate.
Karmel's British co-workers and other folks from across the pond weighed in, saying that their preferred pronunciation is as Karmel stated it. Corden also chimed in, tweeting, "Don't start this. I admit we are wrong on this. America calls them Blink One eighty two. Which is also wrong. They technically should be called Blink one hundred and eighty two. Don't take some moral high ground here."
Realizing the magnitude of the conversation he started, Karmel asked members of the band to share their thoughts, and instead of settling the matter, they offered sarcastic responses that didn't advance the conversation. Mark Hoppus wrote, "Thank you James. Some say one eighty two. Some say one eight two. But in all of this, I feel like we've lost sight of the fact that the B in blink-182 should be lower-case." Former band member Tom DeLonge also chimed in, saying, "It's actually— Blink eighteen-two. People have all gotten this wrong for years. Sometimes this can happen with very complex, thoughtful and elevated art."
My personal take on this conversation: Not enough people pronounce the hyphen.