In the normally competitive universe of rap, an odd phenomenon has occurred: Everybody wants to be friends with Chance The Rapper. The undeniably talented Chicago MC has seemingly befriended rappers from every end of the spectrum, and some that exist on spectrums completely separate from Chano. Like all business relationships these pairings are all mutually beneficial, even if they're not clearly so on the surface. Everything in rap is a quid pro quo barter system of favors for favors and discounts for discounts. So why are rappers and musicians practically tripping over themselves to be buddy-buddy with young Chancellor from the Southside?
The answer is probably similar to why the richest company in this country did the same, even if Apple's deal with Chance might not be lucrative for Tim Cook and co. Whatever premium they're paying for the rights to have his music first, the primary thing Apple is gaining from the relationship is cultural cachet. By locking down the 23-year-old MC's exclusives — and becoming his de-facto record label and distributor — they gain the notoriety that comes with being associated with one of the hottest up and coming acts in music, and earlier than most when he eventually breaks through to the mainstream.
While his real-world relevance may still not be on the level of, say, Kanye, Chance is popular with the right groups of people. (Including Yeezy himself.) Thus, the gatekeepers and trendsetters of the Internet have crowned Chance as the next big thing, and are currently in the process of speaking that into existence — and they're not wrong either.
Apple's early association with him reflects well on the company, and speaks to a certain foresight and general knowledge of what's cool and will be cool by the current moment's standards. It's no different than Beyonce getting on stage and dancing to the newest indie dance track, basically screaming to younger fans "See, even at 36 I get it." And if Chance does get his wish and become the first artist to get a Grammy nomination for a "free" album, all the better for Apple who initially housed the project.
For artists, the association with Chance gives them all of that and the added benefit of new ears on their product from his realm of the rap universe. It works the same for Chance. Of course, that give and take is the same for Chance, which is why Coloring Book is loaded with features from both superstars like Justin Bieber, Kanye West and Lil Wayne and mid-level acts like Ty Dolla $ign and Young Thug and a Soundcloud hero like Lil Yachty.
Of course, we don't know the full economy behind the verses on Coloring Book, but business is business, and for acts like Lil Wayne who previously told Rolling Stone "I wouldn't do a song for my sister for less than $75,000," money must be exchanged somewhere because — whether he's Chance's favorite rapper or not — nobody is that friendly. That's where Apple and their endless pockets come in, and while they may act as a label in certain instances, they also allow Chance to continue to be "indie" in both narrative and reality, and in doing so the entire Chance The Rapper ecosystem continues to benefit all within its cycle.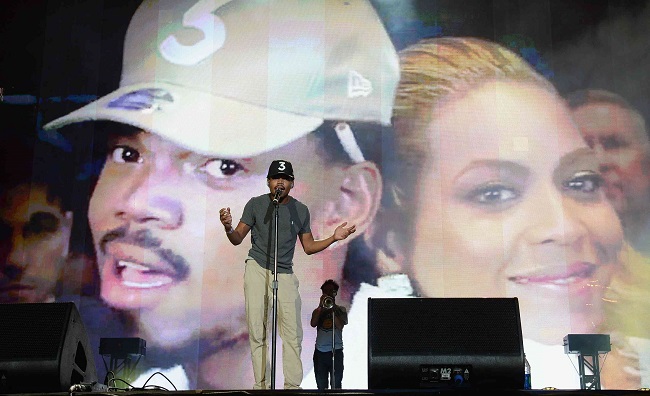 With the debut of Chance's Magnificent Coloring Day, the affordable one-day festival held at the home of the Chicago White Sox, U.S. Cellular Field, the ecosystem now encompasses live shows as well. Not to mention, the festival streamed on Jay Z's Tidal. As he revealed in an interview on Twitter, each performer came on board after a "personal conversation," and the event was only able to come to fruition after "some good budgeting" that allowed tickets to range from $35 and $150. Oh yeah, then there's the fact that Chance went and bought a huge amount of tickets back from scalpers with his own money.
I spoke w @twitter last night about #MCD #MagColoringDay pic.twitter.com/5RvvB5kt48

— Lil Chano From 79th (@chancetherapper) September 24, 2016
It's quite the coup, securing numerous five-figure and six-figure performers for a night — and the festival was a success by all accounts, even setting the U.S. Cellular Field attendance record. While music sales dwindle and streams become the prevalent consumer choice in the industry, the festival opens up another revenue stream for artists who can turn a profit with that same mix of budgeting and networking that Chance exhibited in the inception and execution of Magnificent Coloring Day.
Regardless of what they were paid, the benefits of being a part of Chance's festival outweigh any sort of monetary loss an appearance might have technically resulted in. By being there, they've pledged their allegiance to the new school, and cozied up with the industry's prodigious golden child. This is why they're performing on discount, or why Diddy is bringing him out at his show, or why Common trotted him during his set at the Ahhh! Festival to perform. Everybody wants a piece of this still relatively small act without a Top 40 hit or a Top 5 album to his name. The cultural cachet, and the social currency gained by association far outweighs any opportunity costs or losses in the arrangement, and Chance continues to be propped up by artists and brands that are bigger than him in the current landscape.
While in recent years the Drake Stimulus Package has helped elevate artist through glass ceilings and launch them into the mainstream with varying degrees of success, it looks like The Chance The Rapper Ecosystem is the new mutually beneficial relationship de jour. Even Drake is getting in on the fun. And like mentioned above, hard to miss Kanye's co-sign when his appearance at the festival becomes the main event. So here's hoping Lil Chano From 79th rides this "Ultralight Beam" all the way to the top.