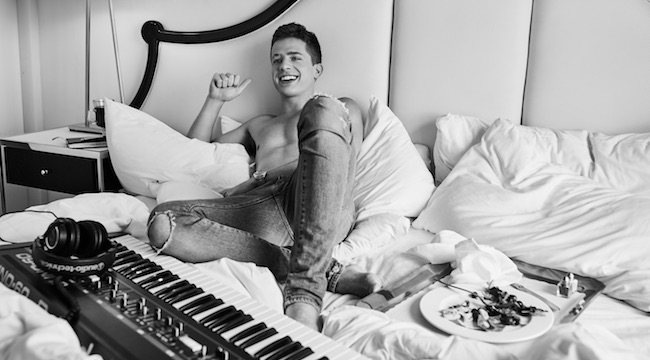 In 2016, it's hard to underestimate how critically derided Charlie Puth's pop trajectory was.
"If you're one of the people who did not like Charlie Puth's first album, Nine Track Mind, you're not alone," wrote Vulture this year, in a piece reintroducing Puth for the release of last week's sophomore album, Voicenotes — they go on to note that his debut has one the lowest ranking Metacritic scores ever (fifteenth lowest). It's not surprising given Puth initially came to fame as a viral sensation on Youtube, an origin story categorically looked down upon by critics.
Nine Track Mind hovers at 37 on the review aggregation site, with seven critical reviews that all skew negative, and 415 user scores — 209 of them negative — for a 4.5/10 user score. When the album came out, Spin gave it a 3/10 on their review scale, and Pitchfork went even lower with a 2.5 score out of 10 score in a breezy shrug of a review the site is known for doling out, particularly when it comes to pop. Even the generally gentle, even-handed All Music gave the record 2 out of 5 stars, writing that the songs "seem to mimic the idea of genuine emotions instead of delivering them."
In the pop world, where emotion is everything, this was a serious problem. But, that idea about Puth originated mostly from one song.
Looking through the archives of 2015, scanning for what critics deemed to be one of the worst songs of the year, one track kept cropping back up: Charlie Puth and Wiz Khalifa's "See You Again" from the Fast And Furious 7 soundtrack. Publications like Complex, Jezebel, Inverse, Rap Radar all included it on their worst songs of the year list, even as the song continued to rack up commercial accolades that had never been seen before. It surpassed the viral sensation "Gangam Style" on Youtube, and eclipsed Billboard records for weeks spent at No. 1, eventually landing at twelve consecutive weeks, the longest a "rap" song (word to Wiz Khalifa) had ever occupied that top slot.
Surely, the song's homage to the late Paul Walker and connection to the Fast And Furious franchise had something to do with its emotional resonance — but that was also its Achilles heel. To make a song that so blatantly capitalized on one of the most emotional celebrity deaths in pop culture history of late seemed so heavy-handed that even Puth's story about writing the song after losing a friend of his own couldn't save it. Also, let's be frank — the song sound like a PlayDoh version of grief, rudely interrupted by a couple typewriter stagnant verses from Wiz Khalifa. Khalifa's presence catapulting the song into record-breaking positions for "rap" songs on the Billboard charts further stoked ill will, especially considering how little it seemed to deserve those accolades in the hip-hop realm. In response, critics panned it almost universally.
Given this context, it is enormously surprising to discover that just about three years later, critics have done a 180 on Puth. In 2018, his new album is not even being met with middling praise, but actual critical adulation. What!?
"I don't hold any grudges," Puth told Billboard last year when discussing how he was almost left out of the "See You Again" video. "I'm actually really good friends with everybody who didn't necessarily believe in me at first, I've worked on projects with them since then and everything is all good now but, you know, I had to prove myself." Word is, another vocalist was also slated to take Puth's place on the track, but in the end, he prevailed. And, as fate would have it, his second album improves further upon that underdog victory narrative. It's also worth noting that, throughout it all, even when the material was bad, Puth has scientifically, mathematically perfect pitch, the kind of voice anyone could fall in love with. Critics aside, plenty of America did.
So while his debut weakly gestured toward rhythm and blues (see "Marvin Gaye," a song further marred by the addition of Meghan Trainor), Voicenotes boldly struts into pure funk and groove territory, ditching the toothless longing of "We Don't Talk Anymore" for the bitter, lusty darkness of "Attention." Both are breakup aftermath pop mourners, but only one burns with the kind of skeptical emptiness that real adult loss breeds. "Attention" swept up the charts following its release in summer of 2017, and it ended up sitting pretty at No. 5 at its peak. (I can't let "Attention" go without noting it could be interpreted as a fairly sexist, negging critique of the reason why his ex is doing her own thing, but as someone who has been caught up in self-indulgent petty judgments of former partners, it still rings true.)
In a meandering Billboard profile released in early February, the stage was set for Puth's 180 — he claimed that Nine Track Mind "wasn't him" and confirms the across-the-board pan that Metacritic represents. "I agree with that score," he says. "That album was not me at all." Later, Puth expresses a desire to make a song that moves teenagers like Future's "Mask Off" does. While Voicenotes doesn't quite go trap, it's not an understatement to say the album has bangers.
"Charlie Puth got famous. Then he got good," wrote The New York Times this week, praising Voicenotes as "a confident, impressive pop album, with ironclad melodies and frisky takes on 1980s funk and 1990s soul." Variety notes that Puth ditched big-name producers for the record, and this sound is all Puth. In the liner notes he describes his set-up as a: "little Pro Tools rig with a MIDI keyboard and a microphone," now oft-quoted by reviewers eager to point out his independence.
In the prelude to another generous interview, Vulture called Voicenote's sound "ballads and classic R&B songs, presented in between sweaty make-out pop hits," a succinct, shimmering picture of an album on the redemptive track. Rolling Stone only gave the album three out of five stars, but decided plenty of its tracks "make for perfect slices of radio-soul-pop."
So, does Voicenotes hold up to the general consensus U-turn? Look no further than the opening riff of "Slow It Down" to find the answer, nicking a page right out of Steely Dan's book, the keyboard stutter-step builds a joyful intro spiked with trepidation, and the song itself follows up with a partner who is infatuated with the unavailability of Puth, and her infatuation, in turn, reels him in. It's a brilliant spin move of a song, painting Puth as both the object of desire and the voice of reason in one fell swoop of a chorus — plus it manages to empower the woman in the equation without the criticism inherent in "Attention."
A smattering of didn't-see-that-coming-but-whoa-it-works guests also make Voicenotes stand out from the crowd of R&B-infused pop that is ever prevalent in a post-Beyonce era. The inclusion of James Taylor (!?), Boyz II Men (!!) and Kehlani prove that Puth's own ear is as diverse as his album ends up being, and even though the Taylor song nudges toward the treacle that made Nine Track Mind easy to pan, Puth's admiration for a songwriter like Taylor is so easy to love.
Another thing that's easy to love: In an era where constant dragging and smug, holier-than-thou critique are the name of the game, Puth's vulnerable admissions of unfaithful partners, or being too in love, or the shit he's been through — and survived — are more than just relatable, they're admirable. This is the kind of industry that could easily squash someone like Puth on his first album; by keeping his tenderness intact, without pretending he's above the very real feelings of betrayal that come along with keeping your heart so soft, Puth is getting the last laugh, after all.
Voicenotes is out now via Atlantic Records. Get it here.