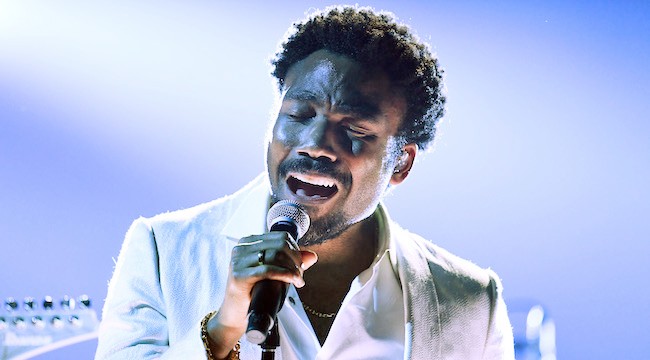 With the post-Grammys dust settling, stars are beginning to see real benefits of their performances, nominations, and wins. According to Billboard, many of the night's biggest performers and winners, including Bruno Mars, Childish Gambino, and Kendrick Lamar, saw huge boosts in sales and streams thanks to the exposure of the star-studded event.
Although the show itself turned in somewhat disappointing ratings (and a few disappointing award selections to boot), many of the nominees and performers received a bigger platform — especially those in popular but niche or youth-leaning genres like hip-hop. Kendrick Lamar, nominated for DAMN., saw his Best Rap Album winner jump 92 percent. "Humble" went up 71 percent, while the Rihanna-assisted "Loyalty," winner of Best Rap/Sung Collaboration, increased a whopping 273 percent.
Gambino's "Terrified," which received little attention following the release of his experimental, throwback funk departure Awaken, My Love, rose to 5,000 sold on the strength of his tense, electrifying performance featuring young Lion King star JD McCrary. Logic, who performed his hit "1-800-273-8355" with Alessia Cara and Khalid, received a 450 percent bump.
The evening's big winner, Bruno Mars, saw sales of his Album Of The Year-winning 24K Magic rise 157 percent, with its singles "24K Magic" and "That's What I Like" increasing 176 and 186 percent respectively.
So while the Grammys' relevancy may be waning due to the show's insistence on chasing nostalgia and general ignorance of newer or counterculture genres, it seems there's still some benefit to awards for artists after all.