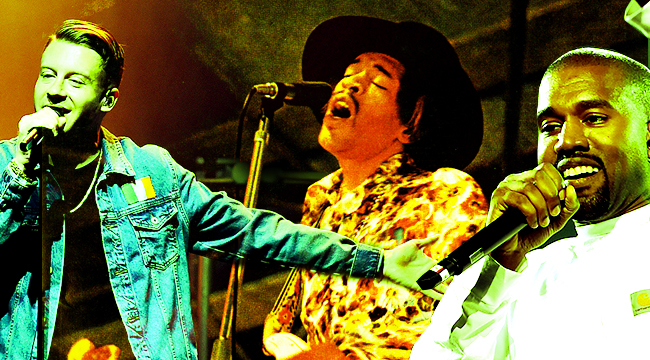 At the heart of every awards show is a lie. Art isn't sport, and there's no such thing as a best song, record, album, or artist. Any choice is arbitrary. But even though it's arbitrary, that doesn't mean it lacks value. The value is in what happens afterward: The controversies and conversations that are provoked. And the Grammy Awards, through sheer ineptitude, have produced some of the most vital artistic discussions of our time.
This is a relatively recent phenomenon, made possible by a large and diverse national media. Back in the 1960s, for example, the Grammys could still be blindingly incompetent, but there weren't many people in a position to tell them so. At a time of only three television networks, the Grammys had consistently ignored all rock music that wasn't by the Beatles. The absurdity reached its peak in 1969. While Jimi Hendrix's first album Are You Experienced? was the best-selling album in the country, with rave reviews from critics, he wasn't even nominated for "Best New Artist."
That's shameful for a number of reasons, but in 1969 the national media wasn't mature enough to properly shame Academy voters. There wouldn't be a Grammy for Rock Performance until 1980, by which time cable television had been born. MTV came along in 1981. By 1988 music magazines were nearing their pre-internet peak, with Rolling Stone covering the mainstream while Spin and The Source dived into alternative sounds. And in this new media environment, the Grammys were as hopeless as ever.

In 1989, Jethro Tull was a veteran British group whose popularity had peaked in the early seventies. They combined blues, rock, and English folk tunes with lyrics that referenced the medieval ages. Sometimes they liked a nicely distorted guitar, but their trademark instrument was a flute. It was a surprise, then, when they were nominated for the first ever "Hard Rock/Metal Performance," category, alongside Iggy Pop, Jane's Addiction, AC/DC and Metallica. Everyone agreed: Jethro Tull was in the wrong category.
Naturally, they won. Presenter Alice Cooper paused after opening the envelope, mouth ajar in shock. After he said the words, "Jethro Tull, Crest Of A Knave," the televised audience rained down boos on the stage. Band members weren't on hand to accept the trophy. Their label, Chrysallis Records, had been so sure Jethro Tull would lose they refused to pay for their flights.
Tens of millions of people saw the awkward ceremony, but that's not the interesting part. The interesting part happened the next day, when the media coverage of the Grammys tries to explain the controversy. Not just on MTV and in Rolling Stone, but also in local papers and the nightly news: For a brief moment, the country tried to define "metal."
Before that happened, heavy metal was a little-understood subculture. But after Academy voters showed just how little they understood, the whole country received an education. And according to data from Billboard, aside from Jethro Tull, every nominated band saw an increase in their sales for their next album.

Hard Rock/Metal wasn't the only new category at the 1989 Grammy Awards, and it wasn't the only flub. For the first time ever there would be an award for "Best Rap Performance." Hip-hop was approaching its second decade of existence at the time, and the genre boasted multiple platinum-selling artists. The recognition was long overdue. But hip-hop was only invited to the ceremony, not onto the stage. The award for "Best Rap Performance" was not televised. Faced with two genres it did not understand, the Recording Academy only broadcast the white one.
Russell Simmons of Def Jam led the boycotts. Will Smith, who was nominated for his work as the Fresh Prince with DJ Jazzy Jeff, said, "They give you your diploma and they deny you that walk down the aisle." MTV hosted boycott parties. A spokesman for Def Jam accused them of "treating us like a step-child," and "ghetto-izing" hip-hop.
The Grammy's released a statement that read, "When you have 76 Grammy categories and you only have time to put 12 on air, you've got 64 unhappy groups of people," which sounds reasonable, until you remember that the whole thing is arbitrary, and they could fit 100 awards into the same telecast if they were willing to speed up.
DJ Jazzy Jeff And The Fresh Prince weren't at the pre-show ceremony when they were announced as winners. Nominee Kool Moe Dee didn't boycott, and he performed a short rap on-air about hip hop's place in popular music.

Still, "off the air" is off the air, and the boycotts didn't get quite the same coverage as the metal mixup. But that doesn't mean it didn't matter: on the contrary, while metal made a big ripple and then disappeared, the hip-hop boycotts planted three small seeds into popular music which would grow in the next few years.
First, MTV's boycott parties helped them put their early racist practices in the rearview mirror. When it first launched, MTV didn't play a single video by a black artist for over a year. It got so bad that CBS Records threatened to pull their whole catalog unless MTV played Michael Jackson's "Billie Jean." For a few years after that, MTV remained sluggish about promoting black artists, but by 1988 they were aggressively courting black audiences with Yo! MTV Raps. The boycott parties in 1989 allowed MTV to reinvent themselves as allies. And, it worked. The partnership between MTV and hip-hop brought huge audiences to both.
Secondly, the boycotts set a precedent for hip-hop artists to use awards shows as a way to market their music without help from the mainstream press. The East Coast/West Coast rap feud at the 1995 Source Awards, Old Dirty Bastard storming the Grammy stage and yelling, "Wu-Tang is for the children," Fifty Cent's raised fist in protest of losing Best New Artist, and Kanye telling Taylor Swift, "Imma let you finish," at the VMAs, all owe a debt to the boycotts in 1989.
Third, and least importantly, the Grammy Award for "Best Rap Performance" was televised in 1990, and a small injustice was corrected. But rest assured, at the 1990 Grammys the Academy still blundered anyway.

Milli Vanilli were two impossibly handsome German dancers who spoke with thick German accents but sang in flawless English. They had floundered spectacularly during a live show on MTV in the summer of 1989, when their hit song, "Girl, You Know It's True," had technical problems. The track began to skip, and the words "Girl, you know it's…" repeated over and over again. The two members of Milli Vanilli stood there helplessly, unable to address the crowd because their microphones weren't turned on. After a minute they fled the stage. The next year, at the 1990 Grammy Awards, they won Best New Artist.
There had been other warning signs back in 1989, including an American man who claimed to have supplied the real vocals on the song but later changed his story. Perhaps Academy voters weren't paying very close attention, or perhaps they knew what was going on and didn't care. But after Milli Vanilli won a major Grammy category, the lip-synching scandal picked up steam.
Eventually, Milli Vanilli's producer was forced to admit that the two men who had been performing and going on tour were German models who couldn't sing at all. Studio musicians had recorded those tracks and been paid into silence.
Audiences were shocked. It was a huge black eye for the Grammys, who were forced to vacate the 1990 award for Best New Artist.
In the wake of the Milli Vanilli scandal, audiences began to value authenticity more than ever. The slickness of '80's pop production was going out of style, and rawness came in. Both grunge and gangsta rap, two of the biggest phenomenons of the mid-90s, placed an emphasis on being "real." Grammy voters had poured accelerant on this trend through sheer ignorance.

The Record Academy has committed many small idiocies since then, but the internet gave them a larger noose by which to hang themselves. The most interesting moment came in 2014.
Macklemore was riding a wave of goodwill after his hit song, "Same Love," argued for the right of gay people to marry. Kendrick Lamar had released Good Kid, m.A.A.d. City, which is in the inner circle of greatest hip-hop records of all time. Macklemore's album with Ryan Lewis, The Heist, is pop music, whereas Lamar's album is densely constructed and rewards repeat listens. Furthermore, Macklemore is white and Kendrick is black, and considering the Grammy's history that is absolutely relevant. The results were predictable. What happened next was not.
After Macklemore beat Lamar for Best New Artist as well as three awards in the Rap category, he sent Lamar a text. It read, "You got robbed. I wanted you to win. You should have. It's weird and it sucks that I robbed you."
If he had only sent the text, that might have been the end of it. It's a nice enough sentiment. But Macklemore took a screenshot of the exchange and posted it to social media. The backlash was swift. Instantly Macklemore became the face of Instagram allies and self-serving white liberalism. Lamar said Macklemore "went too far."
A new national conversation was provoked, only this time the most influential media was social media. And yes, the discussion was partially hysterical, full of bullying politicos and anonymous vigilantes. But together, music journalists and music fans and Macklemore and Kendrick Lamar all had a conversation about race. The effect was greater than Macklemore could have ever achieved from his two songs called "White Privilege."

Has the Nobel Prize in Literature ever sparked a discussion half as interesting? By skipping shortlists and pulling out one name like a rabbit from a hat, the Nobel Prize makes a brief ripple in newspaper headlines and disappears. An author, usually older and well off, receives money and free press. Good for the winner, but how does this advance the art form?
The Grammys aren't like that. The Grammys are incompetent, and they guarantee that music will be talked about.
Forget the awards. The awards aren't worth the gold that made them. The conversations they provoke are infinitely more rich.