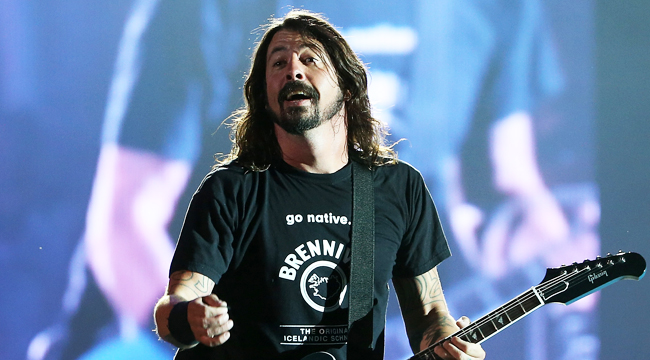 As the leader of Foo Fighters, Dave Grohl's live performance calendar is overflowing with massive stadium gigs, outdoor festivals, and the spare, one-off club show just to keep things interesting. He and his band regularly perform blistering three-hour long sets mixed with Foo Fighter favorites and deep cuts, as well as a rotating crop of classic rock covers. What it doesn't really feature is any songs from Grohl's previous band Nirvana. In fact, Grohl himself rarely ever performs material from that band live at all, which is what makes his recent session sitting in with New Orleans legend Trombone Shorty so notable.
Shorty and his band were at Los Angeles' Voodoo Threauxdown Festival this weekend, when who should show up but Dave Grohl. The band then launched into the Nirvana track "In Bloom," from that group's breakthrough album Nevermind. Incredibly, it was only the second time since Cobain's death that Grohl had played the song live. The only other occasion was for Nirvana's induction into the Rock And Roll Hall Of Fame back in 2014.
In a recent interview with , Grohl opened up about the difficulty he still has in even listening to Nirvana albums. "I don't put Nirvana records on, no," he said. "Although they are always on somewhere. I get in the car, they're on. I go into a shop, they're on. For me, it's so personal. I remember everything about those records; I remember the shorts I was wearing when we recorded them or that it snowed that day."
You can watch Dave Grohl perform "In Bloom" with Trombone Shorty in the video above.