Festival Frequency is a monthly look at music festival-related topics that step beyond the shadow of the Ferris wheel, discussing everything from the performances to the inner workings that make this a global phenomenon.
As I noted earlier this year following a trip to Coachella, big American music festivals are less and less an ideal place to watch a rock band. With an eye to the history of events like these — Coachella's first installment was anchored by Tool and Rage Against The Machine, Lollapalooza began as a touring showcase for rising rock artists — it's hard to believe that festivals have shifted away from one of their core genres, but the fact of the matter is that the audience who wants to watch rock bands at these big events simply isn't turning up.
For instance, Lollapalooza, which almost always sells out in its home base of Chicago, still has single tickets available for the Thursday and Sunday shows. The headliners those days are Arctic Monkeys and Jack White, while the days with The Weeknd and Bruno Mars at the top have sold out easily. Yes, it could have something to do with the days of the week in play, but it's hard to discount that Lolla's audience has shifted. Likewise, this year's Coachella was the first in its history that completely ignored rock music in its headliners — Beyonce, Eminem, and The Weeknd — a reaction to shrinking crowds at sets from the likes of Radiohead, The Stone Roses, and LCD Soundsystem in recent years.
But that doesn't mean that guitars no longer have a place in the festival space. Foo Fighters' leader Dave Grohl has placed his energy into the idea that rock fests can find success in 2018 by reviving a long-dormant Southern California event called Cal Jam; the 1970s editions of this concert featured the likes of Deep Purple and Aerosmith. Last year, kicking off the festival's return with a show that also functioned as a Foo Fighters record release event for their latest album, Concrete &Gold, Cal Jam seemed to boast a backyard cookout vibe, taking pride in the casual, close-knit communal feel it fostered. Friends, brews, and tunes — this is Grohl's holy trinity, and Cal Jam placed each in high priority.
"Being blessed with the opportunity as a band to share a lot of our musical influences and tastes with the audience is amazing," Grohl told Uproxx. "We feel very fortunate that we get to do this, and we try to make the most of it. And it's f*cking fun."
Speaking with Grohl gave me the impression that pretty much anything can be fun when he's involved; he speaks as passionately about playing music as he does about being a father, striking the listener as someone that doesn't take any aspect of the incredible life he leads for granted. His newest role as festival curator comes at a precarious time for rock and roll, but it might be his good-humored attitude about it all that makes the whole thing work. Last year at the fest, a Foo Fighters museum shared space with biker culture booths, psychedelic mushroom art, and an endless plume of smoke from a huge barbecue pit, all backed by performances from the Foos, Queens Of The Stone Age, Liam Gallagher, The Kills, and Cage The Elephant.
This year, taking place on October 6 at Glen Helen Regional Park and Festival Grounds in San Bernardino, California, the event will offer Iggy Pop performing with his Josh Homme-featuring band from his latest album, Post Pop Depression, along with Tenacious D, Garbage, and, of course, Foo Fighters. There's simply nothing else quite like it in the festival landscape, and that makes it feel particularly special. (Cal Jam's first year back delightfully sidestepped most expectations, coming across as a grab bag of Grohl's loosely related interests that have found a surprising harmony).
"I don't know how people run festivals," Grohl admits. "I've been to a lot of them, and some of them I f*cking love because of the environment or the aesthetic or the lineup… I want people to walk under that rainbow at the entrance and have the f*cking time of their lives, so they go home with their heads ringing and hungover. I want to have people walk away wanting us to do it again next year. And, hopefully, we will."
Grohl and I talked further about rock music's place in the current festival landscape, how he feels about the role of rock music's ambassador, and his relationship with his former Nirvana bandmate, Krist Novoselic. Read our conversation below.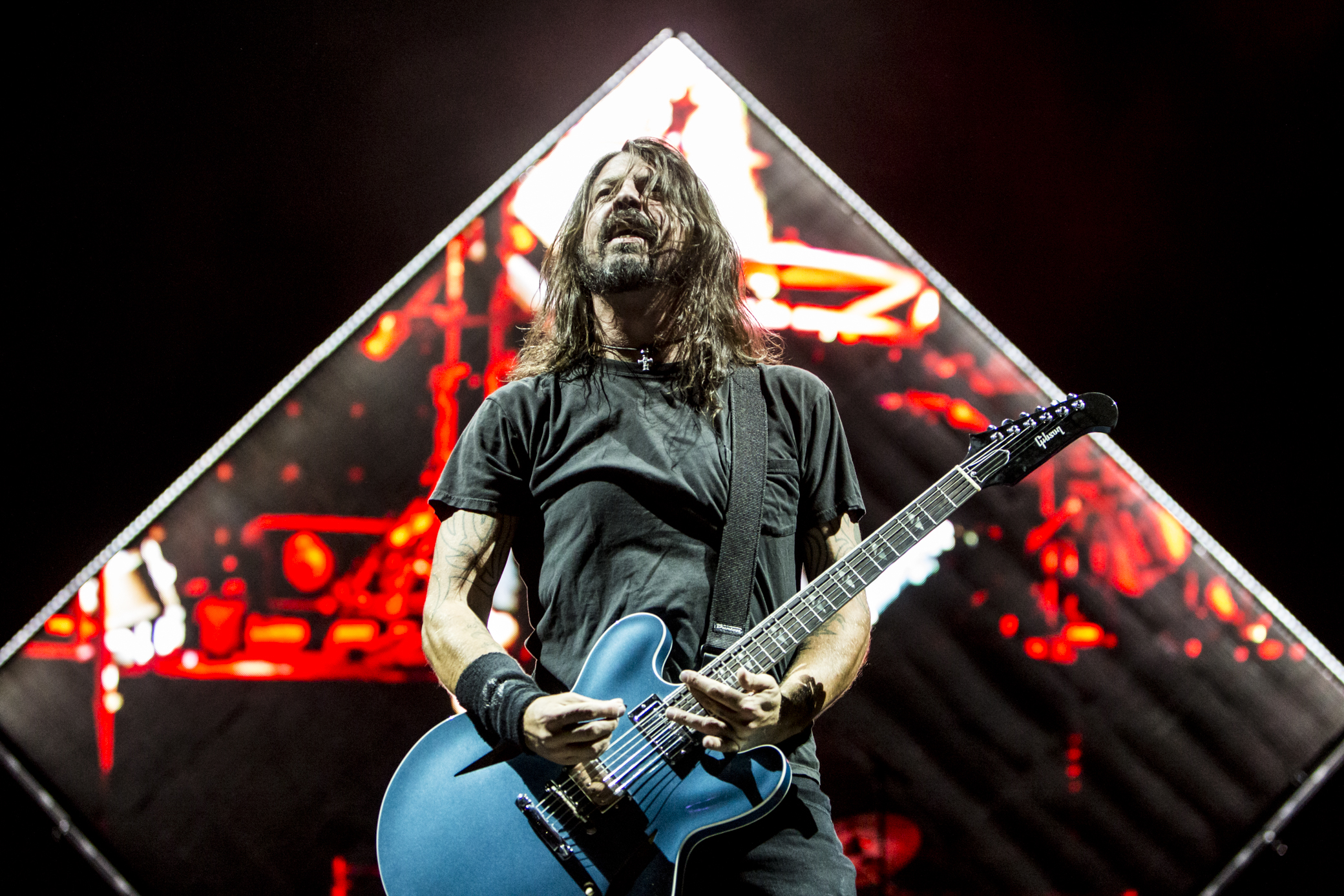 In the last few years, big events like Coachella or Lollapalooza have become less than ideal places to see rock bands for fans. From a rock musicians perspective, is this something that you've also noticed?
Well, I remember the first Coachella I went to, the Foo Fighters played one night and Queens Of The Stone Age played the other night. I think it was in 2002. And it was incredibly exciting; the lineup was super diverse, there were great rock bands that were playing — bands I've never seen — and it was inspiring to see live musicians on stage really going for it.
Then the last time I was at Coachella, it was when Them Crooked Vultures played there with LCD Soundsystem and it seemed like around that time, there was a sort of shift. It seemed like a lot of those guitars started to go away. I mean, I love bands like Death Grips. I love bands like The Prodigy. I love bands with all different types of instrumentation, but there is something old school about those European rock festivals that I connect to the most. I started playing festivals when I was 21 or 22 in Nirvana, and you'd have these incredible days with The Ramones, The Pogues, Frank Black, and Nirvana, all on the same bill, on the same day. And it was f*cking incredible seeing so many bands blasting it out as noisily as they can make it.
The Cal Jam festival began in the '70s and the lineups were very diverse. You'd have everyone from the Eagles and Deep Purple to Earth, Wind, And Fire and Seals And Croft, stuff like that. So, when we decided to have our own big festival, originally we thought maybe it would be a one-time thing where we'd invite all our friends and turn it into a big backyard kegger. But as we were putting the lineup together, we decided we wanted the bands to f*cking rock, so we had everyone from Queens Of The Stone Age to Cage The Elephant to Liam Gallagher to Starcrawler to Fireball Ministry. It was a guitar fest for sure, and it was really exciting to see so many rock bands in one place.
Then we had the opportunity to do it again and we thought we should carry on with that tradition. Let's have Iggy Pop. Let's have Greta Van Fleet. Let's have something as cool as Anna Von Hausswolff. We really get to curate the festival ourselves and maybe help turn the audience on to some music they might not ever hear. But it's hard. It's tricky coming up with a completely different lineup two years in a row that's diverse and really f*cking rocks. It becomes an experience more than a concert and you build that experience around the bands that are playing.
It's important to me to make sure the bands are having as much fun as the audience, too. So, the backstage situation is pretty ideal. We really built the backstage to be the ultimate for every band, to make sure everyone feels comfortable and is fed and have it just be a huge party. Last year there were moments when I forgot there was a concert going on, just sitting in an RV in the back drinking beer with all my friends that I haven't seen in a long time, then a couple of them have to peel off and play a show.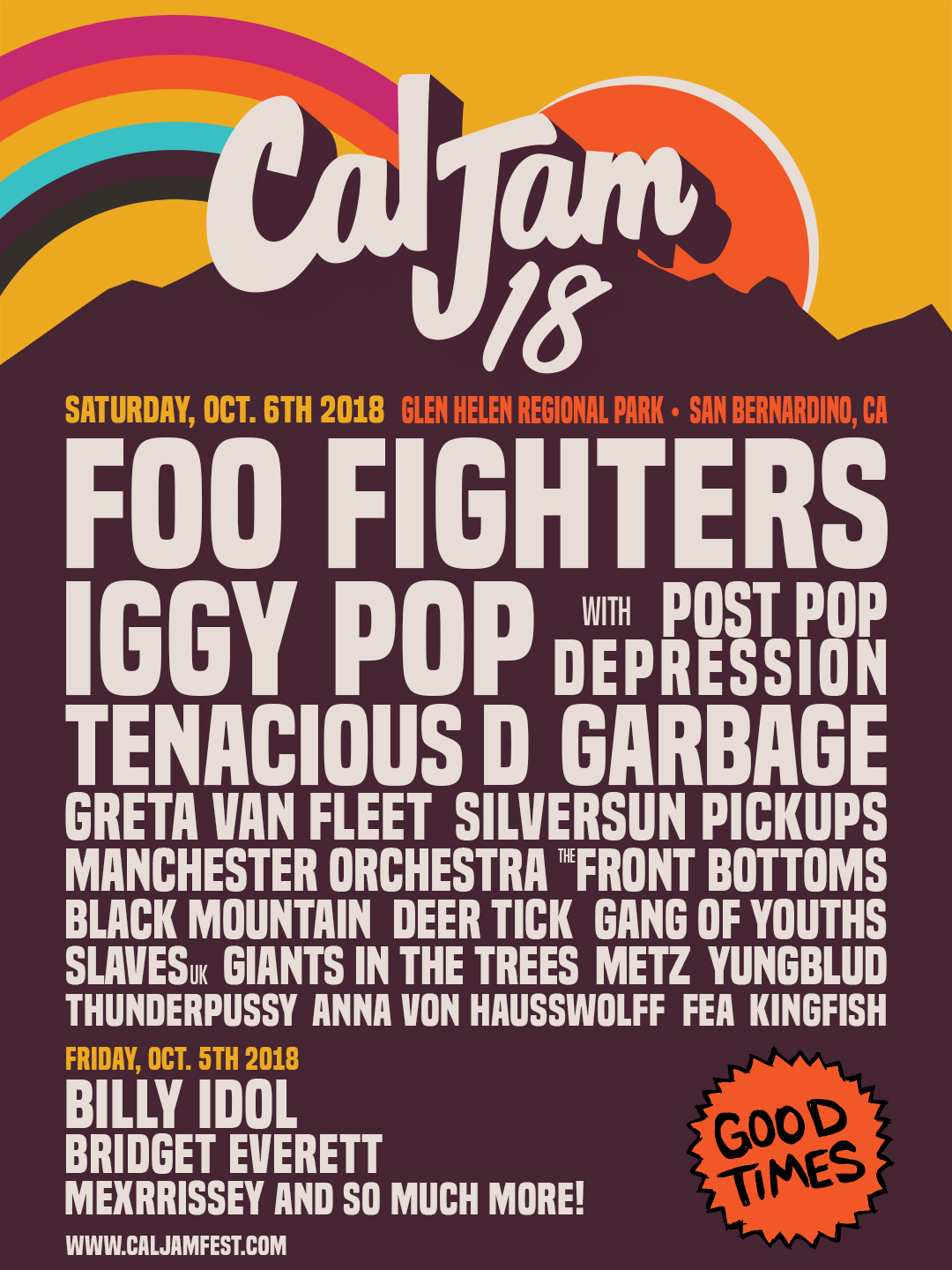 Having gone to Cal Jam last year and seeing the lineup this year, your friendships are a big part of the festival, be it with Josh Homme or Tenacious D…
You know, it's funny. I think the first time that I booked a show, I was 16 or 17 years old in a Washingon DC hardcore band in the '80s. You'd go an find a VFW hall or community event center and rent it out for the night and rent out a guy with a PA and get a security dude and then call up your friends' bands and say 'let's do a show.' We'd charge $4 at the door and put fliers all over the city and cross our fingers that people would show up. It's not that different nowadays, it's just on a much different scale.
The idea of community has always been important to me because of the Washington DC music scene. Everyone was always generous and helpful to each other. If someone needed a snare drum, you gave them a snare drum. If someone needed to borrow your van, you let them borrow your van. If someone wanted to open up for your band, then you let them open up for your band. That's always affected me, because the more love, the better the music. When you're at a show and you're surrounded by your friends and everyone's walking on stage with a smile on their face and a beer in their hand, it's going to be a good f*cking show.
The sense of camaraderie is infectious, too. If that's happening on stage, it will inspire the people watching to have a better time and share that experience with the others standing around them.
Yeah, it's funny because sometimes people consider bands to be, like, teams. Like a typical festival is the World Cup of rock and roll, when it's really not. All of these parts are interchangeable. But I look at this year's lineup and I've been recording with Josh [Homme] for years and Butch Vig [of Garbage] has been making my records since I was a kid. The idea that we're all connected in some way is really cool and important to me.
I feel like you and someone like Josh Homme or Jack White have been anointed these ambassadors of rock for a generation. How comfortable have you been with that mantle? It seems like you are pretty comfortable with it.
Well, you know why? Because I don't think about it. I don't really consider myself to be that. I love that people come out to see our band play and I hope that we inspire another generation of kids to go to a pawn shop, get a guitar, and start a band in their garage. That would be f*cking awesome. I'm looking at my kids right now, my nine-year-old is taking drum lessons now and she can play Back In Black from front to back. All she wants to do is play AC/DC and that's f*cking cool. My other daughter Violet is 12 and I took her to Guitar Center last week so she could get a microphone to start recording songs on her own in Garage Band.
I don't think anyone needs our help. As long as there is a radio station that's playing rock and roll music, they'll f*cking find it. As long as some kid clicks on one AC/DC video on Youtube, he's going to be hooked. I'm honored that anyone would consider me to be that. But I don't think about that, I'm too busy shuttling kids to camp all day long.
You mentioned this next generation of rock fans and rock musicians, and that's a big part of the Cal Jam lineup. The bottom half of that lineup are these up-and-coming rock groups, with artists like Japandroids last year and Gangs Of Youth this year. How do you personally stay updated with what is on the rise in rock and make sure it is reflected on the lineup?
I still listen to the radio. I still search for freaky sh*t online. Whether it's new industrial or electronic goth or straight-up Satanic death metal, and then I'll get in my car and hear some new Cardi B song. I still love music and listen to a lot of music. When I find something that really blows my mind, I just zero in on it. It becomes my obsession and I just decide to listen to it until it drives me insane. I don't know what's considered cool and what's not considered cool, I just know what I like. So when it comes to curating a festival of your own, chances are you're going to approach the bands that you want to see. At Cal Jam, I'm on a golf cart all day long, just going from stage to stage, watching bands that I might never have seen before, but am dying to. Last year, it was getting to see a band like Starcrawler, who I really like. Being able to stand on the side of the stage and see them just f*cking decimate the place, it was amazing.
You know what's funny, someone recently gave me one of those things where you say "Hey Siri, play "Reign In Blood" by Slayer." So I'll just hear about a new band and I'll just tell Siri to f*ckin' play it for me, and she does. Sometimes it ends up a hit in the kitchen, other times Siri can keep it. But yeah, I still try to keep my ear to the ground. That being said, I'm not one of those influencers. For me, it's like making a menu for a barbeque. Tomorrow I have about 100 people coming over for the 4th of July, and I know exactly what I'm going to cook and exactly when I'm going to start and exactly how I'm going to do it. It's not that different than putting on a rock festival.
One of the things that sticks out this year is that your old Nirvana bandmate, Krist Novoselic, will be performing with his new project, Giants In The Trees. You've obviously performed with each other and worked together many times since the end of Nirvana, but it always feels very special to the audience for obvious reasons. How has your relationship with him has evolved over the years, and what does it mean for him to be playing at your festival?
Krist Novoselic and I are friends that also happen to play instruments. And, also, we were in Nirvana. But first and foremost, the two of us are friends. There's a lot of love and a lot of years behind us. I love him, I just f*cking love him and will forever. His new band is rad and when he starts a new band, he'll send down the music and I'll check it out. I haven't seen them play yet, but just being able to share that together… We have new bands, and we get to play together on the same bill. What can be better than that?
Over the years, our lives have taken different directions. We're still bonded by history, but Krist studied law and Krist lives on a farm and Krist has a radio show and Krist has a band. He's a really interesting dude, you've never met anyone like him. There is no one else like Krist Novoselic in the f*cking world. Over the years, I've started a new band and built a studio and had kids and jammed with a bunch of people and became a barbecue chef, whatever. When we get together, more than anything, it's just sharing love with an old friend. I'm f*cking psyched that he's playing.
Another one that sticks out is Deer Tick, who've become known for a side gig that they do as a Nirvana cover band, Deervana. That must be wild to have this tribute to a band you were a part of.
Yeah, we've played with the dude, too. Around the time of the Rock And Roll Hall Of Fame, we did this performance where we jammed with a bunch of other musicians, and he was one of them. And it blew our minds that he knew the songs better than we did. The energy and the vibe was there, it felt right and it didn't feel forced or strained. And it sounded great.
We also get to have Iggy Pop play with us. If anyone has influenced any of us, it's that man. I remember hearing his music when I was a teenager and going "oh, this is where it comes from. Oh, now I get it." I started listening to everything differently. I started hearing The Stooges in everything, from The Damned to Black Flag to The Germs. I just started hearing it everywhere once I was aware of it.
One time when I was on tour with my band Scream, I think I was 19 years old, and we were playing the same club as Iggy Pop. Iggy didn't have a drummer that night so he asked me to play drums for him. I was 19! I had never met him before and was basically sleeping in a van out back of the club, and someone came up and was like "who's the drummer? Do you want to play drums for Iggy Pop?" "OKAY!"
So, not only musically, but personally, he's given me some of the highlights of my life. To be able to share a festival with that dude, and have Josh in the band with him, it's pretty much all-you-can-eat good times.
Cal Jam '18 takes place on 10/6 in San Bernardino, California, with special campsite only sets on 10/5. Tickets are now available. This interview has been edited and condensed for space.