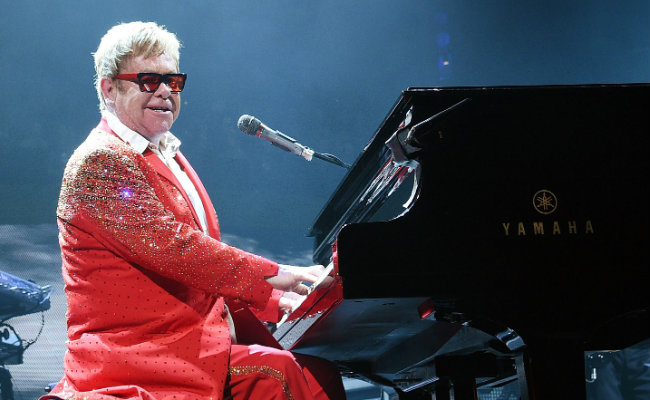 Elton John is a musical icon nearly without peer. The flamboyant, British piano maven has sold millions of records, created more than a few generation defining hits, and influenced an untold amount of artists throughout his nearly 50 years of making music. Thus, it makes all the sense in the world that some of the biggest stars on the planet would be lining up to pay homage to his legacy through a pair of new tribute album.
The two different collections are titled Revamp and Restoration. The former is a set of new takes on some of Sir Elton's greatest hits, re-imagined by some of the biggest pop and rap stars in the world like Ed Sheeran, Coldplay, Mary J. Blige, Q-Tip, Sam Smith, Miley Cyrus, Queens Of The Stone Age and Logic to name a few. The latter is collection takes on a countrified slant thanks to the likes of Chris Stapleton, Don Henley and Vince Gill, Miranda Lambert, Dolly Parton, Willie Nelson and more.
"As songwriters, [wordsmith] Bernie [Taupin] and myself are thrilled when singers we admire and respect as much as those on Revamp & Restoration choose to add their own unique twist in the process," Elton said in a statement. "It means that our music is still relevant and ultimately that our songs continue to reach new audiences. We're humbled and thank them all for their generosity."
You can check out the full, genre-busting tracklist for Revamp and Restoration below.
Revamp
1. "Bennie and The Jets" –- Elton John, P!nk, Logic
2. "We All Fall In Love Sometimes" –- Coldplay
3. "I Guess That's Why They Call It The Blues" -– Alessia Cara
4. "Candle In The Wind" –- Ed Sheeran
5. "Tiny Dancer" – Florence + The Machine
6. "Someone Saved My Life Tonight" –- Mumford & Sons
7. "Sorry Seems To Be The Hardest Word" -– Mary J. Blige
8. "Don't Go Breaking My Heart" -– Q-Tip feat. Demi Lovato
9. "Mona Lisas And Mad Hatters" -– The Killers
10. "Daniel" –- Sam Smith
11. "Don't Let The Sun Go Down On Me" –- Miley Cyrus
12. "Your Song" –- Lady Gaga
13. "Goodbye Yellow Brick Road" -– Queens of the Stone Age
Restoration
1. "Rocket Man" –- Little Big Town
2. "Mona Lisas And Mad Hatters" –- Maren Morris
3. "Sacrifice" -– Don Henley and Vince Gill
4. "Take Me To The Pilot" -– Brothers Osborne
5. "My Father's Gun" -– Miranda Lambert
6. "I Want Love" -– Chris Stapleton
7. "Honky Cat" -– Lee Ann Womack
8. "Roy Rogers" -– Kacey Musgraves
9. "Please" –- Rhonda Vincent and Dolly Parton
10. "The Bitch Is Back" –- Miley Cyrus
11. "Sad Songs (Say So Much)" –- Dierks Bentley
12. "This Train Don't Stop" -– Rosanne Cash and Emmylou Harris
13. "Border Song" –- Willie Nelson