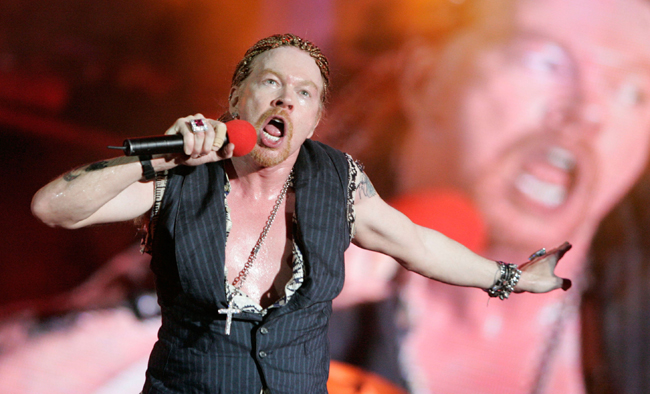 Looks like the newly reformed Guns N' Roses are milking their 2016 reunion for all they can. The band will be performing for two nights in Las Vegas in April, and for the affordable price of $2,500, you could get yourself a "Signature VIP Experience," which includes a seat in the first 10 rows and a behind-the-scenes escorted VIP backstage tour (among other things).
However, that package doesn't include a meet and greet with Axl, Slash or Duff McKagan. That's right — $2,500 can score you a bunch of other stuff, but not what you really want which is, of course, getting the chance to share some Taco Bell with Axl as you both watch Teenage Mutant Ninja Turtles together.
However, this is what you will for sure get:
One Incredible Top Price Reserved (Lower Level) Ticket in the First Ten (10) Rows *
One Ultra-Exclusive, Autographed Limited Edition Silkscreened Guns N' Roses Tour Poster.
Each Limited Edition Silkscreened Tour Poster Autographed by Members of Guns N' Roses.
Created Exclusively for VIPs, Hand Numbered and Comes with a Certificate of Authenticity
Individual On-Stage Preshow Photo Opportunity (Includes Actual Show, Lighting & Production Elements)
Special "Behind the Scenes" Escorted VIP Backstage Tour
Welcome To The Jungle: Exclusive Guns N' Roses Themed Preshow VIP Hospitality Lounge
Get The Party Started in Style – Signature Guns N' Roses Themed Cocktails Upon Arrival
Locked & Loaded – Complimentary Beer, Wine, Spirits and Assorted Soft Drink Selections
Spread for the Ages – Deluxe Dinner Buffet, Eclectic Selection of Hors D'Oeuvres and Amazing Desserts
Variety of Comfortable Seating Options to Enjoy Food & Beverage
Preshow Prizes, Party Favors, Tons of Your Favorite Music and More…
Forget the Lines! Preshow Party Includes Crowd-Free Merchandise Shopping Opportunity
Dedicated On-Site VIP Host
VIP Priority Check-In
Separate VIP Entrance
The Essential Guns N' Roses VIP Gift Bag
Designed Exclusively for VIP Package Purchasers
Includes Special Guns N' Roses Themed VIP Merchandise
All Gift Bags Also Include a Commemorative VIP Laminate & Matching Lanyard
Unless you've got copious amounts of money to spend, you're probably better off risking that $2,500 at a casino or, you know, just purchasing a cheaper ticket ($79.50, without fees) and still having plenty of money to gamble with.
(Via SPIN)