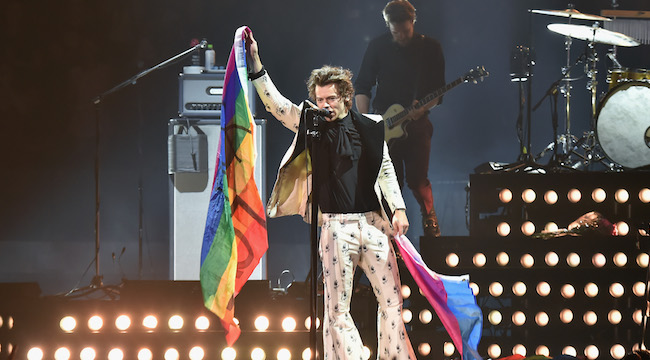 Harry Styles is one of the biggest pop stars on the planet, the star of an Academy Award-nominated film, a Gucci model — and now, apparently, a pop culture journalist. i-D got Styles to interview his fellow 2017 Oscar season cohort and Soft Boy Internet Heartthrob Timothée Chalamet. Chalamet is the star of the film Beautiful Boy, playing in limited release now. And while Styles doesn't have any obvious connections to the film or to Chalamet, it's best not to look a gift horse in the mouth, especially when the gift horse has so many iconic quotes.
Styles is notoriously tight-lipped in interviews, but Styles' conversation with Chalamet is fun and insightful, maybe the most revealing print interview Styles has ever done — and he wasn't even the interview subject. Styles and Chalamet talked about the power of social media. Chalamet brought up social media's influence on #MeToo and #BlackLivesMatter, but pointed out that, for many creatives, social media can become a toxic place where comments, criticism, and bigotry can get in the way of personal artistry. Styles agreed, comparing social media a party where "three people who are great and 23 people who aren't that nice."
Styles and Chalamet also talked about what it means to be a nontraditional heartthrob in 2018, and to embrace a softer and kinder version of masculinity. It's what fans find so appealing about both of them — that you don't have to be tough and aggressive and harshly masculine to be a man. Styles put it beautifully:
I didn't grow up in a man's man world. I grew up with my mum and my sister. But I definitely think in the last two years, I've become a lot more content with who I am. I think there's so much masculinity in being vulnerable and allowing yourself to be feminine, and I'm very comfortable with that. Growing up you don't even know what those things mean. You have this idea of what being masculine is and as you grow up and experience more of the world, you become more comfortable with who you are. Today it's easier to embrace masculinity in so many different things.
Styles and Chalamet also traded their desert island movies, songs, and books. Styles is is a big old music nerd, shouting out "Madame George" and Rob Sheffield's book Love Is A Mix Tape. When Styles asked Chalamet about Nicki and Cardi, and the young actor replied, "Look, Nicki went to my high school but… Cardi's a legend so why can't we all just love each other?" Styles, ever the tactful pop star, refused to comment.
Read Chalamet and Styles' full interview here.