To see the full performance of the song "Stronger" featured above, click here.
Collaboration is something every artist can benefit from. It doesn't matter what the art form is — painting, a film, music. Mixing with like-minded peers can boost your creativity in ways you couldn't have previously imagined.
Some of the greatest musical collaborations have been cross-genre songs like Aerosmith and Run DMC's "Walk This Way," or in a more modern sense, Kanye West and Justin Vernon's "Lost In The World." Cross-genre performances find each artist exploring new musical ground and expanding their sound. In today's music, hip-hop is still king, but EDM is continuing to grow toward a mainstream audience which allows for more collaborations between the genres like A$AP Rocky and Skrillex's "Wild For The Night."
I was lucky enough to witness firsthand an up-and-coming hip-hop and EDM artist record new songs direct to vinyl in one of Los Angeles' most historic studios.
One of hip-hops youngest MC's, A-F-R-O, and one of EDM's rising new stars, NGHTMRE, collaborated on two original tracks in Los Angeles' historic Fairfax Recordings studios together, where both tracks were recorded direct to vinyl.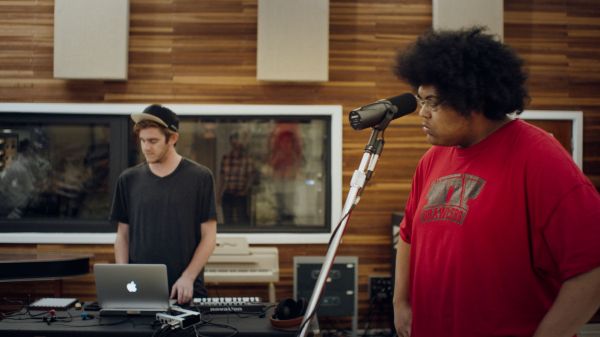 "I've been in a lot of studios, this one you can feel the energy. It's very peaceful, it's got a great presence," A-F-R-O says of the famed studio where artists like Nirvana, Fleetwood Mac, and Weezer have all pressed tracks to wax.
With the two completely different genres collaborating on not one but two tracks… it was going to be interesting, but A-F-R-O and NGHTMRE pulled off two of the most unique songs I've heard in a long time.
"All I need is to rhyme to the tempo" the 18-year-old rapper A-F-R-O told me after laying down his lines. In the first song, "Stronger," NGHTMRE arranged the music and helped conduct a session band full of live guitar, bass, drums, keys, cello, and a muted trumpet — while A-F-R-O laid down his lines over the live performers. With the upbeat hooks of upstroked guitars and possibly the only sampling done by NGHTMRE throughout the whole track, you can tell this arrangement was created with A-F-R-O in mind.
Using a yellow pad of paper full of scratches and scribbles that were written within the past 24 hours, the young rhymer rapped some impressive lines way beyond his years. It's clear his flow takes cues from modern guys like DOOM and old-school hip-hop legends deep in the record crates.
After four takes and just under two hours of recording "Stronger" straight to lacquer vinyl, we finally have our take as NGHTMRE and A-F-R-O high-five on the listening couch. Seeing Len, Fairfax's lacquer operator, run back and forth with the test pressing of each recording and knowing that pressing only had one listen due to its softness was truly exciting. Especially to the video's director and noted vinyl nerd, Colin Hanks. "Seeing the presses walk out of the studio was so cool" said Hanks, who went on to say "It's all about capturing a moment, we're here trying to capture the excitement. Vinyl is the physical representation of all the hard work."
Fairfax Recordings has recorded straight to vinyl in the past, but this is the first direct to vinyl recording Fairfax has done in over a year, according to studio owner and engineer Kevin Augunas. "The idea of one take was nerve-wracking," NGHTMRE says of recording direct to lacquer vinyl. The EDM DJ goes on to add "I wrote the song and wasn't sure how it was supposed to come together. I just wanted to make a beautiful song."
A-F-R-O's mindset was a little more relaxed. "You just gotta be patient, it's one continuous take," illustrating the contrast between recording in a studio with ProTools and recording direct to vinyl at Fairfax.
The pair's second track was more of a straightforward EDM track composed by NGHTMRE with the intention of something he could play live at shows. This track was more difficult for A-F-R-O, but he was able to lay down his lines after just a few takes. Having an EDM beat was obviously different for A-F-R-O, but he tells me "I like doing stuff, obviously my favorite style is hip-hop, but this was good too." Track two didn't have a title at the time of recording, but when I spoke with A-F-R-O he told me he wanted to call the track "Mayhem" because of its quick beat and his similarly blistering rhymes.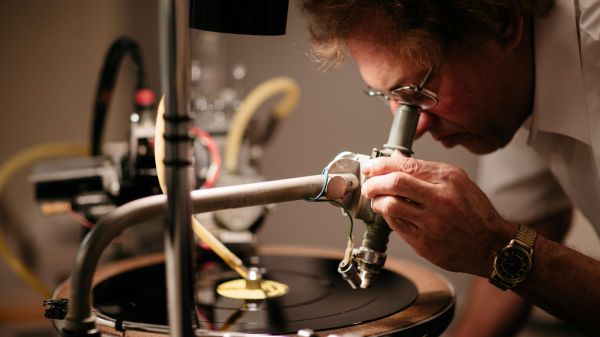 After the second and final track is completed, you can feel a great sense of relief and accomplishment from everyone involved, which is well deserved. Hanks says of the project, "I want to do something that's exciting to me and will be exciting to someone else out there." This cross-genre collaboration project is certainly something people will get excited about whether they're hip-hop fans, EDM fans, or just vinyl enthusiasts. By collaborating together on this project, they're sharing something unique and exciting with the world that is going to make it hard for people not to take notice.